Apple iOS 12 and watchOS 5 updates release date and iPhone compatibility
20
Given that the just-announced
iOS 12
confirmed all the rumors that Apple will focus on under-the-hood
advancements in performance and stability
, what with the
#batterygate
and iOS 11 bug squashing dramas, it's not all that surprising that the newest version will arrive for your trusty old
iPhone 5s
even. After all, it should at least cover all the gear that the previous release did, just with better performance.
Apple's Craig Federighi went on and on explaining how the software engineers optimized the peak load demands of the iOS apps for better distribution across the processing power inside an iPhone to such an extent, that apps will start up to 2x faster under load, including on older models.
Hopefully, this will put the final nail in the throttling controversy coffin, as Apple's A-series processors are too powerful for their own good, and their peak loads put a strain on aging batteries, so Apple has thankfully addressed that with iOS 12.
Apple iOS 12 and watchOS 5 full device compatibility list
The cool thing is that iOS 12, with its drastically improved
performance
,
group notifications
and
FaceTime
, and all the other great features announced, will be available for every iPhone from 5s and up, so your oldie but goldie 6 will live on, too.
Unfortunately, the original Apple Watch won't be getting the watchOS 5 update, but that's to be expected, given all the
new Watch features
that Apple announced today. The
walkie-talkie
one, in particular, is crying for cellular connectivity, and we are sure parents will be glad to shell $300 per wrist to keep track on their offspring in style.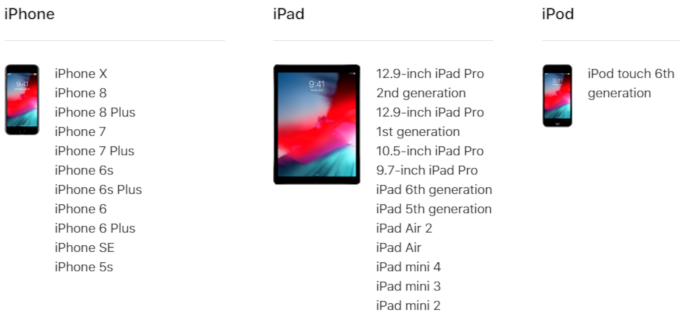 Apple iOS 12 release date expectations
As usual, Apple is making the just-announced
iOS 12
and
watchOS 5
updates, with all of their new features, available to developers to play with first, and is making it accessible for them right after the keynote (in fact, we had it up and running as developer beta fifteen minutes after the show.
The final iOS 12 and watchOS 5 update release to the general public of iPhone, iPad and iPod touch owners is scheduled for the "fall," so rest assured that's when we will see some new iPhones making a cameo, too (duh). Now, whether the "affordable" LCD iPhone will be late, while the iPhone X successors will be announced in the usual September timeframe, remains to be seen, but the iOS 12 is sure to be introduced with the first batch in any case.
Cry not that Apple's latest iOS update is only in developer's hands, as there will most likely be a very public beta of both new updates very soon, and you will be able to take advantage of at least one early iOS 12 preview by the end of the month, as Apple usually does.