iOS 12 is announced with focus on performance and augmented reality
24
Right on cue, Apple announced the latest major version of its mobile operating system – iOS 12 – during the WWDC 2018 opening keynote. From user interface tweaks and performance improvements to gimmicks and silly new tricks, Apple's new software has it all. So let's now go over what millions of iPhone and iPad users are about to experience in a few months.
A boost in performance

Mr. Craig Federighi himself had the pleasure of announcing Apple's latest iOS release, and watching him on stage was as enjoyable as always. Surprisingly, instead of introducing a fancy new app or technology, he began his preview of iOS 12 by highlighting under-the-hood improvements boosting every-day performance.




Now, these should be felt by anyone who updates to iOS 12, but the performance boost in the new OS will be most impactful to those holding on to their trusty iDevices from a few years back. With iOS 12, tests performed on an iPhone 6 Plus (yes, the one from 2014) showed up to 40% faster app launch and up to 70% faster camera launch from the lock screen, while the keyboard appeared up to 50% faster. And under load, with multiple processes happening at once, the device was up to 2 times faster at opening apps or the share sheet.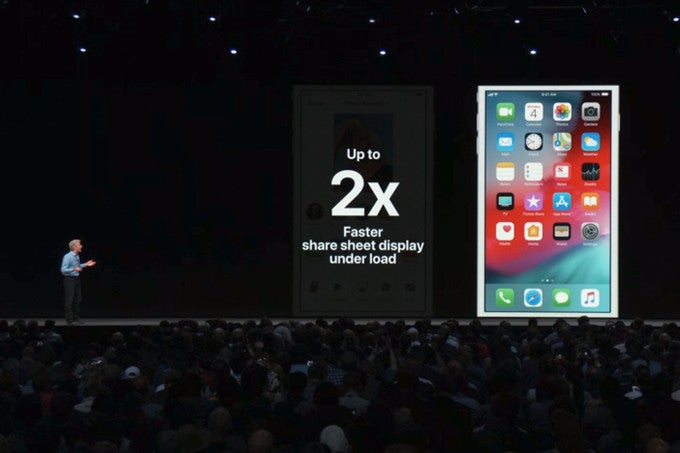 Mr. Craig Federighi introducing the boosts in performance for older devices in iOS 12
Augmented reality
Augmented reality was the next key feature shown off on stage. Leveraging the powers of AR, Apple is adding a new app to iOS called Measure. It allows you to measure the dimensions of real-world objects – both flat and three-dimensional ones – using the camera of your iPhone. Just point the viewfinder and drag along the edges of the object. The rest is AR magic! We gave this one a quick try here at the office, and it worked pretty well.
But that's just scratching the surface. Deeper integration of and support for AR in iOS 12 can enable many other experiences, including ones experienced by several people simultaneously. Imagine a game where two people do battle in the same virtual arena, with their iPhones or iPads serving as gateways to that experience. A company greatly interested in such experience is one you may have heard of – Lego.
And that's not all. AR experiences are also possible to appear in apps like News and the Safari web browser. This has been achieved by developing a new AR file format, USDZ, that is easy to share, open and embed. Native support for the file format will be added to Adobe's Creative Cloud.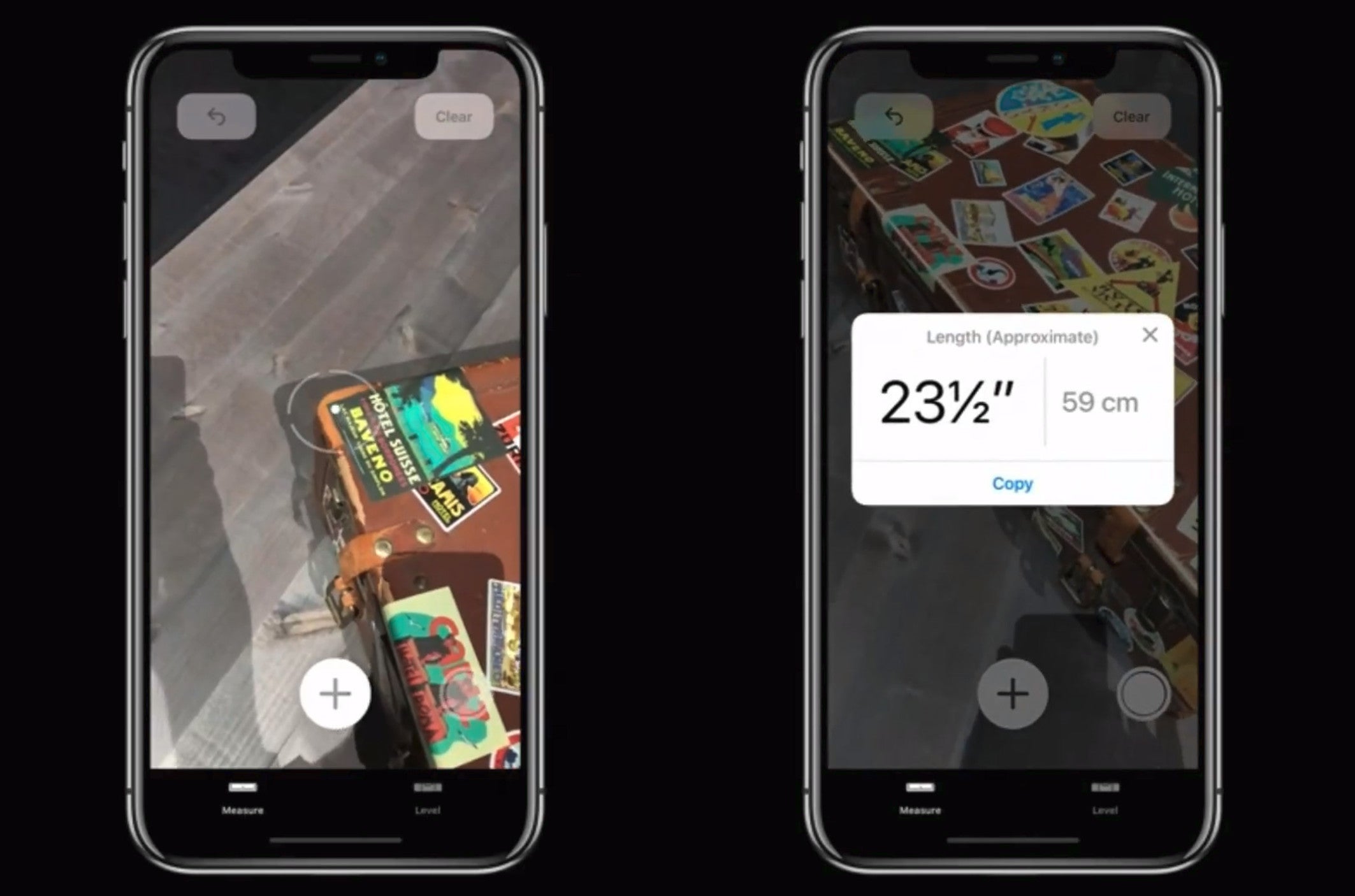 Measure is a new app in iOS 12 for measuring real-world objects through AR
Improved DND and, finally, grouped notifications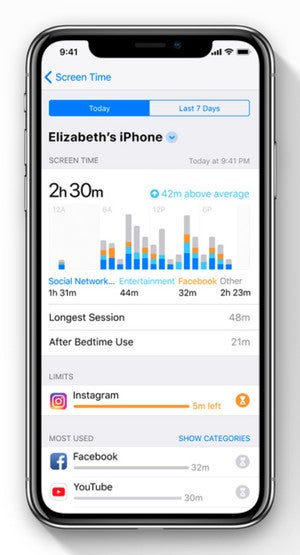 iOS 12 will give you a breakdown of how you spend your time with your iPhone or iPad
Some other tweaks brought with iOS 12 may seem less important at first, but we have a feeling that they'll be much appreciated once experienced. Do Not Disturb mode, for example, can be activated for a given duration or until an event on your calendar ends. At night, DND will intentionally hide your notifications from the lock screen, eliminating the temptation to check them all out.
No less importantly, iOS 12 will provide you with in-depth insight on how you use your phone, making you aware of how much time you spend on which apps. You'll be able to set usage limits on apps, and once you're about to exceed your daily allowance of YouTube video or Instagram cat photos, you'll be warned with a notification. Of course, iOS will not prevent you from using an app, but it will let you know that you should be probably doing something else. This feature could be especially useful to parents who want to have better control over how much time their kids spend in front of an iPad's or an iPhone's screen.
A feature that took longer to arrive than it should have: notifications in iOS 12 will be grouped together. All notifications sent from the same app will appear bundled: tapping them will expand the list, and swiping it to the right will give you the option to clear them all at once.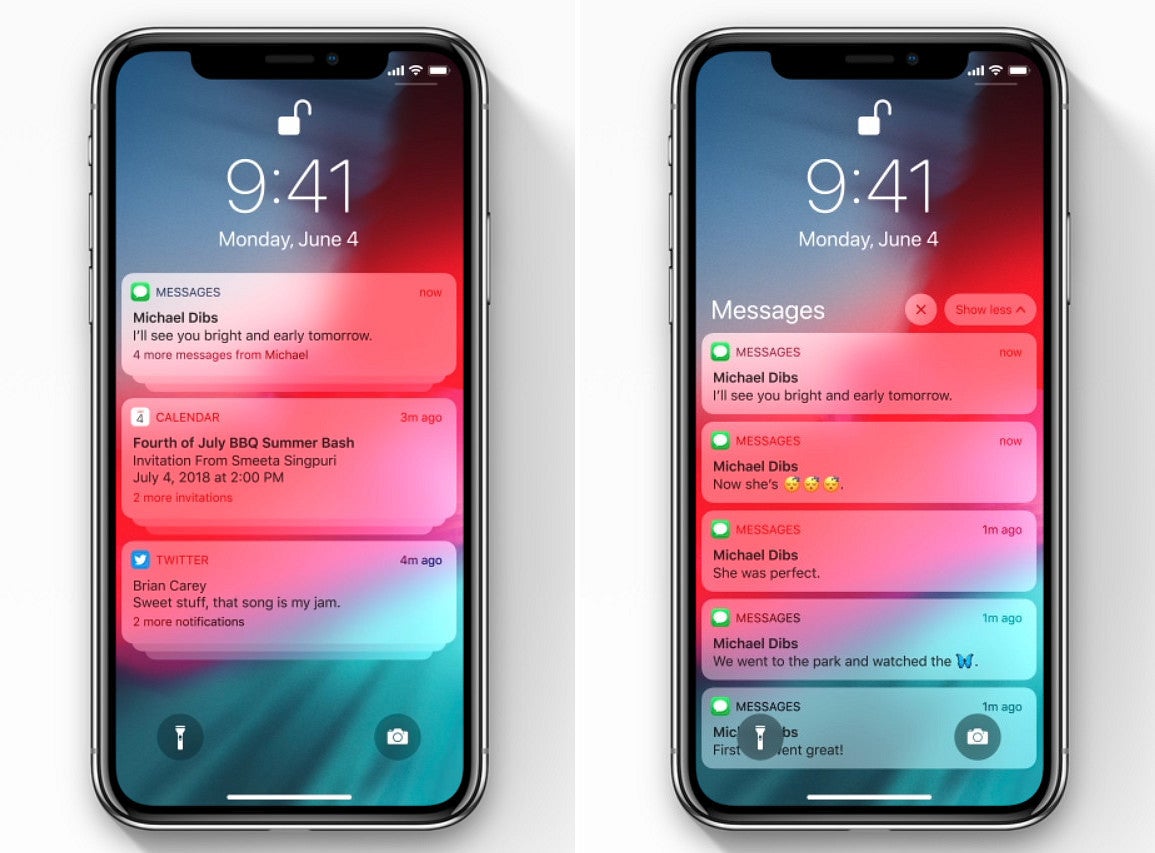 Notifications in iOS 12 – grouped on the left and expanded on the right
Say "Hello!" to... Memoji
Apple introduced us to Animoji last year, and with iOS 12, four new characters are being added to the selection: Tiger, Koala, T-Rex, and Ghost. Also, tongue detections is now a thing, so, yeah: you can make Animoji stick their tongue out.
But the most exciting news is the new option to create a... Memoji. As the name implies, this is much like an Animoji, but made to look like yourself. But since these are highly customizable, you can make a Memoji that looks like someone completely different. Apple has thrown in tons of customization options, including skin colors, hairstyles, accessories and more to play with. Unlike Samsung's AR Emoji, Memoji can be applied directly to a live image from an iPhone's camera.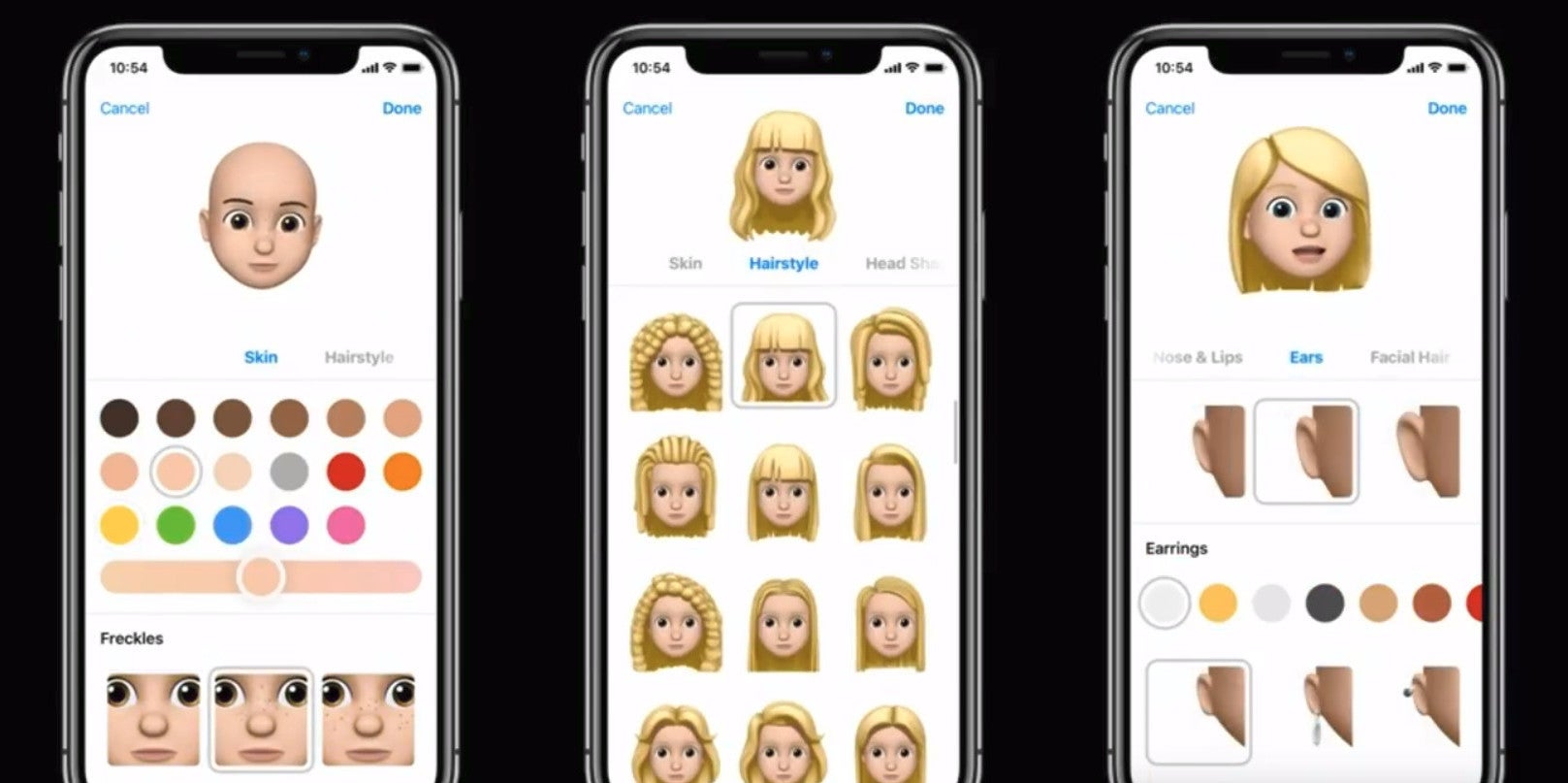 Customizing a Memoji
Photos: now better at sharing
With iOS 12, Apple is also introducing an improved Photos app. One new ability is for its search ability to deliver suggestions even before you start typing, highlighting important people, for example, or events you've visited. A new tab called "For You" will highlight photos that you've taken, suggest applying new effects to photos, or invite you to share an album with your friends. iOS 12 will automatically suggest photos that you may want to share and will pick people that you may want to share them with. Furthermore, people that you share these photos with will be invited to share their photos from the same time and location with you.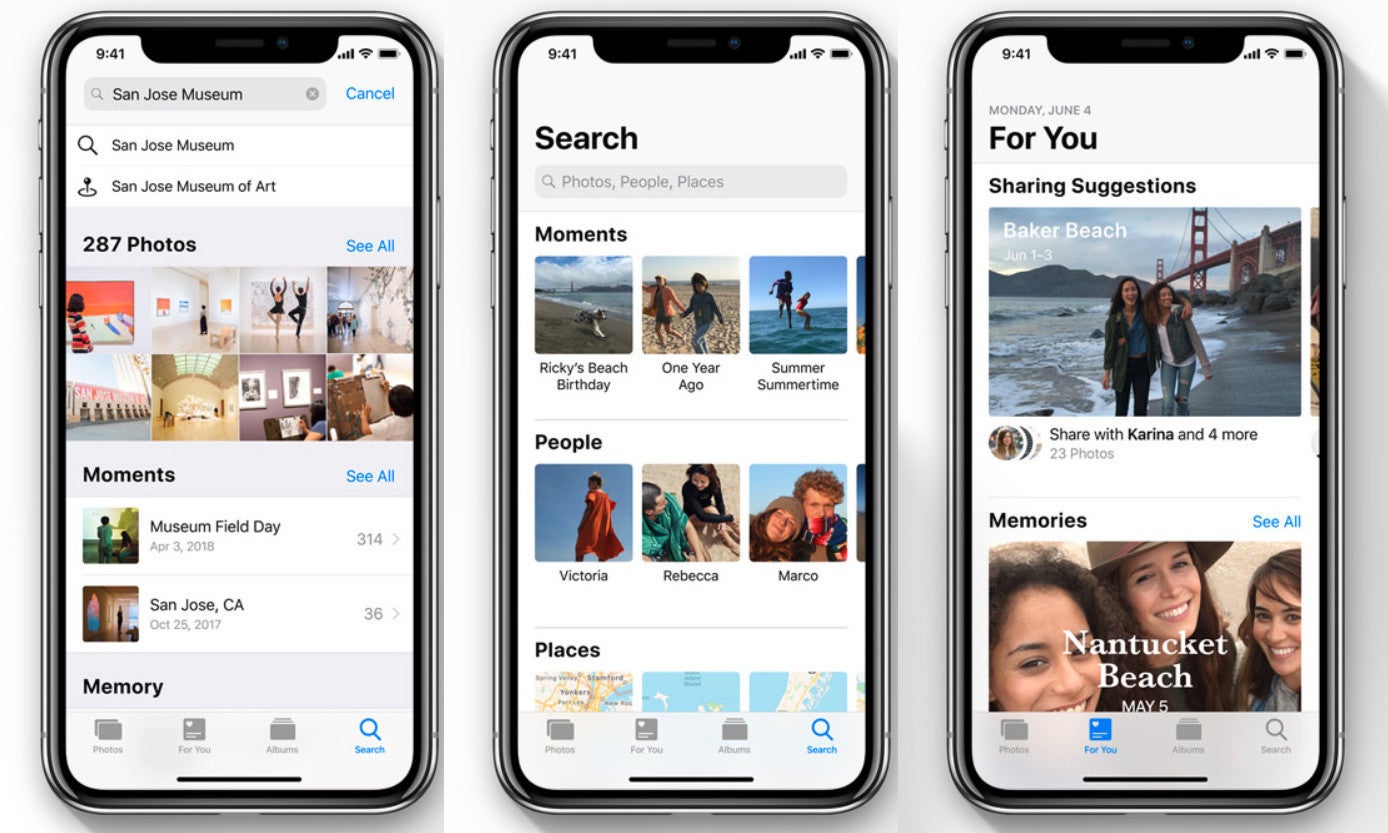 The Photos app in iOS 12 gets a 'For You' tab and new sharing features
Siri: now with shortcuts and more suggestions
Siri has learned a cool new trick in iOS 12. Nope, we're not getting a Morgan Freeman voice option yet. Instead, developers are getting the ability to introduce voice-activated shortcuts to actions in their software. On stage, Mr. Federighi demonstrated how this could work with an accessory we've actually reviewed –
Tile
. Basically, the gizmo can be attached to an object you can't afford to lose, such as your keys, and it can help you track that object if it does get lost. With Siri in iOS 12, a custom shortcut phrase can be added to apps. For instance, saying "Siri, I lost my keys" can make your Tile ring.
Another new skill added to Siri is its ability to deliver action suggestions proactively. Let's say that you use the same app to track your workout at the gym. Once you get there, Siri will suggest that you launch it with a notification on the lock screen. Another example given during the announcement was that if you're running late for a meeting, Siri will display a suggestion with a text to let the organizer know that you won't make it on time.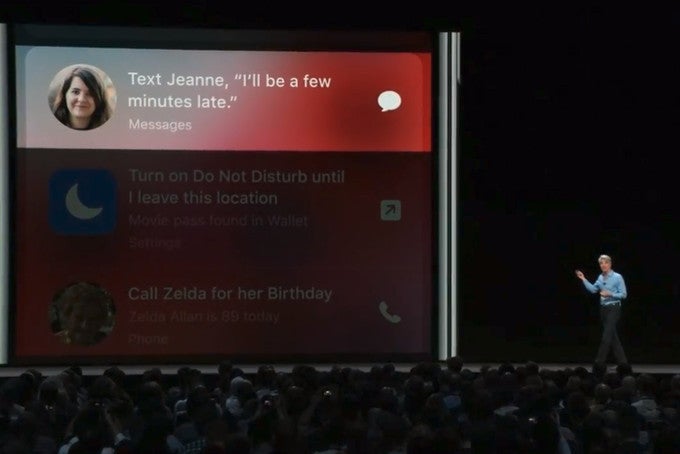 News and Stocks, better together
News in iOS 12 for the iPad is getting a new sidebar, allowing you to quickly jump from one source to another, while a new browse tab lets you discover new channels and topics. In addition, News is going to be integrated with the Stocks app – it was about time, if you ask us. This will let you browse relevant business news as you monitor the performance of the stocks you're interested in. Also, a new chart is being added, allowing you to see how a stock's price has moved over time. By the way, Stocks will be made available on the iPad with the launch of iOS 12.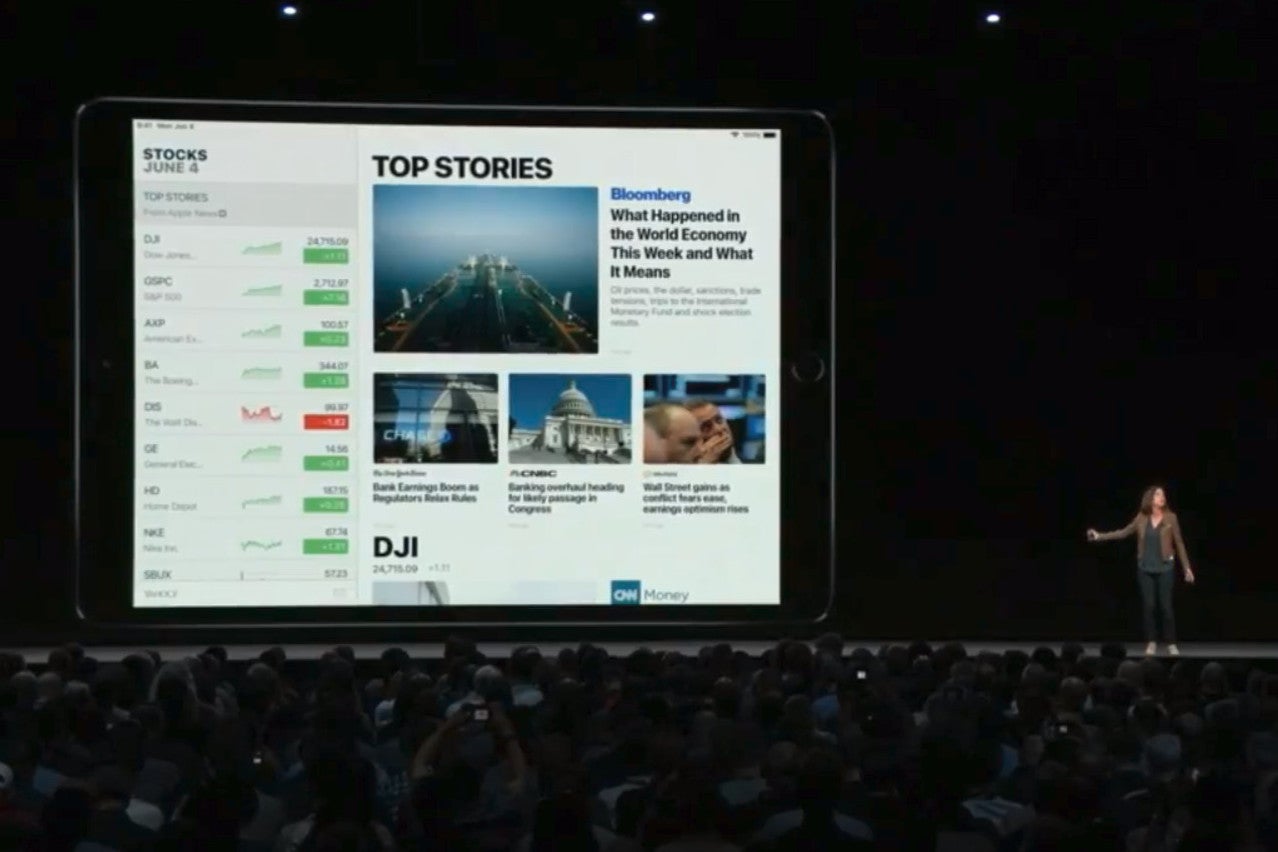 Stocks is coming to iPad with iOS 12
FaceTime with up to 32 people
FaceTime in iOS 12 is getting a welcome boost. Up to 32 simultaneous participants will be supported for massive video chat sessions, with the option for individuals to join or exit at any time. And with FaceTime becoming integrated into Messages, you can jump from a group chat to a group video call with the tap of a button. To make the conversation more fun, you can apply an Animoji or a Memoji of your choice.
iOS 12 release and supported devices
iOS 12 will be available this fall for any iPhone and iPad currently supporting iOS 11. This includes the iPhone 5s, the iPhone SE, and the iPad Air. Developers, however, will be given access to an early beta version of the new software.