Man's life is saved by Apple Watch feature
21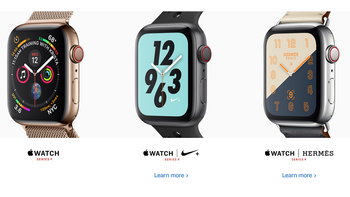 According to KIRO-TV in Seattle
(via
Apple Insider
), the Apple Watch Series 4 once again came to the aid of its owner. This unnamed man had been previously diagnosed with AFib, and his heart had been beating normally. As a result, he was taken off blood thinners. Dr. Phil Massey, a cardiologist with Pacific Medical Centers in Seattle, said the man came into the office with his Apple Watch Series 4, and showed the Doctor the results of an ECG he had recently taken with the device. Dr. Massey said he agreed with the timepiece that the man's AFib had returned, and he started the patient back up on blood thinners. The cardiologist said that the Apple Watch could be credited with saving the man's life. "...we got him on a blood thinner to prevent a stroke, so that is a big deal," he said.
Witnessing first hand how owning a smartwatch can actually make the difference between life and death, the Doctor is optimistic about the future. He said, "I am hopeful that other heart rhythm problems will be able to be detected in the future outside of the doctor's office. And that's exciting."
If Google unveils its rumored Pixel Watch this year, it too might feature an ECG monitor. Last month we told you that the Verily Study Watch, used for research and available by prescription only,
recently received FDA approval for its ECG feature
. That's a big deal because Verily is owned by Google parent Alphabet. It wouldn't be much of a stretch to believe that Google would port over the monitor for its own timepiece.
The GPS version of the Apple Watch Series 4 starts at $399 at Apple. The GPS + Cellular model is priced at $499 and up.