ECG sensor on the Apple Watch Series 4 has already saved a life
31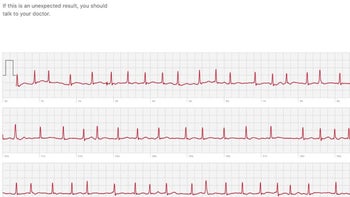 As it turns out, even though the ECG sensor on the Series 4 version of the smartwatch has just been made available, it has already saved at least one life.
According to a Reddit user
(via
Apple Insider
) who had just enabled the ECG sensor on his Series 4 Apple Watch, he received an abnormal heart rate notification. So he used the ECG sensor and it showed that he was experiencing atrial fibrillation (afib). He tested himself several times, and each time the result was the same.
After driving to the hospital, he walked into the ER and said, "Ok so there is a new watch feature....hahaha....I'm silly but can we check this?" And when a technician checked his heart on a monitor, he was alarmed enough to get a doctor to come right away. After an examination, the doc tells him, "You should buy Apple stock. This probably saved you. I read about this last night and thought we would see an upswing this week. I didn't expect it first thing this morning."
Recommended Stories