Where's My Mickey Review
4
Mickey Mouse arrives to Disney's "Where's My …" series with a splash. A $1 puzzler game with new environments and mechanics, Disney has avoided the trap of the sequel and delivers a fun and light entertaining game providing a couple of hours of gameplay.
In
Where's My Mickey
you take over no other than Mickey Mouse and get to meet legendary characters like Pluto and "Van Goofy." The classic Walt Disney characters come to life in little mini-movie animations between the episodes, explaining in general terms why you are doing what you are doing.
That is, why are you trying to dig canals to transport trapped water in pipes. There is little story to it actually - Mickey's serves lemon water to thirsty tourists in the first episode, fends off flames in the second one and grows plants in the third one.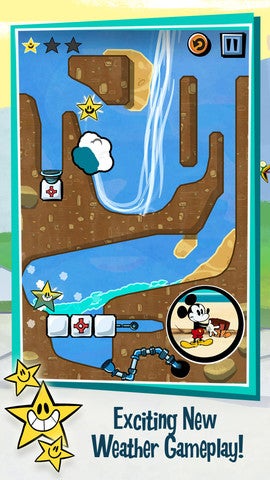 What's essential and interesting is the
puzzle element
and that's where the game shines. With 20 puzzles in each of the episodes, all the action has gone from underground to the outdoors and various elements like wind, clouds and rain come into play making your job of transporting the water harder. That has added a lot more flexibility and excitement to the little brain-teasers you have to solve.
It never gets too hard
, though, unless you want to collect all the three stars, and even then it doesn't take special mastery - a couple of tries are usually enough to figure it out. The game judges your performance by three parameters: how quick you collect the water, whether you water the three stars and finally how much H2O you put in the pipe.
We like the
cartoony graphics
of the game, but they seem more appealing to kids than adults and the same can be said about the sound effects. The game is fun for all ages to play, but it seems mostly oriented towards the younger crowd.
Good news is there is only a single-app purchase that can be made and this game is perfectly safe to give to your kids to play. There are three main episodes and two additional ones, both of which you can unlock for $1.
Conclusion

All in all, Disney has obviously put more effort in
"Where's My Mickey"
than in all previous episodes. Gameplay is diverse, the mini-movies make the experience richer and the Walt Disney characters are there. Speaking of which, did you know that Mickey Mouse made its debut way back in 1928? The funny mouse detective is alive and well up to this day, and this title is just one more proof.
| | |
| --- | --- |
| PROS | Puzzlers are fun, clouds and wind make the gameplay diverse |
| | Mini movies for each episode add a lot of character |
| | Mickey Mouse and classic Disney heroes are fun to watch |
| CONS | Could be a bit more challenging |