A galaxy of stars: a look at Samsung's high-end Galaxy smartphones from 2010 'til now
25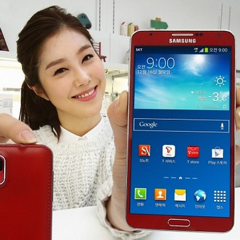 Samsung wasn't the first manufacturer to launch an Android smartphone (we all know that), and yet the company quickly became the world's largest Android vendor. It's been 6 years since Samsung released its very first Android smartphones - the Galaxy i7500 and
Galaxy Spica
- but these weren't particularly impressive. The first real star of Samsung's Android line-up came out one year later, in 2010: it was the original Galaxy S, a device that started what was about to become the most successful line-up of Android handsets to date.
Needless to say, a lot of things have changed since 2010, and Samsung diversified its Android offering, releasing various high-end Galaxies, some of which weren't part of the Galaxy S family. Let's take a look at all the relevant models, shall we? In chronological order:
As we already said, the original Samsung Galaxy S was launched in 2010 (in June, to be exact), eventually becoming Samsung's first Android smartphone to hit the 10 million units sold mark. While its international versions had similar specs and looks, in the US the handset was released under various names, with different designs:
Samsung Captivate
(AT&T),
Samsung Epic 4G
(Sprint),
Samsung Fascinate
(Verizon), or
Samsung Vibrant
(T-Mobile). Back in 2010, the 4-inch, 480 x 800 pixels Super AMOLED display of the Galaxy S was labeled as being "huge." The smartphone was one of the thinnest on the market (9.9 mm), and was powered by a single-core 1 GHz Hummingbird processor (also known as Exynos 3). At launch, it ran Android 2.1 Eclair with TouchWiz UI, further featuring 512 MB of RAM, a 5 MP rear camera, VGA front-facing camera, 16 GB of expandable storage space, and a 1500 mAh battery. Google's
Nexus S
(also released in 2010) was based on the Galaxy S.
2011 brought us the Samsung Galaxy S II, which, once again, was one of the thinnest smartphones on the market (8.49 mm). The S II is more powerful than its predecessor, tanks to a dual-core 1.2 GHz Exynos 4210 processor (or a dual-core 1.5 GHz Snapdragon S3 in some markets) and 1 GB of RAM. Other improvements included a 4.3-inch 480 x 800 pixels Super AMOLED Plus display, an 8 MP rear camera, 2 MP front-facing camera, and a larger battery (1650 mAh, or 1800 mAh on some variants). The S II was more successful than the original Galaxy S, overall sales reaching 40 million units in about 2 years from launch.
Later in 2011 (October), Samsung released its first Galaxy Note, which became the world's first successful "phablet." At that time (when the iPhone was still a 3.5-inch handset), the 5.3-inch, 800 x 1280 pixels Super AMOLED screen of the Galaxy Note made the device too big for most smartphone users. However, the Note had plenty of high-end features to attract customers who weren't afraid to experiment. Its S Pen stylus - the first made for a handset with a capacitive touchscreen - helped the Galaxy Note stand out from the crowd even more. This wasn't an extra-large smartphone just for the sake of being extra-large: the huge display actually made sense, offering more space for the S Pen and its capabilities (including taking notes, or doodling and drawing). In August 2012, Samsung announced that it sold 10 million Galaxy Notes around the world.
Unlike the Nexus S (which, as already mentioned, is based on the Galaxy S), the Galaxy Nexus deserves its own place in our article, since it's not based on a previously introduced handset. Released by Samsung and Google in November 2011, this was the world's first smartphone to run Android 4.0 Ice Cream Sandwich, and the first Nexus to sport a 720p display (a 4.65-inch Super AMOLED one). The Galaxy Nexus was also notable for its slightly curved design.
The Galaxy S III was launched in May 2012, coming with a new design (its rounded corners make it look different from the S II and the original S), and a 4.8-inch, 720 x 1280 pixels display. While the handset's international variant features a quad-core Exynos 4 processor and 1 GB of RAM, its US models come with dual-core Snapdragon S4 processors and (for the first time on a Samsung phone) 2 GB of RAM. The S III was also the first Samsung smartphone to feature the S Voice personal assistant, and to have up to 64 GB of internal memory. In less than 1 year from launch, Samsung sold 50 million Galaxy S III handsets around the world.
While the first Galaxy Note was seen by many as an oddity, the Galaxy Note II was received with more enthusiasm. It was late September 2012 when the Note II hit the market, a time when even Apple admitted that people wanted larger screens, thus launching its very first 4-inch iPhone (the iPhone 5). Compared to the original Note, the Note II has a larger screen (5.5 inches vs. 5.3 inches), and yet its pixel resolution is lower: 720 x 1280 vs. 800 x 1280. However, this doesn't mean the Note II isn't superior to the original Note. Armed with improvements almost all across the board (including quad-core processors, 2 GB of RAM, and an enhanced S Pen), the Galaxy Note II was sold in about 30 million units in one year since launch.
Released a bit over 2 years ago - in April 2013 - the Galaxy S4 is the first in the series to sport a 1080 x 1920 pixels display (5-inch, Super AMOLED), and the first to be powered by an octa-core processor (Exynos 5410) - though we have to mention that the US variant has a quad-core Snapdragon 600 inside. The S4 looks like a refined S III, and, at launch, it was Samsung's thinnest flagship smartphone (7.9 mm). Other enhancements, including a 13 MP rear camera and 2 GB of RAM, plus new software features (Air Gesture, Smart Scroll, Smart Pause, etc) made the S4 one of the hottest smartphones of 2013. 40 million Galaxy S4 units were sold in 6 months since launch.
A Galaxy S4 Active was released not long after the regular S4, bringing a modified case that made it dust- and water-resistant.
Later in 2013, Samsung unsurprisingly released the Galaxy Note 3, which, like the S4, came with a 1080p display - but a considerably larger one that measures 5.7 inches. The Note 3 brought some novelties of its own, including a faux leather back cover, 3 GB of RAM, and support for USB 3.0. Powered by either an octa-core Exynos 5420, or a quad-core Snapdragon 800 processor, the Galaxy Note 3 was sold in 10 million units in 2 months since launch.
Check out the rest of Samsung's high-end Galaxy smartphones on the next page!