7 old flagships that you can buy as great mid-range smartphones right now (March 2015)
41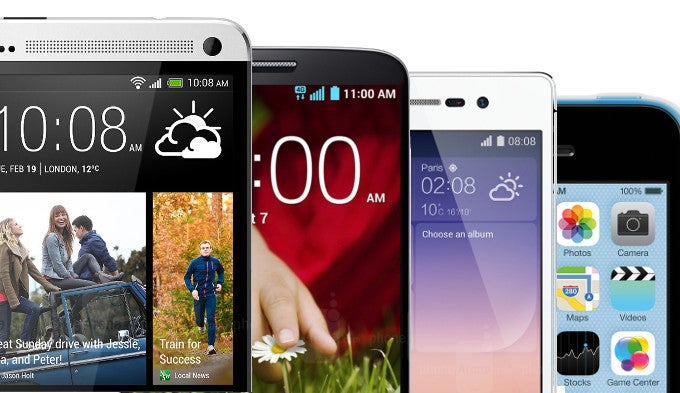 The debate on whether it's better to buy an old flagship or a brand new mid-range smartphone is an old an undying one, as opinions seem to be, in most cases, split right down the middle. It is definitely a question you should be asking yourself if you are planning on buying a handset that's somewhere between entry-level and high-end.
On one hand, you have the lucrative new devices that have been designed to look fresh, sleek, and modern and represent the newest trends in smartphone industry, but have had some corners cut and while they will be rocking a current-gen SoC, it will most probably not be a top performer. On the other hand, you have 12-month and above old flagships, which used to be the cream of the crop in their own day, but are now aging.
The general consensus is that new midrange processors are usually about the same in performance when compared to the highenders of yesteryear. However, as we've seen with the recent Lollipop rollouts, flagships tend to get more love from the updates department of their respective manufacturers, as companies aim to keep the highest-paying customers happy, instead of investing obscene amounts of resources into updating a wide range of midrangers – something, which may or may not go unnoticed by the users. So, as long as you are not worried that you will not be getting a 64-bit processor, you really shouldn't dismiss the notion of grabbing an old flagship. Trust us, it will be a long, long while before app developers turn their back on 32-bit compatibility, and grabbing a midranger right now does not make it future-proof just because of the 64-bit capable SoC – it will still be cut off from software updates in about a year (educated guesstimate), and will probably give up on running the latest and greatest of apps at about the same time the older flagship does.
So, now that we've thrown this viewpoint out there, let us back it up with a selection of some old flagships that could make for great midrangers nowadays!
A hot topic right here, as the new One M9 has only recently been released to a mixed response. Well, if you don't wish to shell out for a full-fledged flagship, the old HTC One (M7) can be picked up for around $300 new, and for that price tag you get a Snapdragon 600, a 4.7" 1080p screen, and stereo front-facing boomsound speakers. The handset sits somewhere between the Desire 620 and Desire 820 in terms of performance, but makes up for it with the iconic metal unibody design that the HTC One series is known for. Unfortunately, the One (M8) is still hovering around the $400 mark, which is why it didn't officially make it in this list, but hey – here's a mention!
Xiaomi is making waves in the smartphone world by already offering pretty highly spec'd smartphones at very low prices. Its Mi 3 ex-flagship can be found for around $270, if you can hunt one down, and for the price you will get a Snapdragon 800 SoC, complemented by 2 GB of RAM, a 13 MP main camera with a 2 MP selfie snapper, a 5" 1080p screen, and the Xiaomi MIUI (on top of Android 4.4.2) experience. The company's current flagship is the Mi Note, which is a phablet-class handset, while the Mi 4 is still holding a price of around $400.
When it comes to a mid-range purchase, the LG G2 is always a device that comes to mind. The flagship was great when it came out in 2013, and it is still stunning with its thin bezels and 76.28% screen-to-body ratio. Under the sleek hood, it sports a Snapdragon 800 and 2 GB of RAM, while a 13 MP / 2.1 MP camera combo takes care of the memorabilia. A browse through Amazon showed us that the handset can easily be picked up for around $200 or less, and we'd call that a bargain!
OK, technically, the 5c was marketed as a midranger by Apple, but in reality – it's an undercover iPhone 5 with a slightly better camera. If you are craving the iOS experience, and don't mind the 4" screen, you shouldn't look away from the iPhone 5c, as it can be bought for around $350 from various retailers and we'd say it will be at least 'till 2016's September before you can call it "obsolete".
Mr. Vanilla Android has been dethroned from the Google signature flagship spot by 2014's gargantuan Nexus 6. The former was pretty popular for being affordable back in its own day, and is currently hovering around the $350 - $400 mark. For this price, you get a pure Google Android experience, shown on a 5" 1080p screen, and backed up by a Qualcomm Snapdragon 800 with 2 GB of RAM under the hood. The phone's 8 MP / 1.3 MP camera combo is underwhelming and its battery life is far from great, but we still find the Nexus 5 to be an attractive handset – probably due to the light weight and snappy UI.
Released in May of 2014, the Ascend P7 is a premium looking and feeling handset. It comes with a 5" 1080p screen, 13 MP / 8 MP camera combo, a homebrewed Kirin 910T quad-core 1.8 GHz processor, and 2 GB of RAM. Its metal-and-glass chassis is not too large, providing a sleek 70% screen-to-body ratio. The handset can be had for around $320 from various retailers, and we'd say that's a pretty good price.
Calling it an "ex-" flagship is a bit awkward, as the Lumia 930 (Icon for Verizon) is still the most current Windows Phone flagship – Microsoft has been busy with the whole Nokia acquisition and the Windows 10 development, and while it has pushed a few entry-level and midrange Lumias out on the market, it seems it will be holding out on a new flagship until it releases its newest OS at least. However, this has not stopped the aging Lumia 930 / Icon's price from dropping and it can now be had for about $360. This kind of cash gets you a Snapdragon 800, 2 GB of RAM, a 20 MP PureView camera and a 1.2 MP selfie snapper, all rolling under a Windows Phone 8.1 operating system, which will be updated to Windows 10 once that rolls out.
Recommended Stories