10 outstandingly beautiful, well-designed Android devices (2015 edition)
64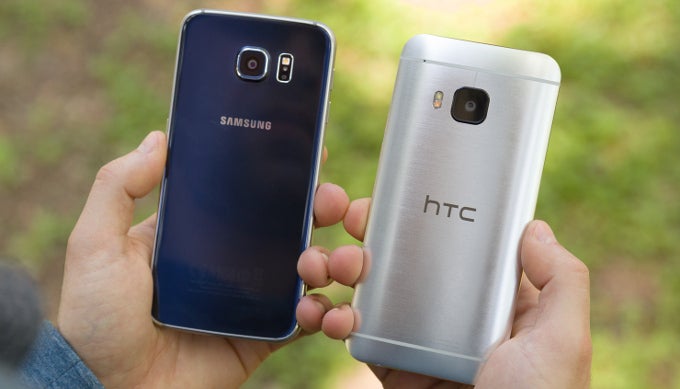 The HTC One M9 and Samsung Galaxy S6 set new standards for style and polish in Android land
They say that beauty is in the eye of the beholder, and that's especially true for smartphones where it seems that everyone has its own favorites. Nonetheless, it seems that recent trends have brought smartphone evolution to a place where you need to meet certain criteria in order to have a compelling device.
What are those? First of all, it seems that most top-tier phones agree that a thinner, more elegant phone is very appealing to customers. While there are some downsides that come with thinner devices (the most notable being limited space that forces use of smaller batteries), razor slim handsets seem to have been universally loved since the times of the Motorola Razr.
Metals flow in thinner, more elegant phones in 2015
The other notable factor is the change in materials and shapes: plastic phones still have their place, even at a flagship level (the Lumia phones with their smooth polycarbonate shells are a good example), but a premium experience is associated more with materials such as aluminum and glass that carry a more ever-lasting beauty and style. It's also notable how phone design is slowly but surely evolving towards smoother, less rectangular shapes. Those are being replaced with slight curves that contribute to a better in-hand feel.
With all this in mind, we are going through the 10 most beautiful, well-designed Android devices starting from current devices and going back to the start of the platform. We give our reasons for each device right below, but since design is such a subjective matter, we would not be surprised if your selection differed. What's the most beautiful phone in your opinion? You can vote right after our summary or jump in to the comments section to tell us about another model that you prefer and why.
#1: Samsung Galaxy S6
The Samsung Galaxy S6 was a complete restart for Samsung and its flagship Galaxy S series. After years of uninspiring plastic phones, Samsung went back to the drawing board as the message finally came across to the company that started seeing its sales drop. The result is a beautiful, very slim phone that is packed to the gills: the Galaxy S6 features a stylish, reflective Gorilla Glass 4 on both its back and front, and it features a sturdy metal frame. The design is also defined by the slight curved and the non-blocky feel of the S6, which fits comfortably in the hand.
#2: HTC One M9 (One series)

The HTC One series showed us what good, ever-green Android design looks like years before other big Android phone makers started paying meticulous attention to the visual style and appeal of their high-end creations. The HTC One M9 is the culmination of that design with a sturdy brushed metal unibody, carefully crafted and clicky metal button with a nice touch, and the available colors. The HTC One M9 features a nice curved back, but its sides come out sharp, which is a weird feeling at first. One thing that we hope to see improved in future editions of the One series is the screen-to-body ratio, as right now the display is surronded by a large chin on the top and bottom, and HTC could make better use of that space.
#3: Sony Xperia Z4
See Sony Xperia Z4 specs here
The Sony Xperia Z series kicked off the Sony OmniBalance design language, and have been slowly, but steadily polishing it on the way to perfection. With glass on both the front and back, and metal as the frame, the Xperia Z4 is stylish, it's slimmer than ever, and it's packed with the latest hardware. Sony has also paid attention to the little details: you no longer have to deal with removing a flap to charge/sync the phone via its microUSB port; the phone has gotten rid of the one element that breaks its visual style - the magnetic docking port; and all slots (microSIM and microSD) are now under one flap. Sony has also managed to still have the device being protected from the elements.
#4: Huawei P8

The Huawei P8 surprised us with its very sleek, extremely thin body that is made of metal and comes in a range of well-balanced colors. We're not all that fond of its rough edges and very strict, rectangular form, but the the slightly curved sides contribute to a more comfortable in-hand feel, and the buttons are clicky and comfortable to press.






#5: Xiaomi Mi Note

A phone designed for the Chinese market, the Xiaomi Note is probably the best showcase of original Chinese design that cannot be accused of copying certain fruit brands. The 5.7-inch Mi Note is a large phone made with glass on the back and front (it's curved towards the edge for a more comfortable fit), a flush camera, and a metal frame.



#6: Meizu MX4 Pro
The MX4 Pro might come from Meizu, a growing Chinese phone maker you probably haven't heard of, but it's a surprisingly well made device, offered for nearly half the price of mainstream flagships. With an extremely slim bezel, a metal frame, a curved back and a minimalist design it is a very stylish phone.

Going back in time, the HTC One S stands out as a device with a surprisingly contemporary looks: it was one of the first to sport an anodized aluminum body, it was super thin for the times, and it featured a very solid build quality.
#8: Blu Vivo Air
The affordable Blu Vivo Air shows that a phone does not have to be expensive in order to be constructed well. This $200 handset is made out of aluminum, and it's got a slim, appealing body. It's also offered in the trendy gold color.
#9: Samsung Galaxy S III
The Galaxy S III is one of the most successful phones Samsung has ever made, and at the time of its launch it impressed by pushing the boundary on thickness, and introducing that very sleek design with subtle curves rather than off-putting straight angles and rough edges. Its nature-inspired looks and interface gave birth to a whole new UI as well.
#10: Nexus 4
The Google Nexus 4 by LG is another device from the past that impressed with both its low price and thoughtful design. With a dotted pattern on its back that changes its shape and color under different lighting, its glass back, and fairly slim profile, it was the best Nexus available and it showed that Google is serious about its Nexus lineup.