Meizu MX4 Pro Review
30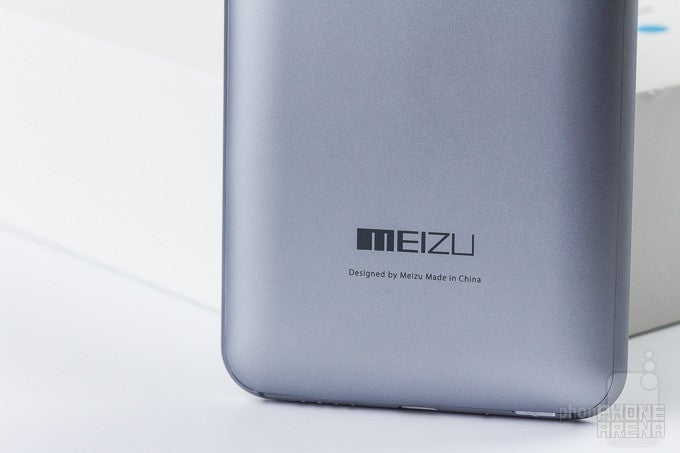 Introduction
What should the ideal smartphone look like?
Most of you will point out that a large and vivid display, powerful processor, a solid, refined design, and a good camera are a must. Good battery life is also essential, and so is a fast and good-looking user interface. The more demanding will point to fingerprint security as a requirement, and sound aficionados will hope for crystal clarity in music playback. Why are we listing all those wishes now and here? Simple: on paper, the
Meizu MX4 Pro
has got it all.
Yet another high-profile handset from China, the MX4 Pro is a creation of the company Meizu, which has its root in the music industry. It's thus no surprise that - apart from having all the basics covered - one of the key selling points of MX4 Pro is its 'hi-fi' audio. It also packs a fingerprint reader, but those are hardly its only highlights: it delivers with a 5.5" Quad HD, nearly bezel-less display, a powerful, octa-core Exynos 5430 system chip, a 20-megapixel main camera and a spacious 3350mAh battery.
All of that at a price lower than that of a flagship from a first-tier company like Samsung and Apple. Is it all as good in reality as it looks on paper, though? Let's find out!
In the box:
2A wall charger (faster when compared to the usual 1A charger)
microUSB Cable
User manual
Headset only included in some markets (not in our box)
Design
The Meizu MX4 Pro design is a display of craftsmanship with a solid build quality, thin bezels and nice in-hand feel.
A sibling to the recently released
Meizu MX4
, the MX4 Pro looks nearly identical in terms of design with an austere, yet stylish design. It's noticeably taller than the MX4, but just a hair wider and thicker, so overall the difference between the two is minimal. The frame of the phone is made out of metal, but the back cover - despite its similar paint job and finish as that of the aluminum frame - is plastic. Still, the MX4 Pro is reassuringly well put together.
It's worth pointing out that Meizu has done an outstanding job cramming in a large 5.5-inch display in a very compact-for-the-size body. The bezel around the screen sides has almost disappeared - it measures just 2.8mm, a remarkable engineering achievement. Admittedly, it is a hair wider than the almost unnoticeable 2.6mm bezel in the original MX4, but nonetheless impressive.
Just like on the iPhone, there is only a single physical home key where the fingerprint scanner resides on the MX4 Pro - no back button or any other traditional capacitive buttons. In order to go back in menus, you have the choice of either virtual, on-screen buttons, or an upwards gesture starting from that same physical home key.
With all the marvels of a thin bezel, though, Meizu has inconveniently decided to place the lock key in a hard to reach position on the top of the phone. Luckily, this is not really an issue on the MX4 Pro - the handset can also be easily locked by holding the much easier-to-reach home key. For those times you'd use the physical keys - the lock key on top and the volume rocker on the left - you'd appreciate the craftsmanship on display as they are both metal-made and clicky.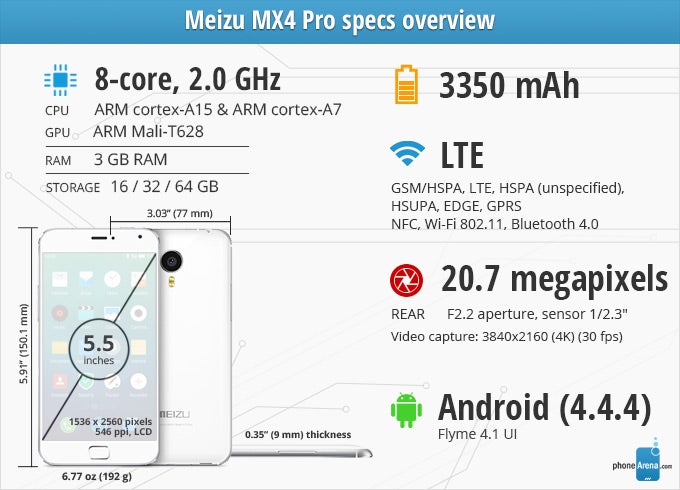 Display
The 5.5" Quad HD display is sharp and features vivid, but overblown colors that are not perfectly accurate.
The Meizu MX4 Pro comes with a 5.5-inch IPS LCD display with a 1536х2560-pixel resolution (Quad HD-ish). The interesting thing in Meizu's latest phones - including the MX4 Pro - is the unusual 15:9 aspect ratio. When you hold the phone in a vertical, portrait position, this results in a wider-looking display, better fit for reading as lines of text do not appear as short and your eyes don't have to jump between lines so often. Turn it over into horizontal, landscape orientation, though, and rather than have full-screen video, you'll start seeing two very slim black stripes to compensate for the shorter, 16:9 common video aspect ratio.
In terms of sharpness, we're dealing with a pixel density of 546ppi here, more than enough for even the most eagle-eyed viewers who examine their displays with a Sherlock Holmesian fever. The panel is also protected by Gorilla Glass 3.
What about the colors, though? At first sight, it's obvious that images appear vibrant, with rich, juicy tones, but are they really accurate? Our analysis shows that the whites on the MX4 Pro are a bit on the cold, blue side with color temperature of around 7500K (above the reference 6500K value). RGB balance is off with overblown blues and greens, and underrepresented reds. Gamma is perfectly close to the reference 2.2 value at 2.15, so overall output is fairly well controlled throughout. Turning over to color and saturations, we see that while the MX4 Pro - admirably - sticks to the sRGB color gamut triangle, colors are purposefully blown out of proportion and look unnaturally saturated. We've seen way worse, but it would have been nice if the color balance was a bit better.
Brightness can be cranked up really high and while we've seen phones filter out reflections a bit better, the MX4 Pro is definitely one that is fairly easy to use outdoors, even under direct sunlight. It's worth noting that the brightness can also be reduced to very low levels, which is neat for night birds who value a very low minimum brightness, key to avoiding irritating your eyes. Finally, viewing angles are also nice and wide.
Display measurements and quality
Recommended Stories