10 clear cases for the Galaxy S6 that offer protection without compromising appearance
13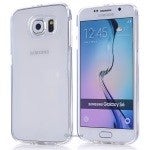 If you're searching for a case to protect your Galaxy S6, consider buying clear cases. The GS6 is a total looker and bumpy cases that mask its supremely likeable design should be out of the question, unless you're after really strong protection. Presumably, you also work in a foundry. Anyway, a clear case solves the problem of obscuring the GS6's mighty good looks, while offering a decent amount of protection.
Some clear cases represent just a basic transparent shell without much design mojo to speak of, but there are also products that combine clear plastic with TPU corners for enhanced shock absorption.
All in all, clear cases pack plenty of protection and style against an insubstantial amount of cash. Here are 10 of their kind GS6 buyers should consider. Just tap the blue links in the slideshow, and they will take you straight to Amazon!