Camera comparison: iPhone 6 and iPhone 6 Plus vs iPhone 5s, Galaxy S5, LG G3, Lumia 1520, Xperia Z2, HTC One (M8)
99+

Introduction
Technology has reached a state where making phone calls is far from a phone's most frequently used feature. Instead, people use their phones to look up stuff on the web, to access social networks, and, of course, to take photos and videos. That's why manufacturers invest a lot of time and effort in equipping their phones with quality cameras.
Apple, in particular, has been treating its iPhone to camera upgrades with each consecutive generation. Unlike others, however, the company has never been into the megapixel race – as the iPhone 5s and the iPhone 5 before them, the iPhone 6 and iPhone 6 Plus have 8-megapixel main cameras. To put this into perspective, most other popular phones have cameras of 13 to 20 megapixels. But as we've often said, megapixels aren't all that matters in a camera, and Apple is perfectly aware of that. That's why the
iPhone 6
and
6 Plus
sport an upgraded sensor which enables better low-light performance and faster auto-focus. Still, will this be enough for the new iPhones to beat or match the performance of other flagship phones? Well, we're about to answer this question in our latest camera comparison.
We've chosen to stack up the iPhone 6 and iPhone 6 Plus against some of the best smartphones in town. These are the
Samsung Galaxy S5
, the
LG G3
, the
Nokia Lumia 1520
, the
Sony Xperia Z2
, and the
HTC One (M8)
. And let's not forget Apple's previous flagship, the
iPhone 5s
. It will be a tough fight, but who knows, perhaps the new iPhones have a trick or two up their sleeves. But before we look at any photos, here's what these phones have to offer in terms of specs: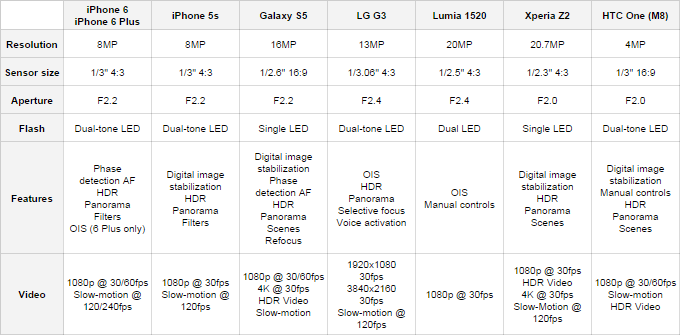 Colors
We bet you're expecting to see identical performance from the cameras on the iPhone 6 and iPhone 6 Plus. And you're absolutely correct if you do – their daytime samples have turned out splendid, and we don't see any difference in quality between the two phones' photos. On top of that, color reproduction in the iPhones' images is excellent. Colors are vivid and eye-pleasing, without being blown out of proportion, as other cameras have a tendency of doing. Take a look at the samples below and see what we mean. Notice how in the iPhone 6 and 6 Plus photos flower petals look vibrant and natural with their colors? Most other phones have increased the saturation and contrast in their photos to a point where the same color hues appear overly bright.
The iPhone 5s does not lag far behind. Colors in its photos are a bit warmer and more saturated, but still within tolerable limits. And we like how the sky's shade of blue has been captured to appear naturally, not overexposed.
The Nokia Lumia 1520 has a lot of potential and is one of the better performers in this race, but its results are rather inconsistent. Some of its photos have excellent color balance and accuracy, while others turn out overly warm or cold. Colors are neutral to vivid, but shades that are bright in real life could end up oversaturated in the produced image.
Sony's Xperia Z2 has its own opinion about things. With colors, in particular, its camera keeps their saturation at a neutral, almost washed-out level, with a slight cold-ish tone in several scenes. This might appeal to some people, yet those who'd rather have a bit more vibrancy in their images might be left underwhelmed.
The Samsung Galaxy S5's camera has a tendency to lean towards the colder side, as is typical for most of Samsung's cameras, actually. That's especially noticeable in shades of red, which appear slightly pink-ish. Color saturation is slightly boosted, and we're okay with that.
Shooting with the LG G3 produces vivid, colorful images. Perhaps their color saturation could have been not as intense, but we'd take them as they are. Some scenes appear colder or warmer than they should, but the deviation is slight and doesn't bother us.
The HTC One (M8) could have done better. Some scenes have their colors reproduced neutrally, but in others, there's some serious skewing going on. In our samples below, shades of orange appear yellow, shades of yellow appear white, and the sky's blue hue is very unnatural. Also, we noticed that its camera increases color saturation way too much in cloudy scenes.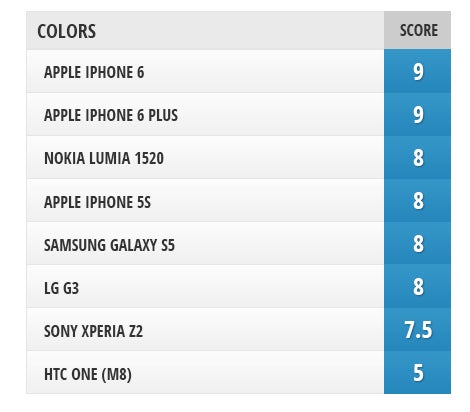 Recommended Stories