Screen comparison: G3 vs Xperia Z2 vs Galaxy S5 vs One (M8) vs iPhone 5s
99+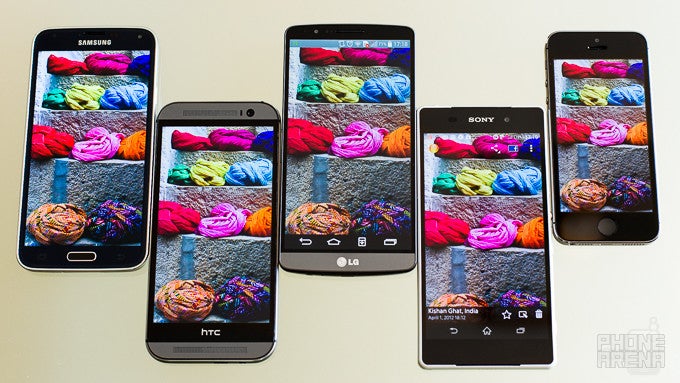 With a new flagship handset out of the gate (we're looking at you,
LG G3
), it's time for us to sit down, power up the calibrators, get our magnifying glasses, and do a nice and detailed inspection of what we're dealing with when it comes to that gigantic, 5.5" display. Frankly, there's a lot going for the G3's display – it's one of the largest ones amongst other AAA smartphones, plus it comes with the remarkable QHD resolution that's supposed to make things even crisper and clearer than usual. But, as our review has already shown, the G3's display isn't quite the breakthrough affair that we were hoping for. That said, the G3 will now have to face some other handsets, whose screens have proven to be pretty exceptional (in one way or the other), such as the
Xperia Z2
, the
One (M8)
, the
iPhone 5s
, and, of course, the
Galaxy S5
.
We'll be testing the displays in a number of areas, including brightness and visibility, resolution, and color reproduction. Let's see who's boss in the display category at this point!
Brightness and outdoor visibility
The first key area that we're going to focus on is brightness and visibility. This is where we find out how well handset displays perform outdoors, where there's plenty of bright ambient light.
Having a powerful brightness output is of utmost importance for every smartphone. After all, what use a massive screen is if you can't read your email while out and about. Recently, cell phone manufacturers have managed to achieve a decent level in this respect, though we're still far from where we need to be. Most high-end Android handsets stick around the 450-nit mark, which often makes for a readable screen outdoors. Readable, but by no means easy to view when the sun is shining brightly. The LG G3 and Xperia Z2 can reach about 450 nits of maximum brightness, while the HTC One (M8) manages to be a bit brighter with its 490 nits.
However, when viewed outdoors, there's hardly any difference between the M8 and the Z2. The G3, on the other hand, is just a bit dimmer. It also tends to overheat, which causes the phone to automatically lower its brightness level to about 90%, and it doesn't let you crank it back up to the maximum. Needless to say, such behavior isn't observed with any of the other phones. Meanwhile, the Galaxy S5 can outshine these guys, provided that you have the Adapt Display option activated. The GS5's brightness output actually varies depending on the content that's being displayed. On average, this allows the GS5's screen to be about as bright as that of the iPhone 5s, which cranks its brightness up to about 580 nits when facing the sun. Great performance demonstrated here by Apple's and Samsung's flagships, but there's still a lot more to be desired, as you can see from the images below.
Meanwhile, another important factor that we have to consider while on the subject of brightness is... minimum brightness. That's right – a metric which is very important for those of us who often use their phones in bed. Basically, the dimmer a phone's screen can get, the better. Some companies have started to actively deal with this – for example, Samsung has specifically made sure that the Galaxy S5 can lower the brightness to as low as just 2 nits! Measuring the handsets' minimum output when displaying solid white, the GS5 proves to be the best proposition in that category, although the iPhone 5s is a very close runner-up with its 5 nits. The LG G3 takes the honorable 3rd spot with its 9 nits, which means it's a bit brighter than what we'd consider comfortable, but still OK. Finally, the HTC One (M8) and Sony Xperia Z2 share the last spot with their 16 nits of minimum brightness. Obviously, you wouldn't want to spend too much time viewing these in the dark.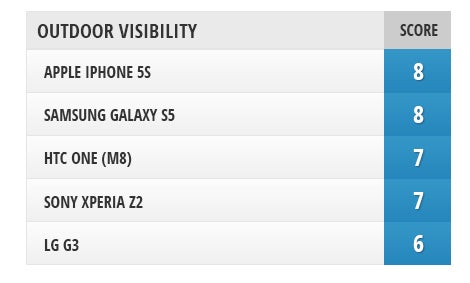 Recommended Stories