Samsung Galaxy Tab S7+ vs Apple iPad Pro (2020): the best tablets
11
We may earn a commission if you make a purchase from the links on this page.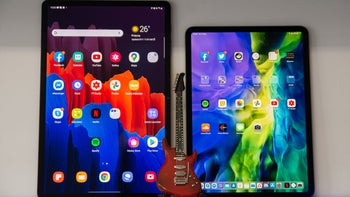 In 2020, Samsung launched the ambitious Galaxy Tab S7+ — big, powerful, with a pretty display, and the fantastic S Pen bundled in. It was out for blood, stepping up against the Apple
iPad Pro 2020
. Now, it's a couple of years older, and it's even succeeded by the
Galaxy Tab S8 Ultra
. But did the Galaxy Tab S7+ stand the test of time, and is it still a rival to the good ol' non-M1 iPad Pro?
Save on the Galaxy Tab S8 and S7 at Best Buy now
Galaxy Tab S7 vs iPad Pro summary
It really comes down to the age-old Android vs iOS preference. But, if you happen to be platform-agnostic, here are the main things you need to consider:
The S Pen is just as good as the Apple Pencil
Galaxy Tab S7 comes with S Pen in the box. Apple Pencil is a separate purchase
The screen of the Tab S7 is slightly better than the iPad Pro
The speakers of the iPad Pro are better than the Tab S7
The Galaxy Tab S7 is very productivity-centric
The iPad Pro works as an extension of your Apple computer, if you have one
Buy Apple iPad Pro 2020 from:
Galaxy Tab S7 vs iPad Pro display and design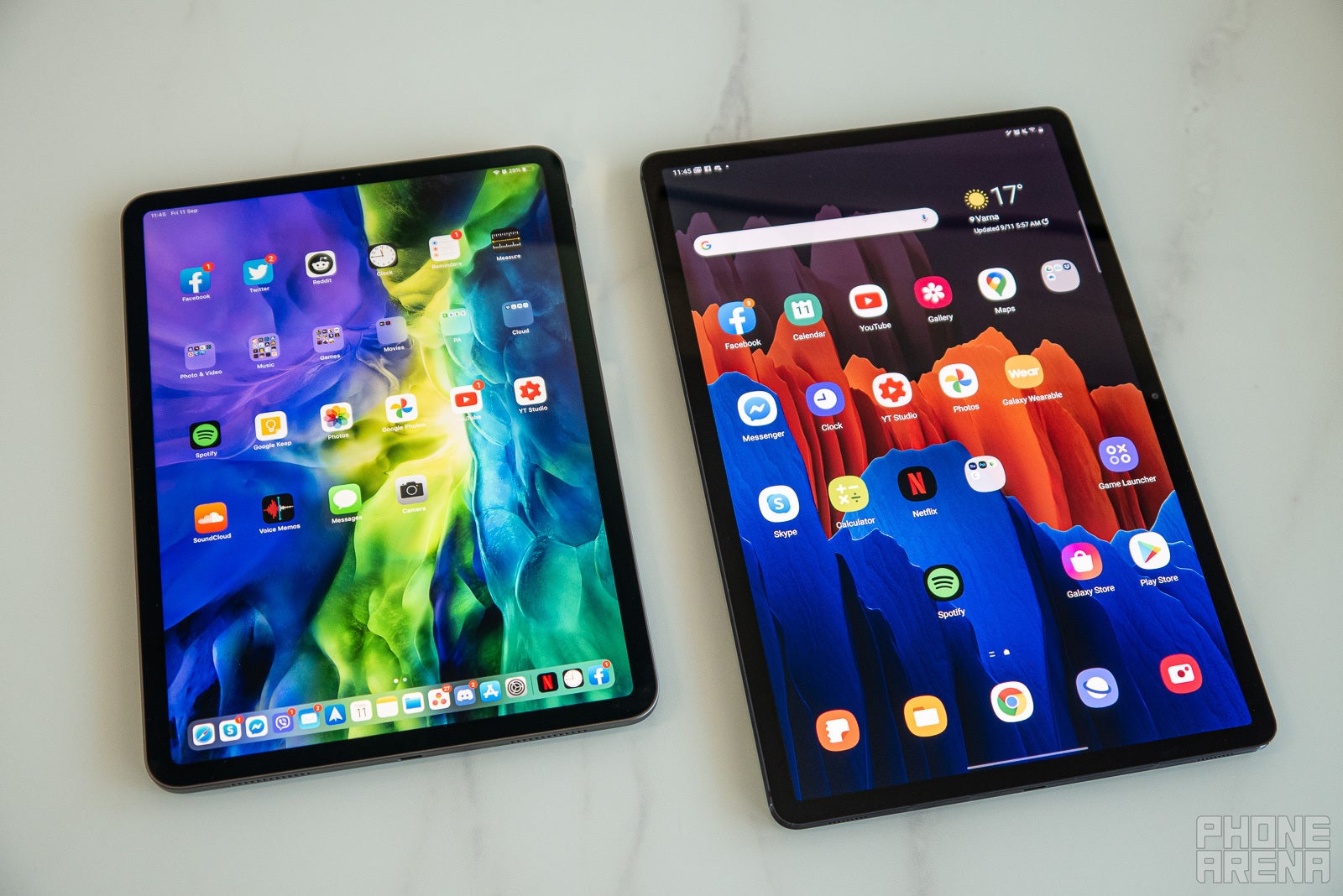 Samsung's been making AMOLED screens for years now and it has nailed the science down to a T. Every top-tier and even midrange Samsung device has a lovely screen and the Galaxy Tab S7+ is no exception. It has fantastic colors, super-sharp resolution, and a 120 Hz refresh rate which makes everything move pleasingly smoothly.
Apple stuck to LCD tech for its iPad Pro line in 2020. When it comes to colors, iPads also look fantastic, and the iPad Pro does have a 120 Hz ProMotion display, which moves just as smoothly. Both tablets have a pixel density of around 265 pixels-per-inch, but when comparing them side by side, the Tab S7 looks a bit sharper. Perhaps that's because of the excellent contrast of its AMOLED panel.
Both tablets come in two flavors each — you've got an 11-inch Galaxy Tab S7 or 12.4-inch
Galaxy Tab S7+
(keep in mind, the smaller Galaxy Tab S7 has an LCD panel and slightly lower specs); then you have an 11-inch iPad Pro and 12.9-inch iPad Pro. Basically, the choice is between a more portable powerhouse or a laptop-sized tablet — whichever side you choose, you are covered in size preference.
There's a slight difference between the two in terms of aspect ratio. The Galaxy Tab S7 has a 16:10 display, while the iPad Pro has a 4:3 ratio. In simple terms, the S7's screen is longer. This is great for watching movies, as you get smaller black bars and more of the picture on the screen. But when it comes to typing on a virtual keyboard in landscape, the iPad Pro's feels more natural, while the Galaxy Tab's is a bit spread out and hard to get used to.
Display measurements and quality
This translates to their respective keyboard cases, since — you know — they have to cover the entirety of the screen. The Galaxy Tab S7's keyboard is more stretched out than the iPad's, so it feels awkward for a while, especially if you move between devices often.
In terms of design and body construction, we've got flat sides and stark looks on both tablets. They look modern, sturdy, and industrial. Yet they are really thin and quite light for their size. They have uniform bezels around their displays, which are just thick enough to give you enough thumb space to hold each tablet, but thin enough to have that "all-screen" look.
Face ID vs fingerprint scanner
The Galaxy Tab S7 makes use of an under-screen fingerprint scanner for secure biometrics. It does support face unlock, but that just uses the selfie camera — it's not super-accurate nor is it extremely safe. The fingerprint scanner does work a-OK most of the time and I do think it's the better way to unlock a tablet.
The iPad Pro uses Face ID — the iPhone's secure face-scanning suite. It's super-accurate and fast. Though, it's a bit awkward when used with a tablet. Sometimes the slate is just too far from your face, or positioned at an angle. It may be at an arm's length, but not close enough to properly scan the user's face.
In any case, both tablets are locked tight and secure, while authorizing access is quick.
S Pen vs Apple Pencil
Samsung
has been working on its proprietary S Pen for years — ever since it launched the original Galaxy Note "phablet". Nowadays, the S Pen is fantastic. It comes nestled right into any Galaxy Note phone you buy and it's right there in the box when you buy a top-tier Galaxy tablet.
So yes, the S Pen is a package deal with the Galaxy Tab S7 and that's pretty fantastic for artists or anyone who wants to write by hand. It's much thicker than the Note's S Pen and very, very comfortable to use. It has solid palm rejection and connects via Bluetooth LE to give you remote control gestures from a distance.
The S Pen attaches magnetically to the Galaxy Tab S7 in two locations — along the back of the device, where you charge its battery for Bluetooth gestures, and along the right frame of the tablet for quick pick-ups and drop-offs.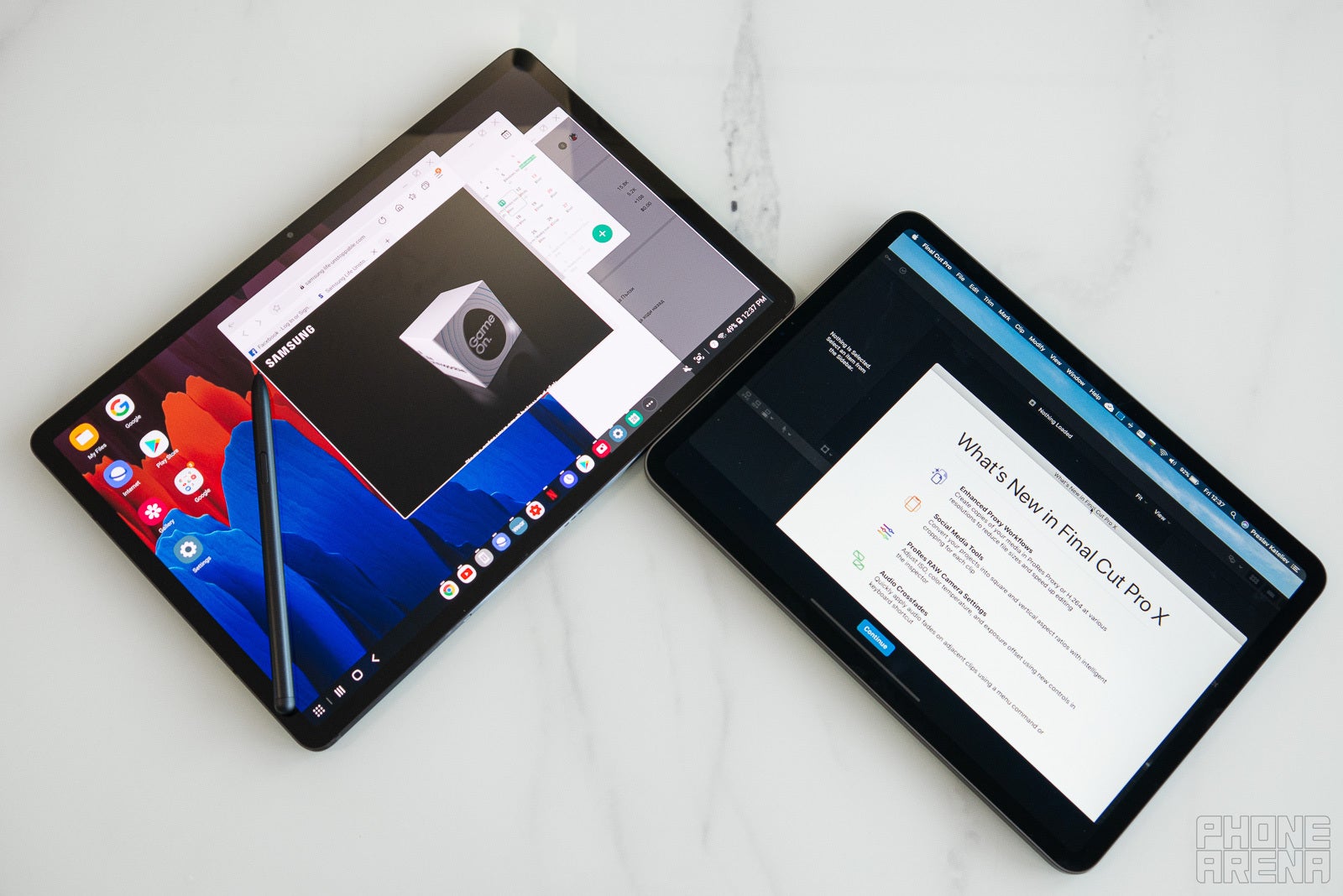 With the S7 line, the S Pen gets the super-fast 9 ms response time, which makes it feel very natural. Its rubber tip provides great resistance while gliding across the screen, adding for that "real feel".
The
Apple
Pencil is similarly outstanding — super-fast response time and outstanding palm rejection. It only has one place to attach to the iPad Pro — a magnetic strip on the right frame of the tablet, where it also charges.
Unlike the S Pen, the Apple Pencil needs to be charged to work as a stylus (whereas the S Pen only needs battery for remote control gestures). The Apple Pencil has a plastic tip that feels a bit more slippery while doodling.
The downside of the Apple Pencil is that you have to buy it separately.
Galaxy Tab S7 vs iPad Pro speakers and cameras
Both of these tablets are — of course — fantastic media machines. We have quad speakers positioned in a stereo setup on both devices.
Which one sounds better? Well, the iPad. Both tablets get loud and detailed, with a good amount of bass. Binging Netflix or listening to music sounds good on both. Their frequency responses differ a bit — it's slightly middier on the Tab S7, with a lack of any real bass thump. The iPad Pro sounds a bit more scooped in the mids, giving us a more polished sound.
That said, the Galaxy Tab S7 does have 3 different Dolby Atmos settings and an independent EQ. But, no matter how I tweaked it, there was always a compromise to be made. The iPad Pro sound is dialed in just right.
As for cameras, we've got a 5 MP front camera on the Tab S7 and a 10 MP selfie shooter on the iPad Pro. For what it's worth — the iPad camera here is better for selfies or video calls.
On the back, the iPad Pro has a 12 MP main camera, a 10 MP ultra-wide camera, and a LiDAR sensor for distance and depth measurements. You know — the big deal new sensor that's also coming (most probably) to the iPhone 12 Pro line.
The Galaxy Tab S7 a 13 MP main shooter and a 5 MP ultra-wide camera.
Both tablets have pretty competent cameras — comparable with the flagship smartphones out there. Do you really need to take photos while waving an 11-inch tablet around? Probably not. But it's nice to have a good camera when trying to share something during a chat or when you need to scan a document on the fly.
That said, the Samsung Camera app has a built-in scanner functionality. On the iPad, you will need to use the Notes app for that.
Galaxy Tab S7 vs iPad Pro software
Both of these machines have pretty big screens and it would be a waste if they didn't have a good deal of multitasking tools, right? Well, they do.
The Galaxy Tab S7 has split-screen, pop-up view (apps in windowed mode), and supports Picture-in-Picture. Whenever you are in a fullscreen app, you can swipe in from the side for a tray of your favorite apps. Tap to switch to one of them, or drag and drop an icon to pop it up in windowed or split-screen mode. It's pretty nifty, though it does work kind of janky — choppy animations and slow response time are to be noticed.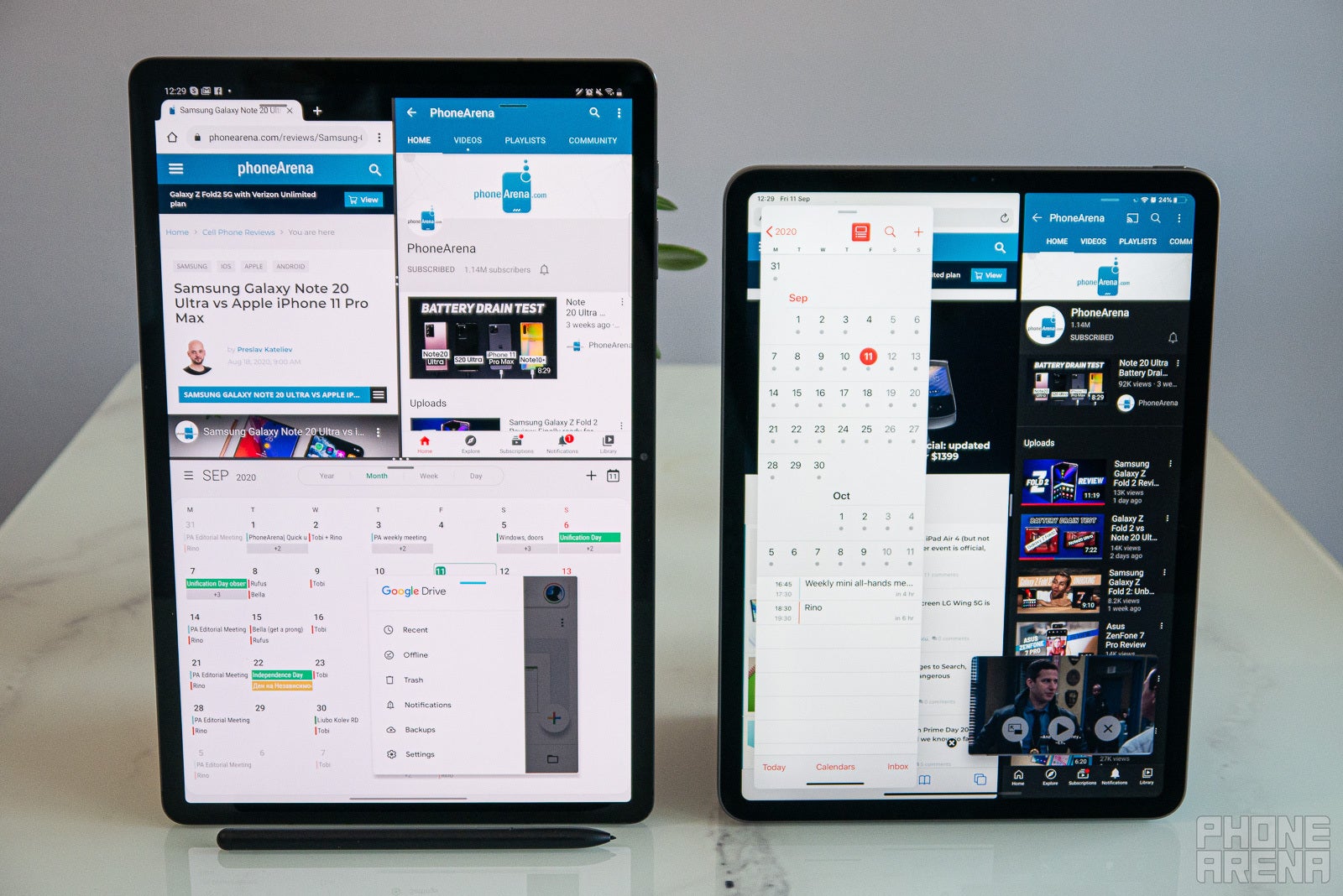 Galaxy Tab S7+ (left) next to the iPad Pro (right)
The real jewel of the Galaxy Tab S7 productivity suite is DeX mode. You don't need a monitor or TV here, the tablet transforms into a desktop work machine instantly. It still runs Android with all the apps you can find on the Play Store and Galaxy Store, but the whole interface is transformed to look like a laptop's and apps naturally open in windows. And this is my favorite mode to use the Galaxy Tab S7 in whenever I am doing work.
A lot of 3rd party apps don't work fantastic with DeX — they can get frozen when their window is not in focus and they may need to fully restart when you want to maximize their window to full screen. But for basic work tasks and multi-window research on a tablet, it's the dream.
Apple's iPadOS has also made great strides when it comes to multi-tasking on a tablet. We have Split View and Slide Over (open an app in a window). The iPad has its own app dock and you can drag icons from there over your main screen to instantly open the app in a smaller window. It also supports Picture-in-Picture, so you can do your work while binging Netflix all on the same device.
Where Apple products shine is the way they integrate into the ecosystem. An iPad can be used as a second screen for your Mac via the SideCar feature and it works with a simple tap. That and AirDrop sharing should make the iPad a no-brainer choice for anyone who owns an Apple computer.
The Galaxy Tab S7, sadly, doesn't support the Link to Windows feature that Galaxy phones have. So, that makes it more of a standalone device.
In general, the Galaxy Tab S7's multi-tasking capabilities are a lot more flexible, though sometimes choppy and lacking polish. The iPad Pro has all the smooth animations and shine that you'd expect from iPadOS, but its multitasking feels a bit more limited and cumbersome. But doing work on both tablets is definitely an option.
The good news is that Samsung has upped its game when it comes to updating. The Galaxy Tab S7 series gets Android 12L this year, and is set to get Android 13 next year. It is also getting quarterly security updates and will continue to get those for a couple years more. Apple's iPad Pro, of course, will also be getting iPadOS updates for some years more, but keep in mind — the non-M1 iPad Pros (the ones made before 2021) will not get the Center Stage feature, which is a major letdown for iPad users.
Recommended Stories