Samsung Galaxy S8 Review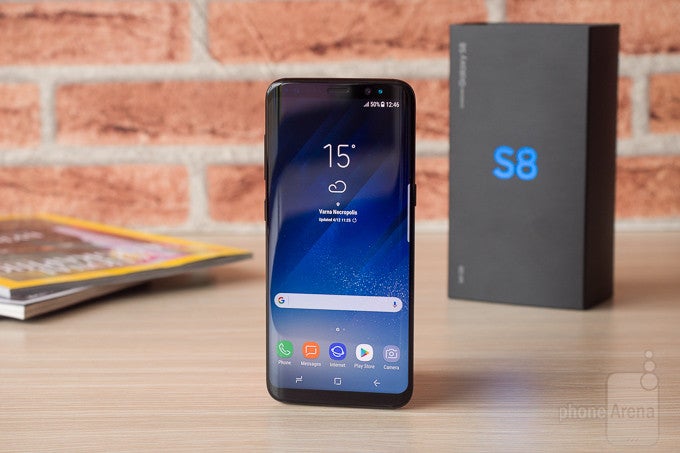 Update

: You can now read our Galaxy S9 and S9+ review!
Introduction
It hasn't exactly been easy for Samsung these last few years. Sure, the S7 family turned out to be pretty successful, but the previous two generations weren't met with top marks, while 2017 ended pretty badly with the Note 7 fiasco. To make matters worse, this was a period of intense expansion for low-cost phone makers, primarily those from China, who fiercely attacked Samsung's positions in key growing markets.
But we have to give it to Samsung – the company didn't bend under all that pressure. Instead, it toughened up and got back to work, determined to create a new flagship product that would once again prove the point that Samsung is the undisputed leader on the Android market. This product is the
Galaxy S8
.
While most smartphones, especially those that try to offer good experience at a low price, involve some kind of specific trade-off, the
Galaxy S8
doesn't have this problem – it's designed to be the ultimate product in Samsung's portfolio: a top phone at a top price, and the results can be seen from afar: a snazzy, new 5.8" AMOLED screen, cutting-
edge
octa-core chipset, state-of-the-art camera, premium aesthetics with high-quality materials… the list goes on and on. The Galaxy S8 is here to both recover Samsung's image after the Note 7 flop, as well as to fend off all the smaller players trying to snatch pieces of the company's vast market share.
Design
Eye-catchy and forward-looking
Samsung is trying to label the GS8 as a completely new type of smartphone, called 'infinity phone', due to the super-slim bezels. We don't know about that infinity thing, but there's obviously more to the Galaxy S8's design than the skinny bezels. There is an elegantly curved screen, for example, as well as a diverse set of beautiful color options. The Samsung Galaxy S8 family comes in 5 hues: Midnight Black (black), Arctic Silver (gray), Coral Blue (blue), Maple Gold (gold), and Orchid Grey (light violet). All variants feature a black front, and honestly, they all look striking. Previous Galaxy S iterations came in some dazzling hues that were interesting to look at, but kind of eccentric. This new 5-color line-up is fresh, yet mature and easy on the eyes – it's surprisingly well selected. Unfortunately, only the black, gray, and orchid colors will be officially available in the US.

OK, so the Galaxy S8 is a real eye-catcher, but to be honest, looks are just half of the story here. Equally important is the way the phone feels in the hand, and here it can be described with one word: fantastic! Thanks to the compact dimensions of the phone, as well as the precisely curved sides, it's impressive just how seamless this device feels in the hand. There are no sharp edges, no nasty materials used here: only smooth glass and a polished aluminum frame. The latter is a great design choice by Samsung, as the shiny metal goes well with the glass, and it further enhances the feel and grip in the hand. Speaking of grip, the smooth, glossy surfaces mean the phone literally sticks to your fingers, which is great. Of course, it'll usually be smudgier than its matte phone counterparts, but that's not much of a problem.



The physical buttons (power, volume, and Bixby) don't have legendary level of feel or clickiness, but they seem perfectly serviceable. There's no longer a dedicated home button – it's been replaced by an on-screen one, but you can still use it to wake the phone up, thanks to the pressure sensitive sensor in the home button area beneath the screen. Just press firmly in the bottom center area of the S8, and you'll feel a slight vibration, followed by the screen lighting up. Unfortunately, the pressure sensitive pad doesn't seem to serve any useful purpose beyond this.

The Galaxy S8 is IP68 certified for a strong level of dust- and water-resistance – not only is it beautiful, it's also tough! If we had a giant "APPROVED" stamp, we'd plaster it all over the Galaxy S8 right now.


Display
It's a quality AMOLED panel, but do we really need the extra-tall/wide aspect ratio?
The unusual new screen is understandably among the major points of interest with the Galaxy S8. After all, the phone has relatively compact dimensions, all the while it's equipped with an impressive 5.8" display! However, there's a catch here: the new screen has an aspect ratio of 9:18.5. Up until now, phone screens came (and still come) in the way more widespread 9:16 ratio. The Galaxy S8's 9:18.5 ratio means its screen is taller than usual. Not necessarily much wider than that of the 5.1"
Galaxy S7
, for example, but considerably taller.
How does that change the user experience? Well, it's actually a double-edged sword. This display format allows software developers to show more content on screen, such as additional information, or some kind of contextual app controls, for example. On the other hand, if this screen format isn't used efficiently, it may lead to inconvenient UI, with some important elements ending up in a very hard to reach corner of the screen. It also means most video content will have black bars on the sides, as it's distributed in 16:9 aspect ratio. The same goes for some games and apps out there.
For the most part, though, the extra-tall display doesn't stand in the way, it doesn't make things look bad or inconvenient. But does it really enhance the experience?
If we're looking for some magical way in which this 9:18.5 display is supposed to improve everything, the answer is no. Software still works the same exact way it used to, so between the Galaxy S8 and the S7, there isn't really that much of a difference in the way you'll be doing or viewing things. With the push to reduce bezels, however, and Samsung's reluctance to just make the phone itself smaller/shorter, something has to fill this newly vacated space, and 'more screen' is the obvious answer. There is one major benefit to this tall screen we can think of, and that's the ability to see more content in applications whose purpose is to show you content. Think the web browser, where you read articles and browse through long web pages, or the Kindle app, where you read books (it'll fit more on each page, meaning fewer page turns), or the calendar, where more events will be visible at a time in agenda view. This is where the main benefit of this screen is found.
Tech-wise, it's a Super AMOLED panel with resolution of 1440 x 2960 pixels. That's more than enough pixels, resulting in 570 ppi (pixels per inch) – incredible
pixel
density that makes even tiny fonts appear super fine. Other than that, this is an AMOLED display not much different from those of previous top Samsung phones: it gets plenty bright when outdoors, as well as very dim when viewed in the dark, which is all great. Viewing angles are still wonky, meaning brightness is retained, but colors quickly shift to colder ones even when viewed at slight angles. To add some context here: IPS LCD screens usually behave in the opposite way, where we observe reduced brightness or contrast, but retained color characteristics at angles.
Once again, the default color mode is 'Adaptive', which characterizes with a slightly cold temperature (bluish cast) and unnecessarily oversaturated colors. It feels a bit excessive, which is why we recommend switching to some of the other available modes. Traditionally, we'd suggest using the 'Basic' mode, as it happens to be closest to the standard sRGB colorspace, but it doesn't look good at all on the Galaxy S8 and S8+. In addition to a slightly lacking red, color intensity on Basic is weak across the board, causing the screen to look desaturated and lifeless. Because of that, we recommend using the AMOLED Photo mode, where colors aren't exactly true to life, but are at least pleasantly vivid, with natural enough balance.
Display measurements and quality