Apple iPhone 8 vs Samsung Galaxy S8
22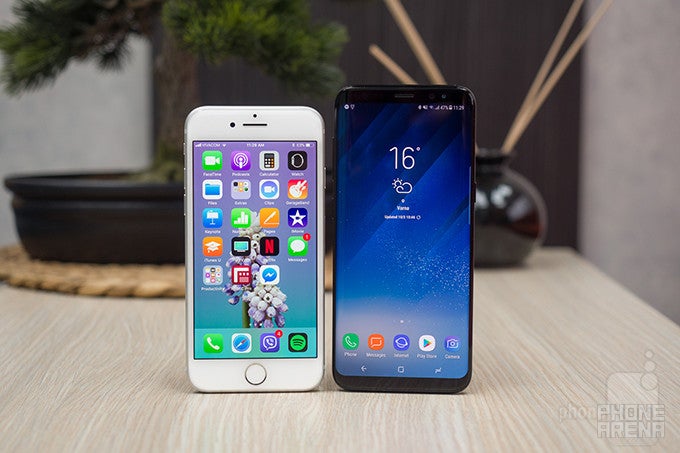 Introduction
Whether Apple and Samsung intentionally synchronized the generation numbers of their flagship smartphones is something we'll never find out, but regardless, this year (and for the better part of 2018), it'll be the
iPhone 8
and
Galaxy S8
that will represent the two mobile platforms of the world. And boy is this a tough choice! Like, even more so than years past, because of Samsung's brand new design, and Apple's complex maneuvers involving feature exclusivity with the 8 Plus and the very presence of the completely new
iPhone X
.
Still, despite the allure of the iPhone X and the more powerful camera of the 8 Plus, the iPhone 8 is likely to remain the main sales driver for Apple, due to its lower cost and pocket/palm-friendly size. As such, its most logical rival (outside of Apple's own ecosystem) is the Galaxy S8, which has been around for quite some time now, and which has already seen its price drop to more accessible levels.
Design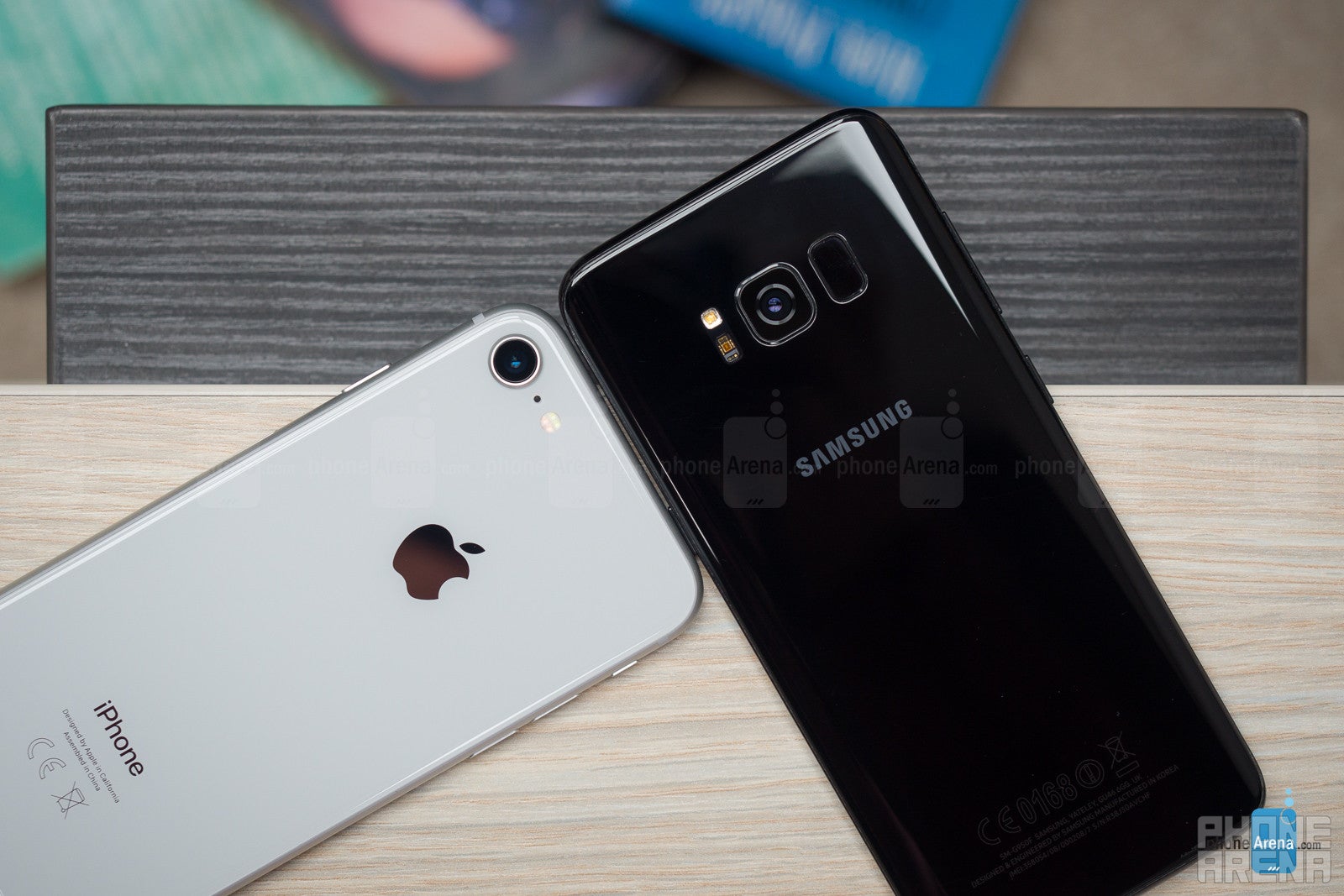 The iPhone 8 largely retains the design of its predecessors. Instead of a complete reinvention, Apple went with just a minor face-lift in the form of a new back panel, made of glass. Changing up half of the phone isn't exactly a minor thing, but at this point, no matter what Apple does with its 2014 design, it's going to feel old. It's not bad, of course; it's as nice and elegant as ever, and the new glass back makes it even better and more exquisite.
Start using the Galaxy S8, though, and you'll inevitably feel the pull of the modernistic "bezel-less" design. It's not only because of the fancy aesthetics of slim bezels, but also because of the practical benefits of having a more expansive screen. It doesn't simply show you more content – it gives you more context, helping you feel more aware of the digital environment, and more capable. But we'll talk more about the screens in just a second.
The Samsung Galaxy S8 also benefits from a polished metal frame, and this is an appealing element that will make an appearance in the iPhone X, but isn't found in the iPhone 8. Instead, the iPhone 8 has a matte aluminum frame, which is more slippery, and obviously not as shiny. The styling of the iPhone 8 comes off as rather restrained, as if intentionally so. Whether this has been done on purpose, to make the iPhone X looks more extreme in its next-generation nature, isn't clear, but it almost feels as if Apple is holding the iPhone 8 back on purpose this year. The Galaxy S8 is also the one to be offered in a more exciting range of color options (black, silver, blue, gold, and orchid; versus just black, silver and gold for the iPhone 8).
Leaving looks aside, both phones are on the cutting edge of mobile tech, and offer premium features like water-resistance and wireless charging, the latter being new for the iPhone line.
Display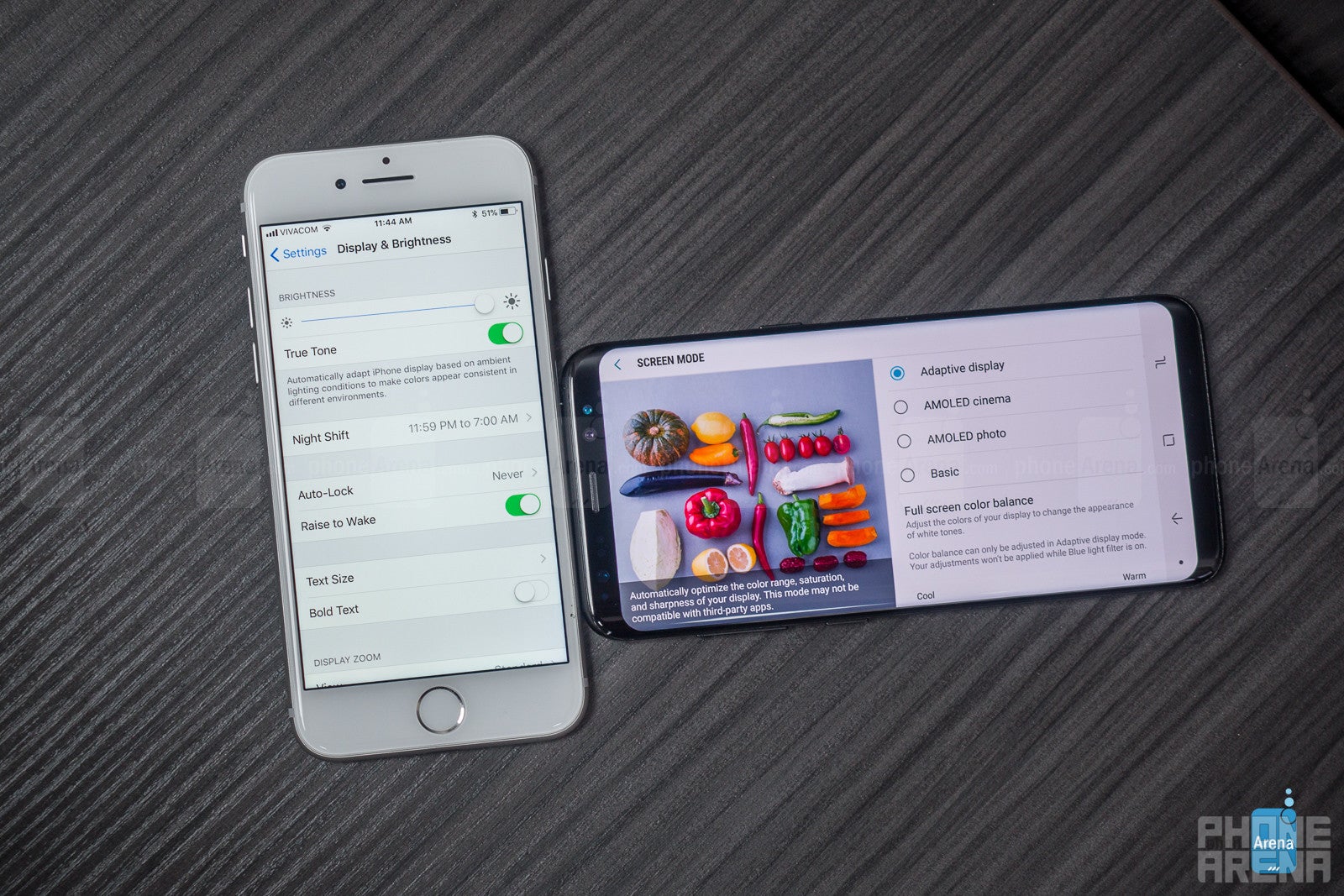 It's a bit funny how Apple presented the display of the iPhone 8 as completely new, when in fact the only noticeable new thing in it is the True Tone feature. Indeed, we're still looking at a 4.7" IPS LCD panel with resolution of 750 x 1334 pixels. Make no mistake, though, this panel still delivers a great user experience, with its only weak spot probably being the lower than ideal resolution. And speaking of True Tone, this is a great feature which aims to adjust the display's color balance so that it looks natural across all environments. In reality, however, we've found it to make the iPhone 8's display look needlessly yellowish at times.
So, what about the Galaxy S8? It obviously has the more exciting display of the two, with characteristics that read 5.8" diagonal and resolution of 1440 x 2960 px. The GS8's display isn't exactly bigger than the iPhone 8's, but it's considerably taller. In comparison, the Galaxy S8's AMOLED panel can look very vivid and saturated in its default Adaptive mode, perhaps painfully so. For those who's prefer a more natural image, there's the sRGB color mode, which, unfortunately, produces somewhat lifeless results.
The main appeal of the Galaxy S8's display is in its expansive nature, filling almost all of the device's front. The fact that it's so tall and hi-res makes it more convenient for browsing the web, where fitting more of a page is key to comfort and efficiency.
With its curved form, stylishly rounded corners, and modernistic features like always-on display, the Galaxy S8's screen is very impressive. However, the iPhone 8's panel is so mature and balanced, it's worthy of admiration in its own way.
Display measurements and quality
Recommended Stories