Samsung Galaxy S8 vs OnePlus 3T
17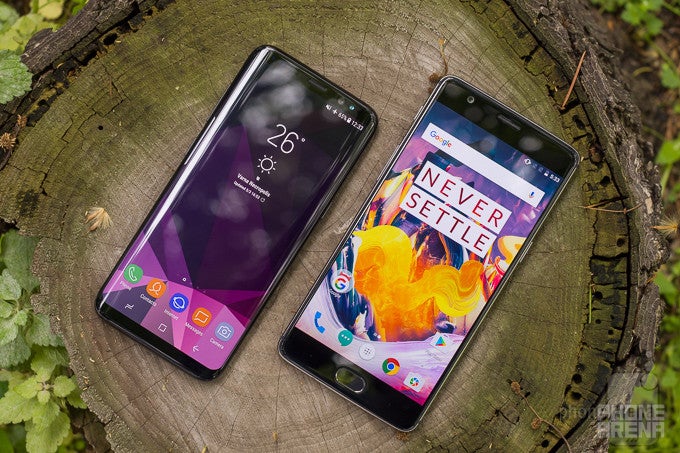 Introduction
The
OnePlus 3T
is one of the most loved phones of 2016: a $440 phone with top level specifications, it has it all from the good design to camera performance, battery life and smooth user experience. It's a great-value-for-the-money device. But can it match the new bully on the block, the styled-up, futuristic 'infinity display' toting
Samsung Galaxy S8
?
Contrary to expectations, the OnePlus 3T with its 5.5-inch screen is actually a much bigger phone than the 5.8-inch Galaxy S8. The S8 is taller, prettier and has water-protection as well. It's also packed to the gills with new features: new and more powerful Snapdragon 835, improved cameras with new Snapchat-like effects, new Bixby assistant and more.
Often, though, such features turn out to be nothing more than gimmicks. So that's why we look at the whole picture, new features and core aspects of a phone: which one performs better in the daily grind? Which one has the better battery life? This and more, you will find answered right below.
Design
The OnePlus is designed well and has solid metal construction, but it's bigger and much less comfortable to use with one hand. The S8, however, is even sleeker, more stylish and has water protection.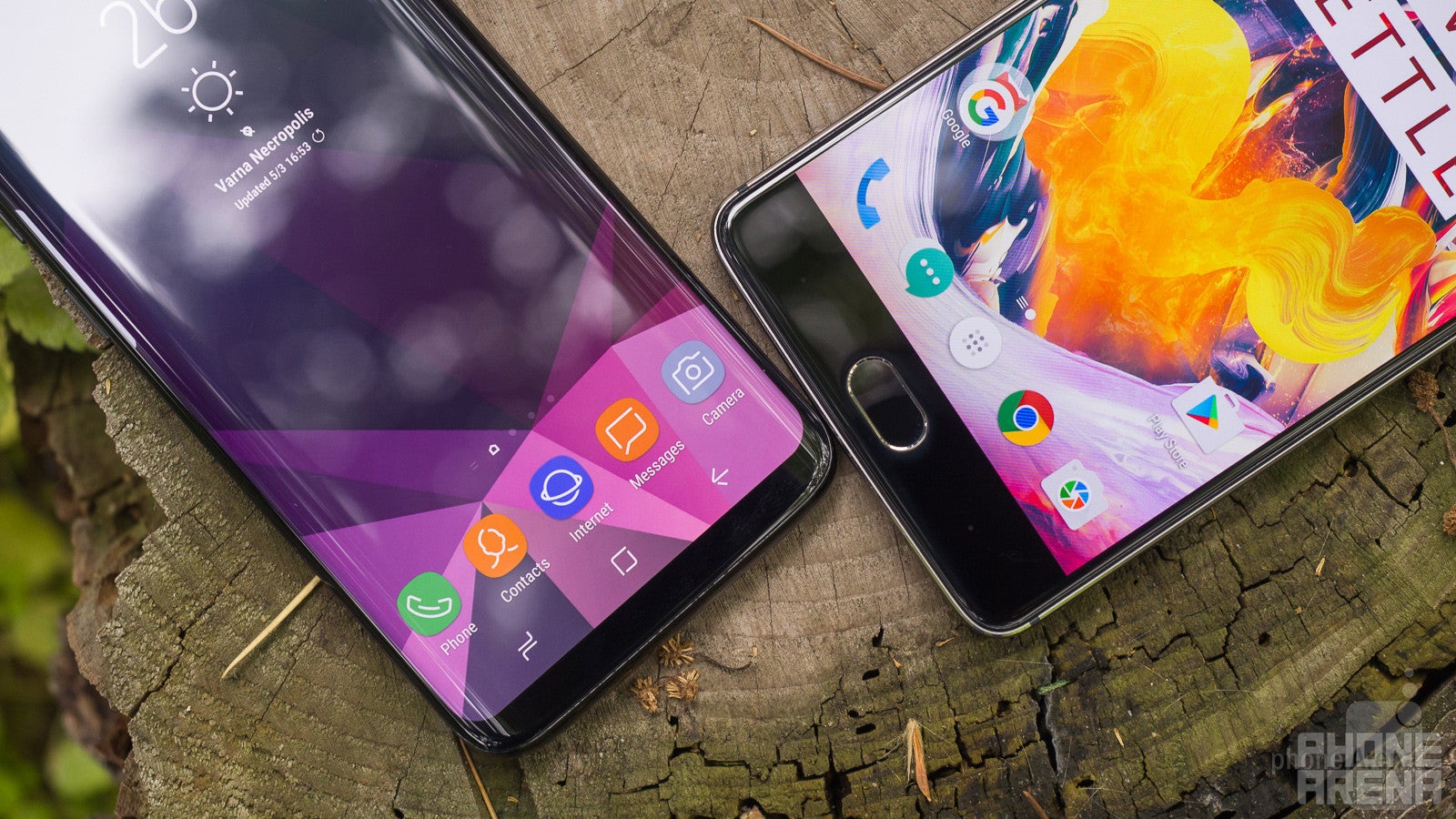 The OnePlus 3T is an aluminum phone with a solid construction that oozes a feeling of premium, expensive design. The phone has a slight curve to its back, that makes it fit in the hand a bit better, but it's also undeniably big. It's not quite iPhone Plus big, but it's definitely wide enough to make it uncomfortable for one hand use. Add to that the fact that the OnePlus is slippery, and it is so much easier to drop this phone; and we all know the terrible consequences this might have.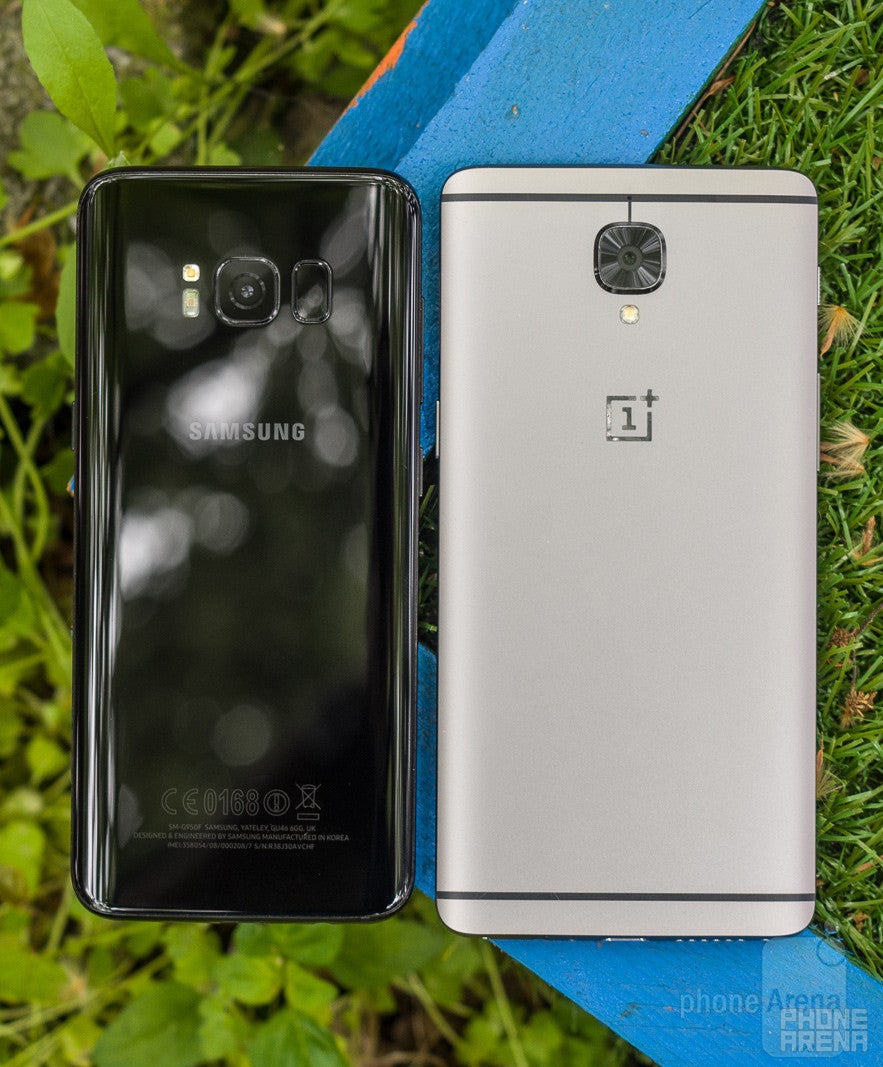 The Galaxy S8, despite its equally large display, is actually the much smaller phone. And of course, it's also built incredibly tightly, but it's also something more: its reflective glass construction almost reminds me of looking at a miniature alien space ship. It's mysterious, exciting, futuristic. The taller display makes it a phone that you can also comfortably use with one hand, an important practical advantage. What is beautiful, but not so practical is the glass back: it looks beautiful, but only when it's clean and it is surprisingly good at… getting smudged with your fingerprints in a matter of seconds (we tested the black version where this is particularly noticeable). On a positive note, the S8 is nowhere near as slippery as the OnePlus, which is reassuring.
The S8 also has one important advantage over the OnePlus: it's water-proof, with an IP68 rating, which means that it can remain under 1.5 meters (about 5 feet) of water for up to 30 minutes.
Weirdly, all of that great design effort from Samsung is spoiled by what has likely been a last-minute decision: a finger reader weirdly placed on the back of the phone, but not at the center where your finger naturally rests, but instead confusingly close to the rear camera. The Galaxy S8 also comes with face recognition, which we tested and found to be rather slow and requiring you to place your phone weirdly close to your head. It also has an iris scanner, which works better than face recognition, but it's not as convenient as finger scanning as sometimes you just need to unlock your phone without staring at it. The OnePlus does not have these newer secure unlock methods, but has a fast and much more comfortably placed finger scanner on the front of the device, and this is enough to give it advantage.
Display
The S8 'infinity display' is the future: a bezel-less screen that is bright, sharp and with great color. The OnePlus is not bad, but you can tell it's from 2016.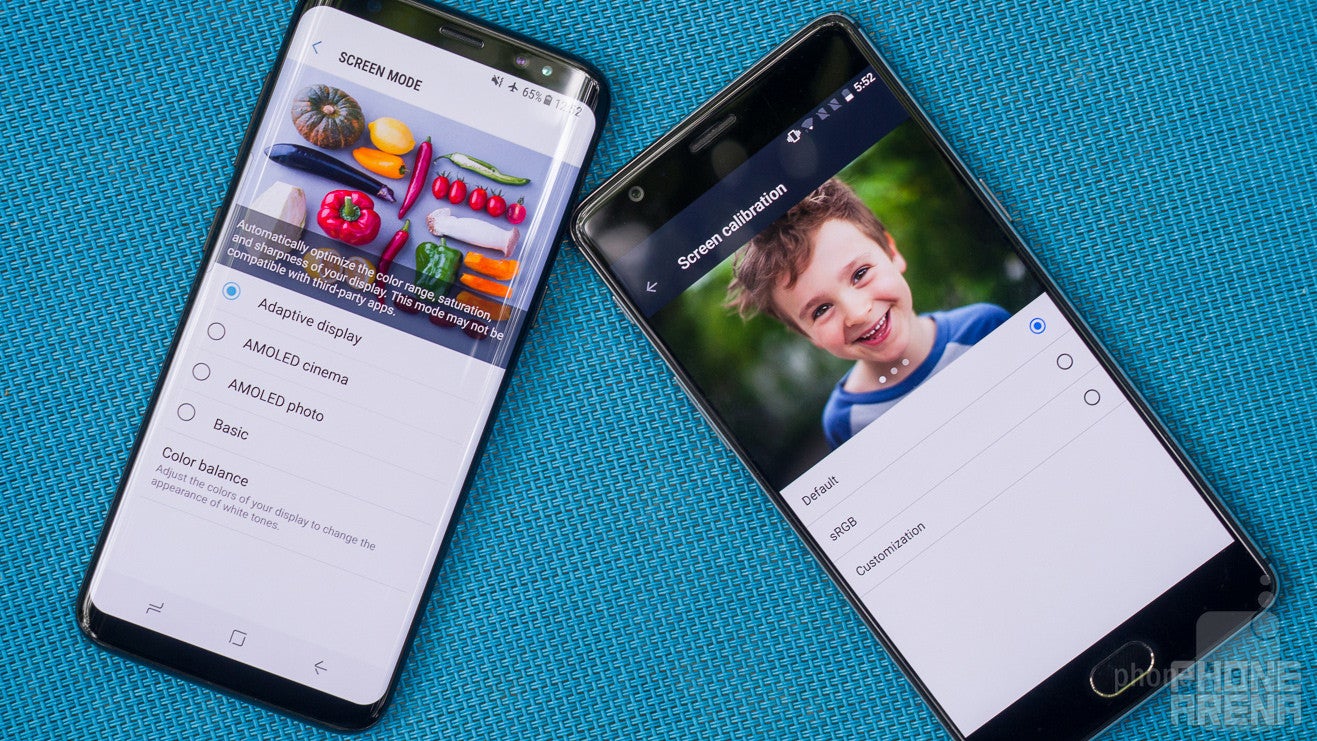 We have a 5.8-inch display on the S8, but it is taller and has a different aspect ratio than the current 16:9 standard. This means that you cannot and should not directly compare the diagonal (5.8" on the S8 vs 5.5" on the OnePlus 3T).
In fact, it's immediately obvious that the OnePlus 3T is a much wider phone than the Galaxy S8. Let us do the important calculations for you, here is how the two screens compare in realistic terms:
The Galaxy S8 screen has 2.4% more area than the OnePlus 3T display
The Galaxy S8 screen is 8.8% taller than the OnePlus 3T display
The Galaxy S8 screen is 5.9% narrower than the OnePlus 3T display
In practical terms, let us point out once again just how much more comfortable it is to use the narrower display on the S8: it's easier to grip the phone and operate it, and it's less likely to drop it.
All but the cheapest phones these days are sharp enough for sharpness to not be an issue for the regular user. Geeks, however, would be happy to know that the S8 supports a higher, Quad HD+ (1440 x 2960 pixels) resolution than the Full HD (1080 x 1920 pixel) one on the OnePlus. This sharpness is hardly noticeable at all in daily use, and do keep in mind that the S8 actually defaults to a lower, Full HD+ resolution. You need to manually go into Settings > Display, and select the higher resolution. Obviously, Samsung itself thinks that the higher resolution is a bit excessive for most users.
While most screens these days are sharp enough, there is a real and easily seen difference in color. Both phones come with the option to show either more eye-popping colors or more toned down colors, and you get to pick that in Settings > Display (sRGB mode or Basic mode on the S8 is the more toned down option). We measured both screens against a set of industry standards, and both were very well balanced displays right out of the gate. This is important because it means that the displays will show colors the way image and video creators want you to see them. Check out our benchmarks, if you want the deeper dive.
The S8, however, is the much brighter of the two, and this definitely makes a difference, especially outdoors where this makes it much easier to read what's on the screen. The S8 is also more comfortable to use at night, when it can become dimmer, and features a better executed night color mode.
The S8 display also features the newest Gorilla Glass 5 protective glass for the display, while the OnePlus has Gorilla Glass 4. The newer rugged glass on the S8 is better protected and will withstand drops from higher distance.
Display measurements and quality
Recommended Stories