Samsung Galaxy S21 Plus vs OnePlus 9 Pro
4
We may earn a commission if you make a purchase from the links on this page.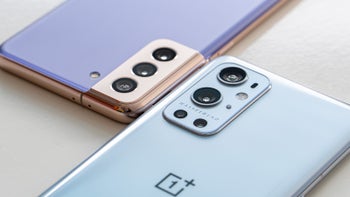 We didn't have to wait long after the start of 2021 to get the first major release for the year. Samsung's flagship, the
Galaxy S21 Ultra
, and the two more reasonable offers,
the Galaxy S21 and S21+, are already official
, but now they'll have to face a fierce new competitor: the
OnePlus 9 Pro
. From the new trio, the
Galaxy S21+
is destined to be the direct opponent of the 9 Pro due to the similar, near $1,000 price tag.
Samsung
surprised us this year with a price reduction across the whole S21 line. That, combined with
OnePlus
' creep towards higher prices, means that the two phones might be as closely matched as ever, at least as far as their price tags are concerned.
Both the OnePlus 9 Pro and Galaxy S21+ are pretty much in the same ballpark as far as value-for-money goes. With Samsung pulling back from its uber-premium pricing, OnePlus is facing tougher competition than ever before. A $30 price difference isn't much, especially if you spread it over 24 monthly payments, and take into consideration the frequent promotions that bring prices even lower. If last year people were willing to make some sacrifices because the OnePlus 8 Pro was $300 cheaper than the Galaxy S20+, this year OnePlus has no room for errors.
The OnePlus 9Pro delivers on all fronts, mostly in the camera department and manages to keep some of its specs-sheet advantages. All things considered, we see it being the better phone overall. But even then, OnePlus is facing Samsung's multi-billion-dollar marketing machine. If OnePlus doesn't manage to steal some mind share from Samsung, the OnePlus 9 Pro will remain a winner only among tech enthusiasts. And while that's no small feat, it's not what OnePlus is aiming for anymore.
Samsung Galaxy S21+ vs OnePlus 9 Pro: Design and display

When it comes to design, unsurprisingly, there aren't any major changes between the new generation and the previous one, on both sides. One the Samsung side, there are two notable changes made to the design of the Galaxy S21+. First is the design of the camera bump that now flows over the edge of the phone. The other is that the 6.7-inch display of the Galaxy S21+ will be completely flat unlike last year's S20+, which still had a slight curvature around the edges. It seems that after being the company that pioneered the curved-edge displays, Samsung is also the first to start phasing them out. The hole-punch selfie camera is still at the top-center position, no under-display cameras for the S-series just yet, but they are certainly coming sooner than later.
OnePlus 9 Pro, on the other hand, comes with a slightly curved displays. The body of the OnePlus 9 Pro looks almost identical to that of the 8 Pro. Those curved displays are not as sloped as they used to be on the OnePlus 7 lineup, but still has a noticeable curve to it. The OnePlus 9 Pro relies on a glass-aluminum build that feels very premium, on par with the near $1,000 price tag. The OnePlus is also getting a corner camera bump much more similar in design to a Samsung one from 2020, unlike that of the previous OnePlus models.

Here's a quick summary of what the displays of the two phones offer in terms of specs:
| specs | Galaxy S21+ | OnePlus 9 Pro (expectations) |
| --- | --- | --- |
| Size | 6.7" | 6.7" |
| Resolution | 2400 x 1080 | 3168 x 1440 |
| Type | Dynamic AMOLED | AMOLED |
| Refresh rate | 48-120Hz | 1-120Hz |
| Shape | Flat | Curved |
It's worth noting that Samsung is scaling back the resolution to 1080p, whereas OnePlus, on the other hand, sticks to QHD+ for its top phone. Provided that this doesn't take a heavy toll on the battery, it's a welcome stay. Both the Galaxy S21+ and the OnePlus 9 Pro offer variable refresh rates: the Galaxy S21+ goes from 48 to 120Hz, whereas OnePlus founder and Pete Lau himself teased that the OnePlus 9 Pro will go from 1 to 120Hz, which would likely introduce further battery savings, especially when static content is being viewed.
Both displays are extremely color-accurate and can get quite bright under the right conditions: the Galaxy S21+ can hit around 1,200 nits maximum, whereas the OnePlus 9 Pro touts a 1,300-nit maximum brightness.

Display measurements and quality
Samsung Galaxy S21+ vs OnePlus 9 Pro: Hardware
In terms of specs, both flagships come equipped with the Snapdragon 888, while the international version of the S21+ has Samsung's own Exynos 2100. As far as memory and storage go, both phones start with 8GB of RAM and 128GB of storage, and while you can have either with 256GB as well, the OnePlus scores 12GB in this version. No matter which one you go for, you're unlikely to experience lack of performance.
Galaxy S21+
OnePlus 9 Pro (expectations)

CPU

Snapdragon 888 (US)

Exynos 2100 (Global)

Snapdragon 888

RAM

8GB LPDDR5
8/12GB LPDDR5

Storage

128/256GB

128/256GB

Battery

4,800mAh
4,500mAh

Wired charging

30W
65W

Wireless charging

Yes
Yes

5G

Yes
Yes

IP68 rated

Yes
Yes

OnePlus 9 Pro comes with a 4,500mAh. Тhe Galaxy S21+, meanwhile, got a bump to 4,800mAh. Combined with the more efficient 5nm chip, the 1080p display and the adaptive refresh rate, the result should be a big jump in battery life for the Samsung phone. And indeed, it seems that Samsung gets the 'W' in this category. However, in terms of charging, the OnePlus is well ahead. The company has traditionally been pushing the envelope when it comes to charging speeds and the OnePlus 9 Pro lives to glorify those achievements. It takes just half an hour to charge the phone with the Warp Charge 65T charger, and charging wirelessly with OnePlus' new wireless charger, the OnePlus 9 Pro does the job in just 43 minutes.

It's worth mentioning that Samsung decided to follow Apple once again and not provide a power adapter in the box of the Galaxy S21+. Luckily, OnePlus hasn't gotten on that train just yet.

Samsung Galaxy S21+ vs OnePlus 9 Pro: Camera


When it comes to the camera of the Galaxy S21+, hardware has been left largely unchanged from what we got on the Galaxy S20+. Is that bad? Yes... and no. The Galaxy S20+ was an adept camera system for early 2020, but it's 2021 now and the bar has been raised. We get the same 12MP wide and ultra-wide cameras and a 64MP 3X telephoto snapper with a 10MP selfie shooter to boot but with some minor alterations here and there. For example, the ultra-wide angle camera has scored a wider F1.8 aperture as well as phase-detection autofocus, which is a good thing, but apart from that, the telephoto still relies on cropping a large sensor instead of regular optics for zooming, and Samsung has also ditched the ToF sensor at the back, so things even out.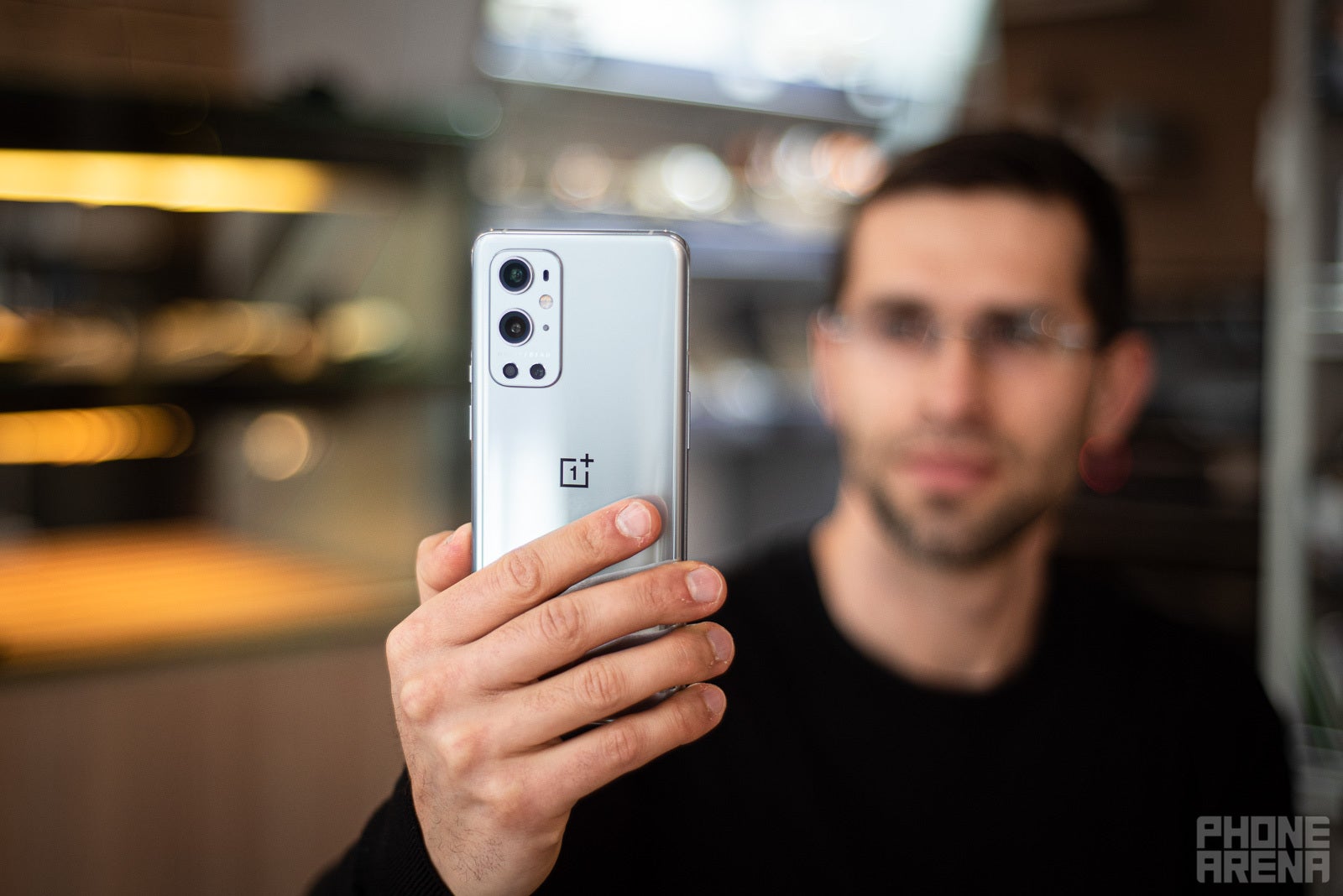 The OnePlus 9 Pro comes with a triple camera that uses a new 50MP ultra-wide, wide-angle, and telephoto cameras. The ultra-wide camera utilizes a Sony IMX766 sensor with less noise and very little distortion around the edges of the frame in comparison with similar phones — OnePlus says the difference is as stark as 1% vs 10 and even 20%. However, it's worth noting that the ultra-wide camera of the OnePlus is also much narrower than its competitors, which is especially obvious when shooting video. As an added bonus, it doubles as a quite versatile macro camera. The rest of the camera setup comprises a 48MP main camera with a custom Sony IMX789, with tons of improvements that aim to make it focus faster, deliver more color information, less noise in daylight or nighttime shots, and finally, less motion blur in videos. We've got a stabilized telephoto as well, and this one delivers a 3.3X zoom which isn't as impressive as what some of the competitors deliver, but manages to capture perfectly usable photos. Finally, we have a monochromatic camera that helps with image sharpness.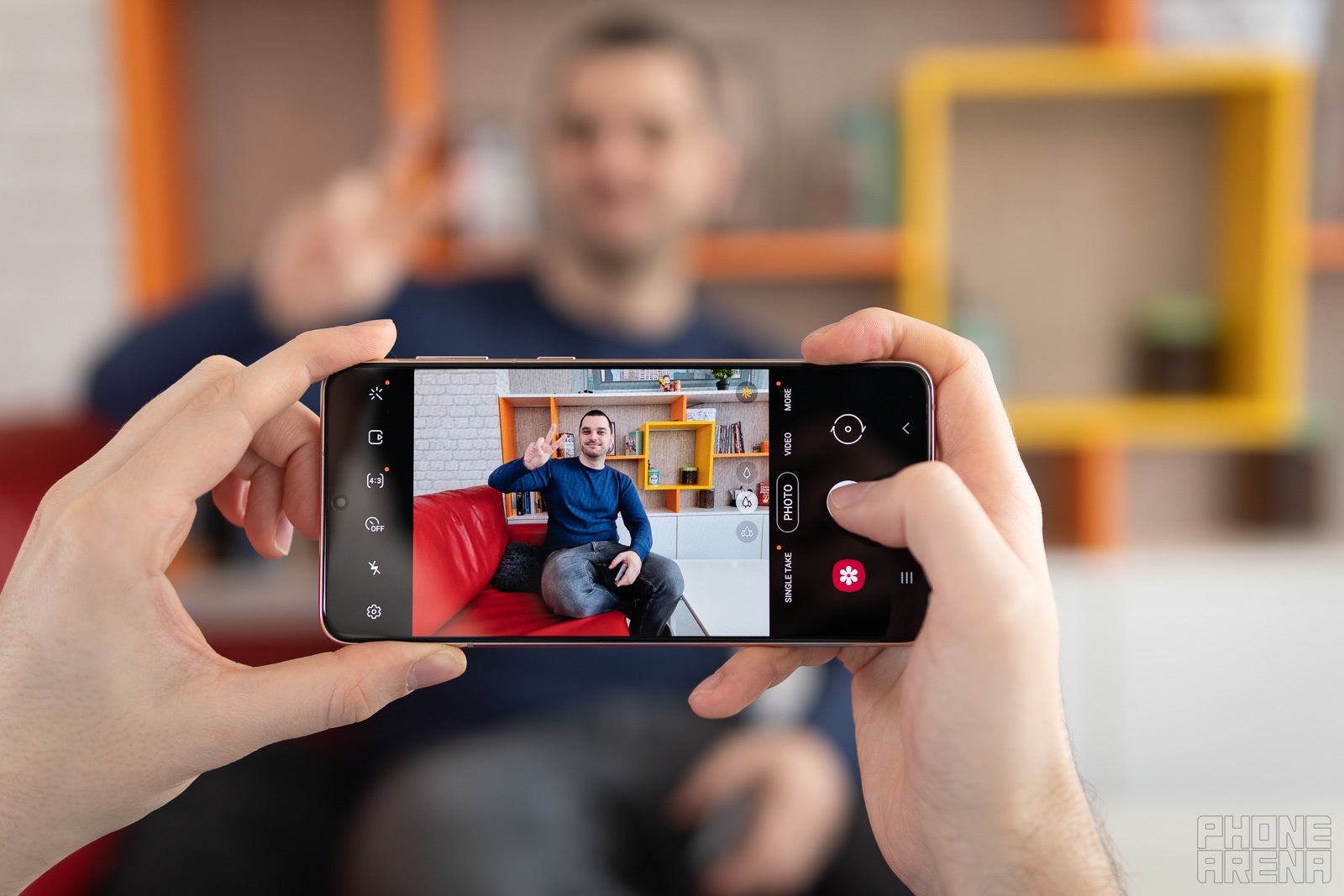 | specs | Galaxy S21+ | OnePlus 9 Pro (expectations) |
| --- | --- | --- |
| Main | 12MP | 48MP |
| Second | 12MP Ultra wide | 50MP Ultra wide |
| Third | 64MP Telephoto | 8MP 3X Telephoto |
| Fourth | N/A | Macro/depth |
| Front | 10MP | 16MP |
The general image quality is excellent on both devices, but there are some notable differences in the exposure and color temperature, where the OnePlus 9 Pro has a slight edge. Images are slightly better exposed and more neutral on the OnePlus flagship, whereas the Samsung trooper produces a tad darker and slightly more pinkish photos. Portraits and selfies are excellent on both phones, so you won't can't go wrong with neither phone.

In low-light conditions, both devices are excellent performers with great detail and dynamic range, though there's a noticeable difference in color reproduction. Interestingly, the OnePlus 9 Pro captured a much more vivid image in contrast with the more muted looks achieved by the Galaxy S21+. Both phones would also shoot lovely low-light portraits, though this round goes to the OnePlus 9 Pro as the subject's face is exposed slightly better in that particular photo. Also, there's a tad more facial color in the OnePlus 9 Pro sample image, which makes portraits look just a tad livelier.

Samsung Galaxy S21+ vs OnePlus 9 Pro: Software


Software is a big differentiator between Samsung and OnePlus. OnePlus phones run OxygenOS, which keeps the overall aesthetics very close to those of the "stock" Android, but enhanced with some extra features OnePlus deems essential. It's fast and light and you get only a few OnePlus apps preinstalled, everything else is Google's own apps.




Meanwhile, on Samsung's side, the situation couldn't be more different. The Galaxy S21+ and its siblings are coming with the latest One UI 3.1 built on top of Android 11. The Samsung software looks completely different from what Google envisions, has a ton of added functionality and a plethora of preinstalled Samsung apps. The good news is that Samsung is moving in the right direction and

One UI 3.0

not only looks good but new features and improvements are made constantly. People who are used to Samsung's UI might find OxygenOS lackluster. Those are the users OnePlus is going after with the OnePlus 9 Pro, so the company might have to rethink its bare-bones approach at some point. Still, OxygenOS has a strong following as well, so which one you'll prefer is mostly up to the type of user you are.



Samsung Galaxy S21+ vs OnePlus 9 Pro: Battery life
There's a 4,500mAh inside the latest OnePlus flagship, but it's clear as day that an improvement to battery life wasn't the focus here. This is not a two-day phone; if you're a very heavy user you might need your charger by late afternoon. That's not actually such big of an issue since you can charge the phone in just 30 minutes with the included Warp Charge 65T charger. If that's not impressive enough, the OnePlus' newest 50W wireless charger will top up the phone in just 43 minutes. Meanwhile, the Galaxy S21+ is a battery champ that can easily withstand a full day of heavy usage, which is commendable for an Exynos-powered Samsung phone. Refresh rate has some say in what battery life you should expect, but genuinely speaking, the difference is not large enough to offset the benefit of the super-smooth display. By default, the display is set at Adaptive refresh rate mode and I wouldn't bother changing it if I were you.

Recommended Stories