Samsung Galaxy S21 FE vs Google Pixel 6
2
We may earn a commission if you make a purchase from the links on this page.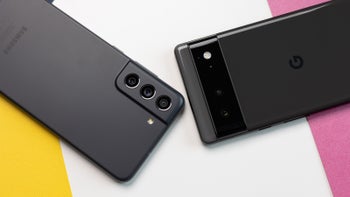 These are two phones that offer great bang for the buck: the Pixel 6 surprised everyone with its affordable $600 price, while the Galaxy S21 FE is just a bit more expensive, yet gives you a zoom camera, a more powerful processor, and arguably, a better-looking design.
So which one should you go for?
While you probably won't regret buying either one, there are some key differences starting with the styling and sizes of these phones, and going to the image quality and battery life, and that's exactly what we'll dive deeper into in this comparison. But first, here are the...
Galaxy S21 FE vs Google Pixel 6 in a nutshell:
Galaxy has plastic back, Pixel 6 uses glass
Galaxy has smaller bezels and no sharp corners
Slightly larger battery on Pixel
Galaxy has the faster chip
Pixel lacks a tele camera
No headphone jack, no microSD cards on either one
Pixel is more affordable
Display and Design
The S21 FE might be made of plastic, but the Pixel has sharp corners and bigger bezels
You might think that a 6.4-inch phone, such as the form factor on these two phones, is not a gigantic phone, but the Pixel somehow makes it such with big bezels around the screen and sharp corners that we cannot quite get used to, even months after the release. The S21 FE, while made of plastic instead of glass like the Pixel, feels way more elegant, with much smaller screen borders and an easier feel.
Plus, the Galaxy being made of plastic naturally weighs quite a bit less, and is far more comfortable to carry around in a pocket.
There is not much of a difference in screen quality: 6.4 inch screen diagonal on both, 1080p resolution, flat screens, beautiful deep and contrasty OLED colors, HDR support. Interestingly, you get 120Hz adaptive refresh rate on the Galaxy, a flagship feature, while the Pixel steps down a bit with 90Hz refresh rate support. Not a huge difference, but some people with a very keen eye may notice.
Display measurements and quality
Both also come with a punch hole front camera, but curiously, the Pixel lacks support for face recognition, while the Galaxy does have that option which is definitely a convenience.
The main biometrics on both, however, come in the form of an in-screen optical fingerprint scanner. The Pixel 6 is notorious for the problems it has with that fingerprint scanner which requires you to be extra consistent and takes a bit longer to operate. The fingerprint reader on the Galaxy definitely feels faster and more accurate, even if it's not among the fastest we have tested, it gets the job done.
In terms of haptics, we'd say that both are decent. There is none of the cheap-o feeling "bees in a can" type of vibration that used to be the norm in budget phones, both have a strong and precise vibration feedback.
Battery and Charging
Which one has longer battery life?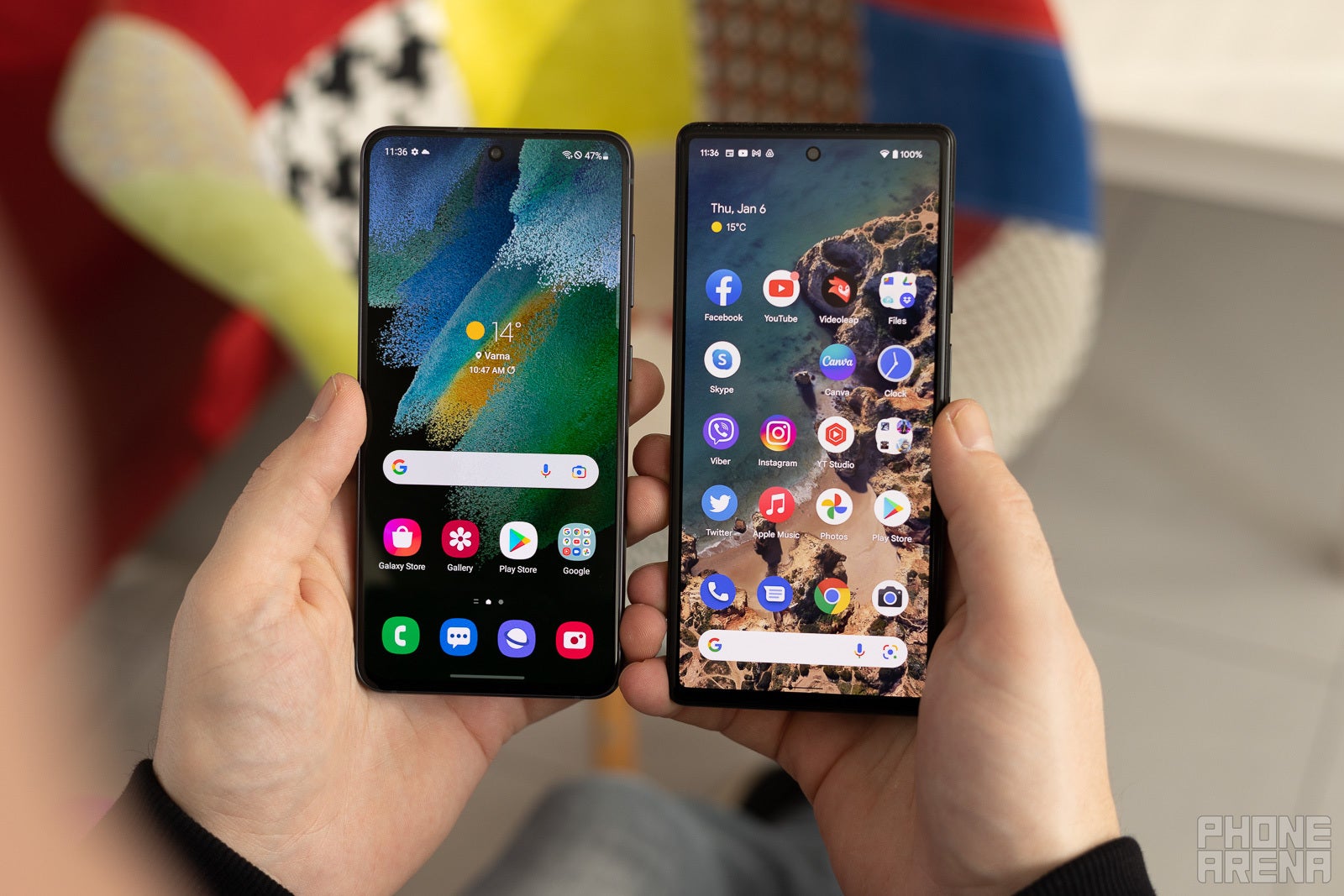 Both phones have roughly the same battery sizes: 4500mAh on the Galaxy vs 4614mAh on the Pixel, and this usually translates into a solid 1-day battery life but not much more.
Want more specifics? Well, real life use shows that we finished a typical day starting at about 8am and going back home around 7pm with 30% left on the battery meter on both, which is good. When you start pushing them, we noticed the Pixel lasted more and interestingly, on our independent battery tests, the S21 FE scored way below the average:
On our YouTube video streaming test, for example, the S21 FE only managed 7 hours and 19 minutes compared to a way more impressive 11 hour showing from the Pixel.
On the charger front, both phones come in slim boxes that also happen to... miss a charging brick and only sport a charging cable. The charging speeds differ only slightly: 25W on the Galaxy vs 30W on the Pixel, both quite slow by modern standards, taking more than 1 hour and 45 minutes for a full charge.
Good news is both phones also have wireless charging support with 15W speeds on the Galaxy vs 21W speeds on the Pixel.
Cameras
The extra zoom camera on the Galaxy gives it an edge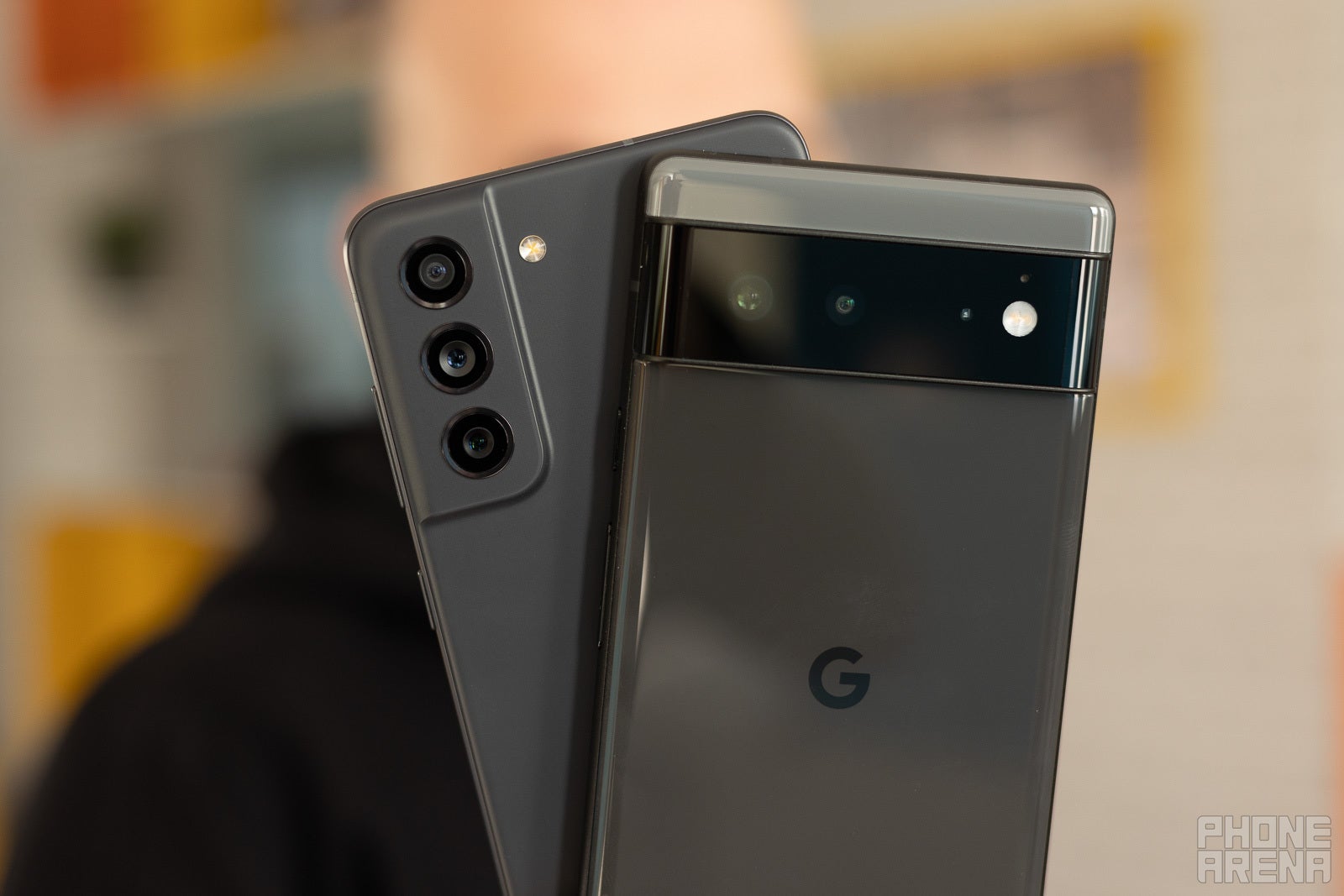 There is one camera missing on the Pixel: it only has a wide and an ultra-wide ones, while the Galaxy adds a third, telephoto lens with 3X zoom.
Here is what the camera specs look like:
| Camera Specs | Resolution | Sensor Size | Pixel Size | Lens |
| --- | --- | --- | --- | --- |
| Main S21 FE | 12MP | 1/1.76" | 1.8µm | 26mm, f/1.8 |
| Main Pixel | 50MP | 1/1.31" | 1.12µm | 26mm, f/1.9 |
| Ultra S21 FE | 12MP | 1/3" | 1.12µm | 13mm, f/2.2 |
| Ultra Pixel 6 | 12MP | - | - | 18mm, f/2.2 |
| Ultra iPhone 13 | 12MP | 1/3.4" | 1µm | 13mm, f/2.4 |
| Tele S21 FE | 8MP | 1/4.4" | 1µm | 78mm (3X), f/2.4 |
The takeaway here is that the Pixel features a larger sensor for the main camera, but interestingly the ultra-wide camera on the Pixel barely deserves the "ultra" in its name as its quite narrow (18mm vs 13mm on Galaxy).
Below, you can find photos we captured on both phones:
Even though both phones capture excellent looking photos during the day, it's a slightly different look: you have more toned down colors on the Pixel versus vibrant and exuberant ones on the Galaxy, you have extreme dynamic range on the Pixel and a bit of a "flat" look to photos, and a more contrasty look on the Galaxy. It might be a subjective thing, but the colors on the Galaxy look better to us during the day.
In low-light, however, noise creeps in a lot more in photos from the S21 FE, while the Pixel has cleaner detail and generally captures a bit more in terms of dynamic range, making for overall more classy night shots.
In terms of video recording you get up to 4K60 resolution on both phones.
Below, you will find side-by-side comparison in both daylight and low-light conditions: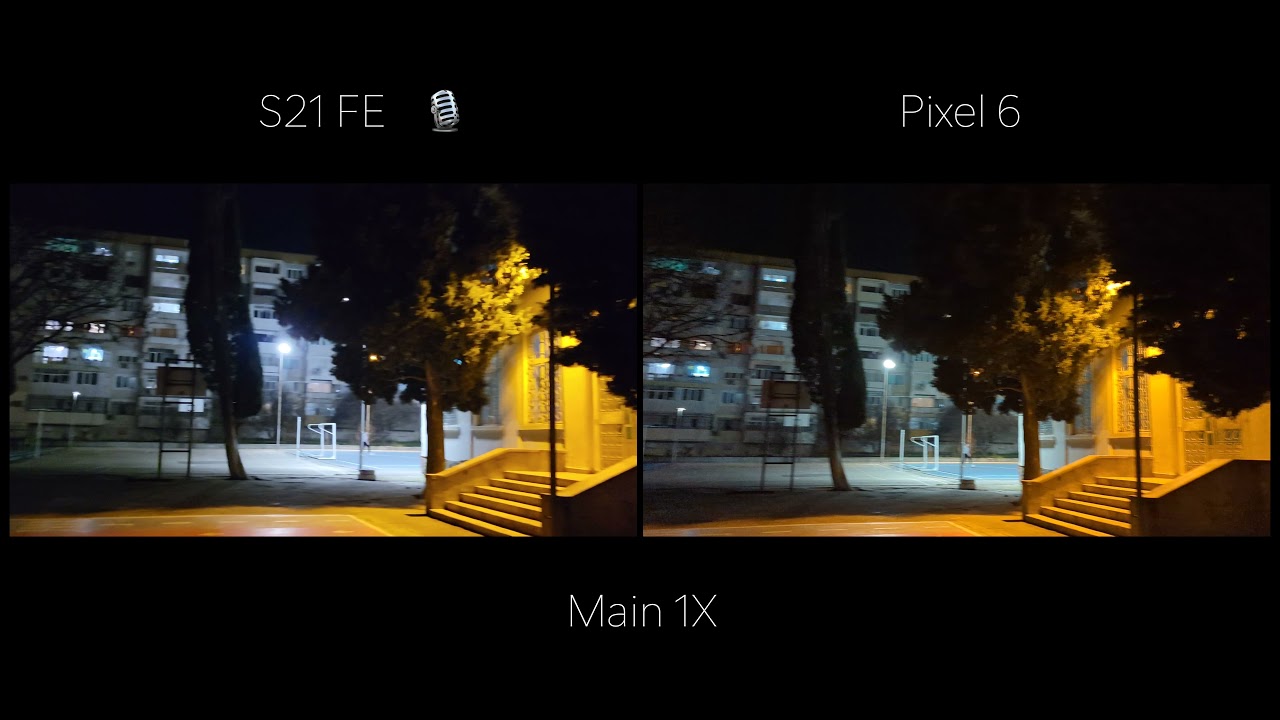 The Pixel 6 tends to overexpose the highlights a bit while the Pixel has a more balanced dynamic range, plus detail looks a bit cleaner on the Pixel in low light. It's not a night-and-day difference, but the Pixel seems to have the edge in most cases.
One exception, however, is if you need to zoom in: the 3X tele camera on the Galaxy really comes in handy and captures a lot more detail than the digital zoom from the main camera on the Pixel.
Audio Quality
While neither phone has a headphone jack, we did notice some noticeable differences in the loudspeaker output.
You have dual loudspeakers, a bottom firing main speaker and a helper speaker in the earpiece on both phones. The Galaxy gets the win here with boomier sound that has more definition, while the Pixel lacks a bit of an oomph and can sound a bit too quiet.
Performance and Storage differences
New Snapdragon 8 Gen 1 is all about the gains!
The first gen Google Tensor chip is a technological achievement, but it's not quite as fast as the Qualcomm Snapdragon 888 used in the Galaxy S21 FE. We're not sure how much that is actually noticeable in real life, but that's what benchmarks show.
Interestingly, we have noticed some severe thermal throttling on the S21 FE especially in gaming that drops the scores way below what you'd expect to see out of the Snapdragon 888 chip inside this phone.
In real life, both feel similarly snappy and just as fast as more expensive flagship phones, so if just daily use is your jam, both will do a fine job.
On the network side, you have 5G connectivity on both phones with mmWave support too, so you don't miss out in that space.
The two also come with 128GB of storage in the base model, and unfortunately — no microSD card support on either one.
Galaxy S21 FE vs Google Pixel 6: Specs Comparison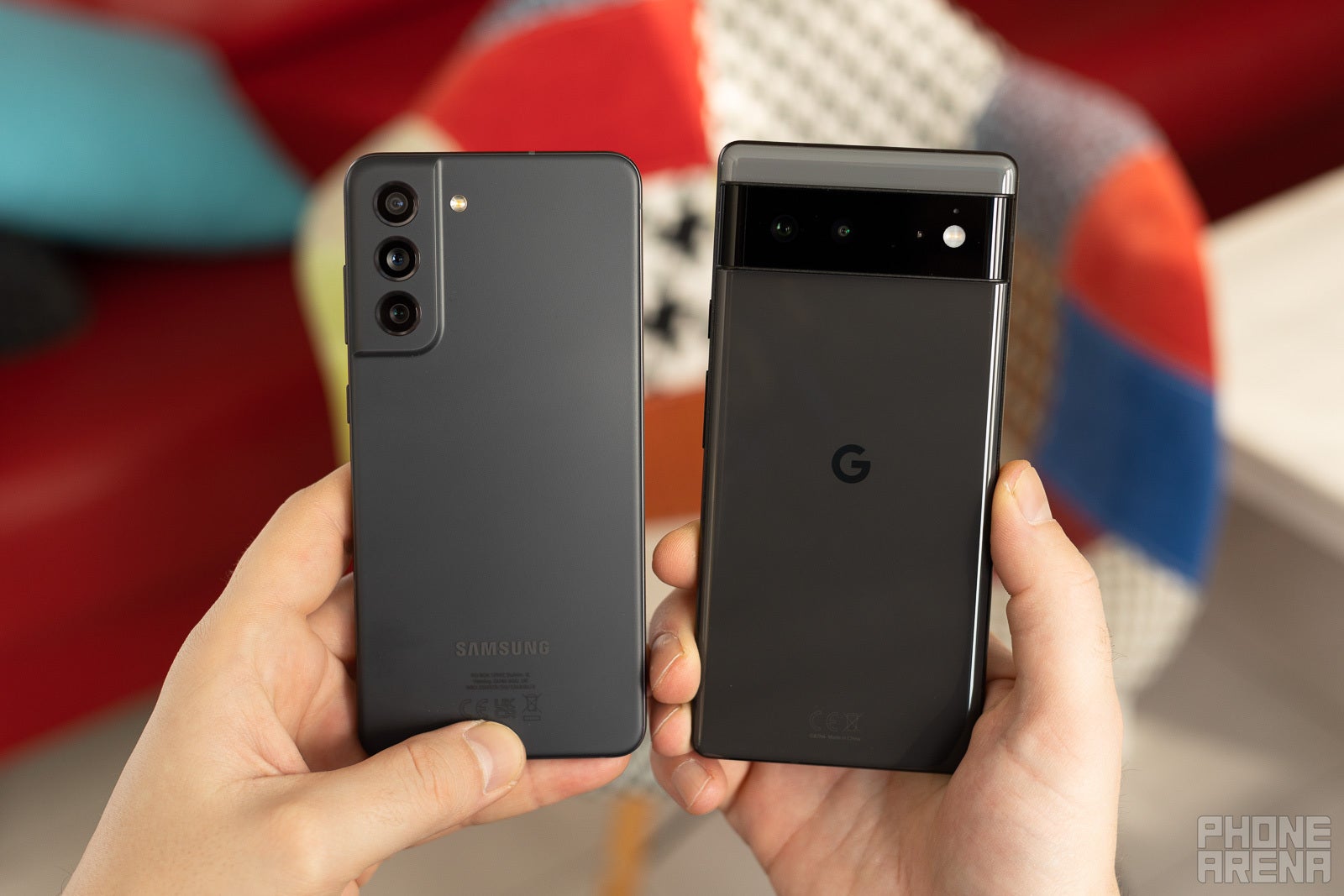 And here is a detailed specs comparison between the Galaxy S21 FE and the Google Pixel 6:
Galaxy S21 FE
Pixel 6
Size and Weight
155.7 x 74.5 x 7.9 mm, 170g
158.6 x 74.8 x 8.9 mm, 207g
Display
6.4" OLED, 1080p, 120Hz Adaptive
6.4" OLED, 1080p, 90Hz
Processor
Snapdragon 8 Gen 1 everywhere
Google Tensor
RAM
6GB
8GB
Storage
128GB, non expandable
128GB / 256GB, non expandable
Cameras
12MP main camera, f/1.8
12MP ultra-wide, f/2.2
8MP 3X zoom, f/2.4
50MP main camera, f/1.9
12MP ultra-wide, f/2.2
Battery size
4,500mAh
4,614mAh
Charging speeds
30W wired, 15W wireless
30W wired, 21W wireless
Prices
starting from $700
starting from $600
The Samsung Galaxy S21 FE release date in the United States is on January 11th, 2022, while the Pixel 6 launched at the end of October, 2021.
Both the Galaxy S21 FE and the Pixel 6 are available across all major carriers in the US, and are likely to remain available throughout 2022 as some of the most popular sub-flagship models.
So... which one do you think is the better option? We are torn: we prefer the design on the Galaxy and really, it's the uncomfortable design styling what ruins the Pixel experience the most, but the stock Google software and the lower price, in addition to the fast software updates are an advantage for the Google phone. A $100 dollar difference for the Galaxy buys you an extra camera and arguably a more elegant design, despite it being plastic. And a fingerprint scanner that does not suck.
It's a hard choice, but do let us know: which one would you go for, and why?
Recommended Stories