PureGear Case with Kickstand & Holster for Samsung Galaxy S5
1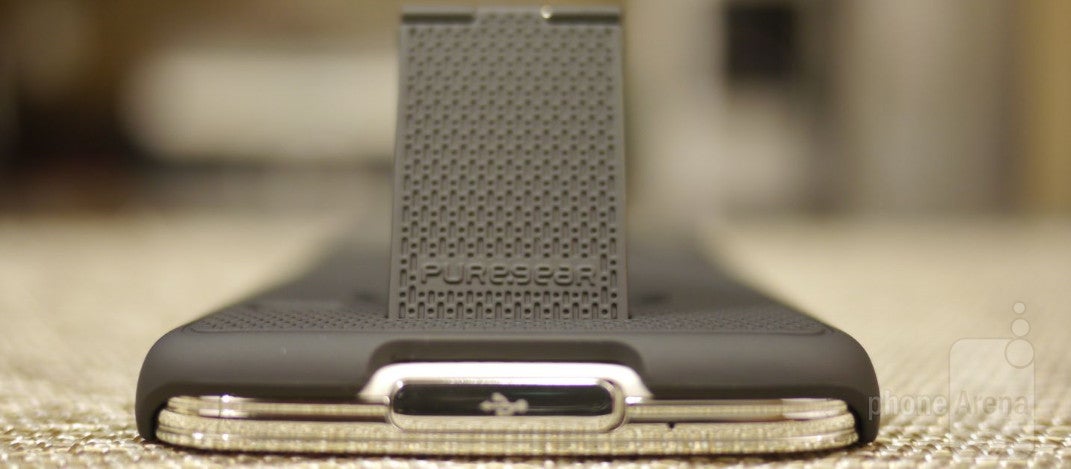 Being more favorable to attract the professionals more so than other groups, the PureGear Case with Kickstand + Holster combo for the
Samsung Galaxy S5
is one that's sure to keep the beloved smartphone within arm's reach when it's not being used. Fashionistas or those in the construction industry are unlikely to be wooed by this particular case, seeing that it instinctively is more akin to being used by those business type individuals.
Visually, we can't say that the case earns any hallmarking features with its bland, straight-to-the-point design. Honestly folks, it's pretty much the epitome of a barebones case that makes its sole purpose to interact with the accompanying holster it's sold with. Being a snap-on case, it tightly hugs around the body of the Galaxy S5 – keeping most of the top and bottom sides of the phone uncovered. Trust us folks, you don't want to drop it, since its protection is essentially reserved for protecting the back from scratches.
One unique feature of this PureGear combination case, aside from its included holster for easier storage when it's not being used, is the built-in slider stand that discretely is stored into the rear of the case. Putting it into the correct position, it's able to prop the handset in either portrait or landscape – though, we would've preferred to see a more angled orientation, since it seems very subtle. Nonetheless, it's something that comes in handy when we want to watch those videos without any interaction from our part.
Sporting a price point of $29.99 online, where it's unsurprisingly available in this single black color, it's something again that will probably appeal to professionals working in those corporate offices. Thanks to the included holster, it means that the phone can quickly be accessed and put away. However, it lacks any appealing elements with its design – and its protection is almost non-existent.
Samsung Galaxy S5 case reviews