LG Optimus G vs HTC One X
15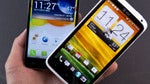 Introduction:
Never thought of as being one of the premier players in the Android sphere, LG's reputation is seemingly going in the correct direction with the
LG Optimus G
. For once, they really have the upper hand, as they're the first ones to come to market with an Android smartphone that blends a quad-core processor with 4G LTE connectivity. Fittingly, we're pitting LG's prodigy with HTC's current flagship device in the
HTC One X
– mainly to distinguish which of the two can actually reign supreme over the other. Sure, it's been out for many months and will be replaced soon, but the HTC One X is no slouch in this day and age, so it'll be interesting to see how the outcome plays out.
Design:
Now this is a tough cookie folks, as they have their own distinctive design cues to make them attractive to a wide array of people. Intently handling the two, it's obvious that they're employing very different aesthetics – as the HTC One X has a curvier feel with its unibody polycarbonate body, versus the slab-like and glossy look of the LG Optimus G. Both are naturally sturdy with their constructions, but somehow, the LG Optimus G comes off as the more premium looking device between the two thanks to its Crystal Reflection rear casing and glass surfaces.
Finding the same set of three
Android capacitive buttons
beneath their screens, we're thankful that they're spaced evenly from one another to reduce any of those annoying accidental presses.
Quickly looking
around the sides
of the handsets, it's obvious that they're sporting the same exact items. Specifically, the listing includes their 3.5mm headset jacks, power buttons, volume controls, microphones, noise-cancellation mics, and microUSB ports for charging/data/video-out connectivity. Worthy of pointing out, we do prefer the more pronounced and tactile feel of the LG Optimus G's power button and volume controls.
Display:
Easily regarded as one of their main centerpieces, both handsets are able to enthrall our interest thanks primarily to their brilliant, attractive, and polarizing displays. Specifically, it's a
4.7-inch 768 x 1280 HD IPS Plus display on the LG Optimus
and a
4.7-inch 720 x 1280 Super LCD 2 panel in the HTC One X
. On paper, LG's offering has the slight advantage in the pixel density department, but to tell you the truth, it's hardly noticeably better to the eye – as the two are exquisitely detailed. Even though they are both LCD screens, their color productions are drastically different, it's warmer with the HTC One X as opposed to the more natural tones of the LG Optimus G, . However, we find the LG Optimus G display to be more visible in outdoor conditions.
LG Optimus G 360-degrees View:
HTC One X 360-degrees View:
Recommended Stories