Samsung Galaxy Note II vs LG Optimus G
39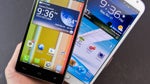 Introduction:
Are you planning on upgrading to a new smartphone within the next month or so? If that's the case, you might be curious to know what's going to be out there vying for your business. Well folks, unless you've been hiding under a rock of late, then you're probably well aware about a couple of superb smartphones that'll be competing against one another. Already, we've raved about how LG has managed to steer itself in the correct direction with the
Optimus G
, but without giving them any breathing room, Samsung is itching to bring back focus to itself with the impending launch of the
Galaxy Note II
in the US market. Therefore, let's find out how they compare to one another!
Design:
Knowing that the LG Optimus G is the most sturdy device we've seen put out by LG, it easily manages to capture our attention more than the typically made Samsung device in the Galaxy Note II. If we take size out of the equation, the premium nature of the Optimus G is able to catch our glance thanks to its more solid construction and premium choice materials, which as we all know very well, stands particularly highly amongst consumers all around. Even though the Note II will garner a fair amount of interest from strangers due to its massive size, it proves to be its Achilles' heel as well since it becomes unwieldy to hold comfortably in the hand.
Around the trims of both handsets, they feature many commonalities – like their microphones, volume controls, power buttons, noise-cancellation mics, and microUSB ports. With the latter, the two can gain video-out functionality with the aid of an optional MHL adapter.
Display:
Now this is a tough cookie any way we dissect it, mainly because the displays on both handsets have their own unique aspects that make them stand out highly – so it's a matter of personal preference in the end. Starting with Sammy's beauty, the Note II really catches our attention thanks to its ginormous 5.5" HD Super AMOLED display and its saturated color production. Indeed, its size is undeniably an attention grabber, but it's still able to produce crisp looking details due to its 720 x 1280 resolution, which so happens to employ a slightly modified RGB sub-pixel arrangement. Meanwhile, the 4.7" HD 768 x 1280 IPS Plus display is spectacular thanks to its natural colors, higher pixel density, and superior outdoor visibility. Although it's lacking the sheer spectacle surrounding the size of the Note II's display, the Optimus G's display is still regarded as being one of the best out there.
Display measurements and quality
Recommended Stories