Why would anyone buy the new Galaxy S23! Galaxy A54 is the best-looking $400 Samsung phone ever
34
This article may contain personal views and opinion from the author.
We may earn a commission if you make a purchase from the links on this page.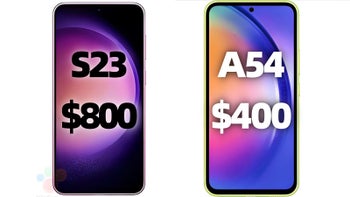 With the official announcement of Samsung's
Galaxy S23
flagship phones upon us, it's easy to ignore another bunch of Galaxy devices that most likely will end up as some of the best-selling Android phones of 2023! One of those phones will be called "
Galaxy A54
", which by all looks is just a few days away from being launched on the global market - more precisely, January 18.
And no, I'm not kidding - the Galaxy "A" series of mid-range phones have been Samsung's best-selling ones for several consecutive years now. If I had to guess, I'd say it's got to be the far lower prices and balanced feature set that help elevate the budget "A" contenders over more expensive alternatives but regardless, the appeal is real!
In fact, zooming out for a second would allow me to also tell you that the "mid-range against flagship phone" debate is a timeless topic discussed by us tech writers… What's the value proposition; which features are worth paying up for; do you really need them; and ultimately, can a mid-range phone last you just as long as a flagship one (3-5 years)...
Well, it's 2023 or in other words about time for the next episode of this painfully familiar discussion. This time, the volunteers are the (mind you, still unreleased) Galaxy A54 and Galaxy S23. Here's my (early) take for those who are impatient!
New $400 Galaxy A54 is a Galaxy S23 alternative at half the price; Samsung's next best-seller is coming January 18 and it deserves your attention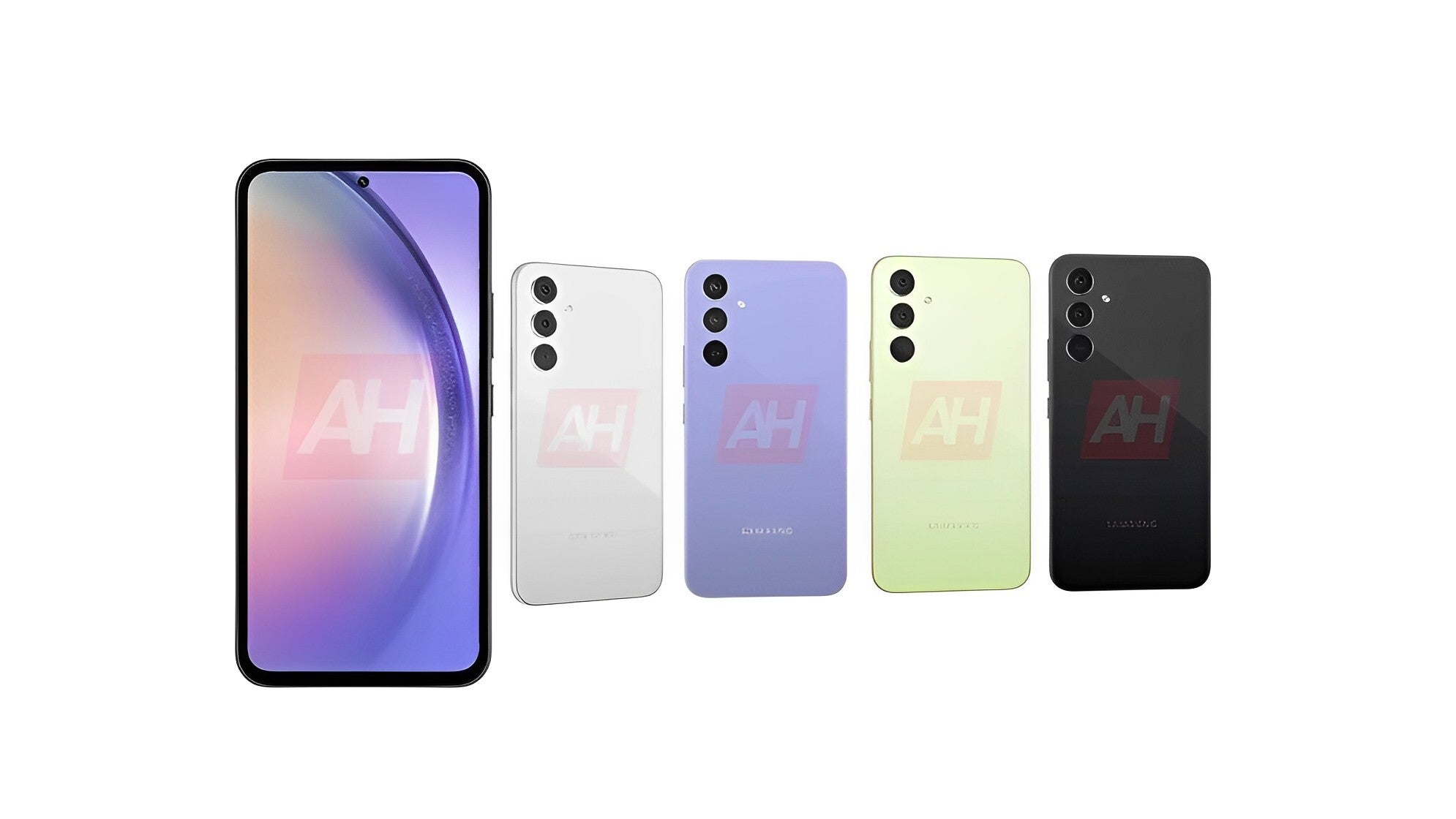 An early look at the upcoming Galaxy A54 from all sides - too similar to the Galaxy S23?
The 2022
Galaxy A33
and
Galaxy A53
were indeed Samsung's best-selling phones around the world (also, some of the best selling phones overall), and there's a reason for that. In fact there are a few main reasons...
Nowadays, mid-range devices (particularly made by Samsung) don't lack any of the basic premium features that used to be exclusive to $800 flagship phones some 2-3 years ago
In case you haven't noticed (of course you have), we're living through some of the toughest economic times in a while; people like the idea of spending $400 for a new phone instead of two or three times as much (cough*, Galaxy S23, cough*, Galaxy S23 Ultra)
What stands out when it comes to the new Galaxy A54 (at least according to the leaks and rumors we've seen) is that with this year's $400 mid-ranger,
Samsung isn't afraid to make the $400 device look almost every bit as good/bad (depending on taste) as the $1,000 Galaxy S23+!
What I didn't mentioned above, as a good reason people choose to buy cheaper phones is that looks matter to people (as they often base their purchase decision on the look and feel of a device), and mid-range phones from
Samsung
,
Google
, OnePlus and more don't necessarily look worse than their flagship equivalents.
Galaxy A54 expected specs - this $400 phone doesn't miss any crucial features...
6.4-6.6" FHD+ AMOLED display,

120Hz

refresh rate
New Exynos 1380 chipset with about

50% improvement in multi-core performance

(read: when performing more demanding tasks) and 6/8GB RAM (versus 4-6GB on the A53)
128/256GB base storage with a slot for a

microSD card

(extinct feature on flagship phones)

New 50MP primary camera with OIS

, a 12MP ultra-wide-angle camera, a 5MP macro camera, a 32MP selfie shooter with up to 4K video recording
The new Android 13 and One UI 5.0 with a promise for

4 years of major software updates

A big

5,000mAh battery

and 25W charging - as good/better than what we expect to see with the vanilla Galaxy S23
And optical in-display fingerprint reader (unfortunately, not an ultrasonic one like on the flagship "S" series)

IP67 water and dust resistance

for piece of mind - same as the more expensive phones
Despite impressive specs list, Galaxy A54 must deliver far better performance and improved camera than predecessor as Pixel 6a sets the standard for mid-range phones
As you can tell by both the leaked renders and specs, the Galaxy A54 is indeed shaping up like a killer mid-tier phone
on paper
, but that's just one way to judge a device, and brings me to the inevitable throwback of what was a
controversial
Galaxy A53 - Samsung's $400 contender from last year.
Of course, the competitive launch price and amazing sales offers helped the A53 device move millions of units, but this one came with some notable compromises, disappointing in two core areas -
performance
and
camera
quality
falling well behind its closest competitor, the Google-made
Pixel 6A
.
Despite having just a 60Hz display and relatively shorter battery life than the Galaxy A53, the
Pixel 6a easily dominated Samsung's 2022 mid-ranger in the areas of performance and camera quality
. It was a "pick your poison" type of situation, as buyers had to decide what's more important to them - the familiar Samsung UI and 120Hz display the A53 offered, or the Pixel's incredible cameras and much faster performance.
In more practical terms, as I wrote back in May 2022, many
Galaxy A53 users would take it on Reddit and Twitter to report obvious slowdowns and stutters on their Galaxy A53
phones even when the devices happened to be used for light, day-to-day tasks. This included
animation
lag
when scrolling through the UI, opening the camera app, taking photos etc.
Of course, performance issues are more often than not related to two primary aspects of the phone - the processor, which is responsible for running the entire show, as well as software optimization. In that line of thoughts, it's not a secret that despite Samsung's tremendous progress in this area, One UI is still one of the heaviest skins on top of Google's version of Android - although this doesn't seem to affect the company's flagship phones these days, it (obviously) can take a toll on devices with slower chips!
As time comes to show, Samsung's own
Exynos
processors seem to only magnify any performance issues on budget Galaxy phones. For example, multiple reviews from around the internet conclude that the
2021 Galaxy A52s was and is a better-performing phone than the 2022 Galaxy A53, thanks to the Snapdragon 778 chip
, made by Qualcomm.
Just so I don't skip the topic of camera performance (the other weak point of last year's A53), I'll say that Samsung should probably concentrate on the performance of that new primary 50MP camera and
really
nail it! The A54 will be measured against not just any phone, but the Pixel 6A, which just recently was crowned as the best cameraphone on the market (at least for photos) after thousands of people voted in a blind camera test put together by YouTuber MKBHD (the video is attached above).
For the record, I would attest to the
unmatched
camera performance of the Pixel 6a in the $350-450 price segment, although I'd certainly hesitate to give it the title for "best cameraphone" due to the fact that there are phones with more versatile camera systems and eve better video quality - if you're curious, my current camera go-to would be the
Xiaomi 12S Ultra
.
If Samsung fixes old performance issues, the new Galaxy A54 might be a better deal than the Galaxy S23/S23+ (but probably not better than Google's upcoming Pixel 7a)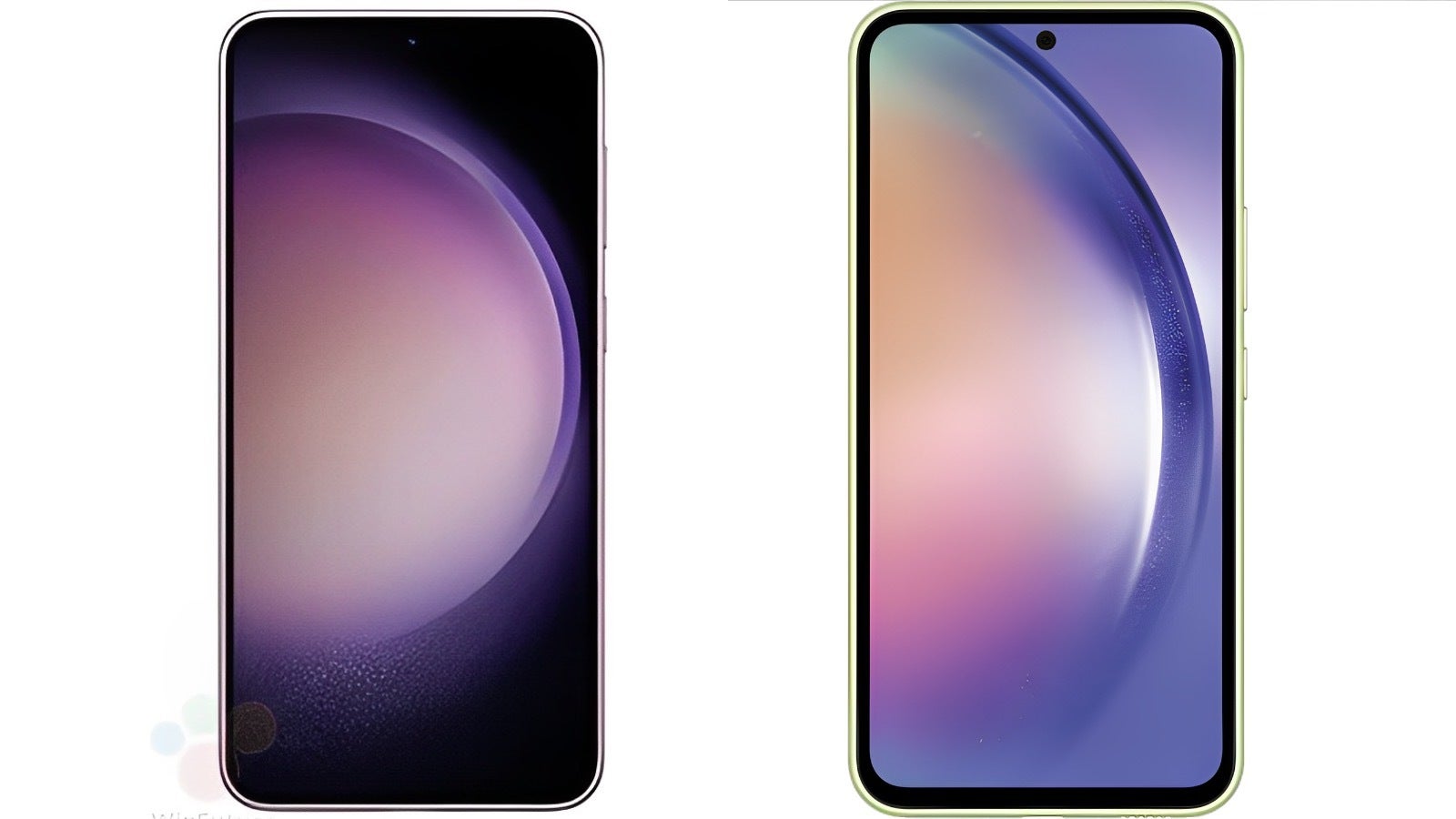 If you didn't know, would you be able to tell which one is the $400 phone?
Is the Galaxy A54 going to be a better phone than the Galaxy S23/S23+?

No chance...
Could the Galaxy A54 be one of the best phones in regards to value and an

overall

better deal

than the Galaxy S23/S23+? This depends on how

picky

you are as a user, but if Samsung has fixed the performance issues of the Galaxy A53, the new model might indeed be a

better deal for many people
Is the Galaxy A54 going to be a better deal compared to its main competitor, the Pixel 6a?

Again

, if it doesn't slow down with regular use, then I'd say, this is

likely

- especially if you're already a Samsung user, who doesn't want to bother with getting used to using a Pixel (not that this would take longer than a few days)
And, finally, I'll leave you with a
big
but
that carries the name "Pixel 7a"... Not that I want to be that guy who tells you to "hold off and buy a new phone in a few months" but in this case, I'd feel a bit guilty if I didn't!
If your current phone is still tolerable, and you don't necessarily want your new one to be made by Samsung, then the upcoming
Pixel 7a
(which we've seen in leaked videos - click the phone name for more), is shaping up to be not just a brilliant alternative to the Galaxy A54 but also
potentially, probably, maybe…
the best deal of 2023... period.
Again, you'd probably have to wait until the summer to be able to buy this one, but if waiting is an option, then I think I would take it…