Samsung Gear S3 Frontier with 1-year warranty available for $145 in Cyber Monday eBay deal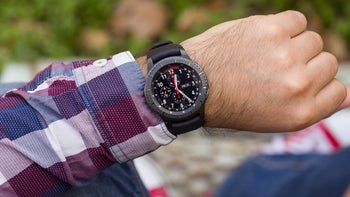 Released more than two years ago, the Apple Watch-rivaling
Samsung Gear S3
didn't initially sell like hotcakes, but ironically, last year's launch of the
Gear Sport
and the
Galaxy Watch
announcement a few months back appear to have given the Tizen-powered oldie a new life.

A measly $144.99 will get you the dark grey timepiece in "new other" condition on eBay, which may sound a little sketchy at first. But believe it or not, the units on sale right now at a new all-time low price are backed by a 1-year warranty from the same top-rated seller that still charges $130 for a "new other" Gear Sport.

Quick Ship Electronics describes the item in this $144.99 listing as fully functional, powering on with its factory settings restored, and shipping nationwide (for free) with all its original accessories included. The packaging might be "slightly distressed", but other than that, you shouldn't be able to tell this isn't an entirely new device.

Meanwhile, Samsung and Best Buy are still asking $200 for all-new Gear S3s, and the price could well go up after Cyber Monday.

It's perhaps needless to say Quick Ship Electronics only has a "limited quantity" of the Gear S3 Frontier available on eBay at $144.99, with a 46 mm case, both Android and iOS compatibility, a black silicon band, beautiful Super AMOLED display, built-in GPS, heart rate monitor, NFC and MST for Samsung Pay support, Bluetooth, Wi-Fi, both a mic and a speaker, as well as IP68 water and dust resistance.