Foldable Galaxy Z Flip 3 pictured from every angle in more gorgeous colors
10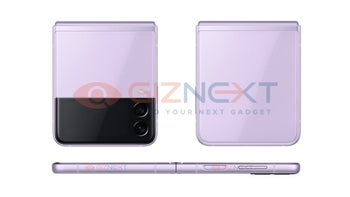 UPDATE:
Evan Blass has
published
360-degree GIFs of the Galaxy Z Flip 3. The updated story complete with the embedded videos continues below.
The first official-looking
renders of the Galaxy Z Fold 3 and Flip 3
leaked online late last week. Days later, even more
marketing photos
have shown up to showcase the Galaxy Z Flip 3 in new colors and from more angles.
Check out these fantastic Galaxy Z Flip 3 colors
The Galaxy Z Flip 3 is set to become Samsung's most colorful foldable smartphone ever thanks to a new two-tone design that incorporates a black piece of glass around the rear camera and 1.83-inch secondary display.
The rest of the back panel is painted in the color of your choice. Today's leaked press renders show off the sophisticated Black and Green finishes as well as the brighter Cream and Light Violet colorways — those aren't the marketing names, by the way.
If none of them are exciting you, don't worry.
Samsung
is also believed to be working a Dark Blue color, a neutral Gray finish, a traditional White option, and a Light Pink colorway that'll probably look somewhat like the Phantom Pink S21.
The bad news is that Samsung sometimes offers certain colors as carrier exclusives and other times their only available in select countries. That'll probably be the case with the Galaxy Z Flip 3.
Rumored Samsung Galaxy Z Flip 3 specs and features
But it isn't all doom and gloom. While the colors may vary, the internal specifications should remain identical across all regions and carriers, which isn't a common thing with flagship Samsung phones.
All
Galaxy Z Flip 3
units are set to pack the high-end Snapdragon 888 chipset and a 6.7-inch 120Hz display that can be folded in half. The latter should look a lot like the one used on past Z Flip models, as corroborated by these new renders.
Other rumored features include a 3,300mAh battery with support for 15W charging, a dual-camera setup on the back, an 8/128GB storage configuration as standard, and a USB-C port on the bottom.
You'll be able to record great audio for videos with what appears to be a dual-mic setup on the bottom of the phone. Don't expect a headphone jack, though. Instead, you'll be encouraged to pick up the upcoming
Galaxy Buds 2
.
Samsung Galaxy Z Flip 3 price and release date
We can expect the Galaxy Z Flip 3 to retail anywhere between $959 and $1,099 in the United States, meaning it'll be significantly more affordable than the $1,380 Galaxy Z Flip and even the $1,199 Galaxy Z Flip 5G.
As for the announcement and release date, Samsung recently confirmed that it'll be holding an
Unpacked event later this summer
. Rumor has it that the event has been scheduled for August 3, though the brand is yet to make this official.
Pre-orders should start shortly after with the Galaxy Z Flip 3 release date set for Friday, August 28, according to a recent leak. That's the same day Samsung is expected to release the pricier Galaxy Z Fold 3.
If you pre-order the foldable device, expect Samsung to make it worthwhile with several gifts. The main gift will probably be a free pair of Galaxy Buds 2, though other products can't be ruled out.