Samsung's official Galaxy Z Fold 3, Flip 3, and Watch 4 model prices leak, cheaper indeed
2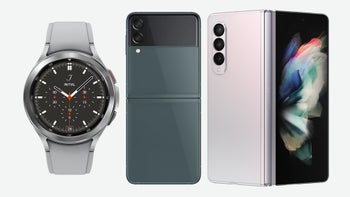 UPDATE
:
The UK prices leaked out via 91Mobiles, too - £1599 (~1880 EUR) for the Z Fold 3 and £949 (~1117 EUR) for the Samsung Galaxy Z Flip 3 - pretty much confirming the pricing info below and the lower-than-predecessors price tag overall.
By now, we know almost everything there is to know about next week's
Galaxy Z Fold 3
and
Z Flip 3
announcement. Heck, both Samsung 2021 foldables leaked just yesterday in gorgeous high-res official renders with the specs to match.
When it comes to that all-important detail, however - the Galaxy Z Fold 3 and Z Flip 3 pricing - the tips are all over the place. They range from more expensive than their predecessors to much less expensive but when
Mr Evan Blass from @evleaks
posts what seems to be official pricing from a Samsung website, and tacks on the
Galaxy Watch 4
prices, that's as good as it gets.
If you are wondering what's "B2" and what's "Wise" in the pictures, these are Samsung's internal codenames for the Z Flip 3 and Watch 4, respectively, and that's what leads to the thought that these were scraped off directly from a Samsung website.
Galaxy Z Fold 3 vs Z Fold 2 price
1899 vs 2020 EUR (256GB model)
The pricing for the most souped-up 512GB model of the Z Fold 3 is disclosed as 1999 EUR, while that, and in some European countries even higher, was the starting price for the basic Z Fold 2 last year. The 256GB model is 1899 EUR, and that is cheaper by a hundred from the basic Fold 2 already.
Last year, those European prices directly converted to dollars, rather than their equivalent, and some indications show that Samsung may be making a PR move by lowering the Z Fold 3 price in the US even further, so we wouldn't be surprised if the heretofore $1799 rumors are confirmed upon launch.
While a Benjamin or two off the Z Fold 3 pricing compared to the starting tag of its predecessor may not seem much, remember that you are getting a much more powerful handset with S Pen support and two high refresh rate displays this time around, not to mention the novelty of the under-panel camera on the main display.
Galaxy Z Flip 3 vs Z Flip 5G price
With the Z Flip 3, Samsung is cutting prices even more significantly, it seems. Instead of the OG Z Flip's €1359 starting price in Europe, the Galaxy Z Flip 3 blasts off from just €1099 for the 128GB, making it the cheapest foldable of 2021.
The 256GB Galaxy Z Flip 3 version comes in at €1149, again a large drop in pricing from its predecessor. You, however, will be getting a much more powerful processor, tougher foldable glass, and larger external display.
Samsung Galaxy Watch 4 Classic vs Galaxy Watch 3 price
Samsung's Galaxy Watch 4 and Watch 4 Classic pricing has also been leaked here, and the tips confirm they will be cheaper than their predecessors, too. The 46mm Watch 4 Classic, which is the equivalent of last year's 45mm Watch 3, will cost €409, whereas the Watch 3 started north of €450 in Europe. The 42mm Watch 4 Classic price is pegged at €379, again lower.
While last year the Watch 3 started at this leaked Watch 4 Classic price, but in dollars, the $379 price in the US will be lower this year,
claims leakster Snoopytech
, by $30. We'll see if this claim pans out, but if the Watch 4 Classic starts at a $349 price for the smaller 42mm version indeed, this will lend further credence to Samsung's reduced pricing trend of 2021, a very welcome one.
The Watch 4, which will be the Watch Active equivalent, or, nudge, wink, the
Apple Watch SE
- a cheaper, sportier version - starts from just €279 for the 40mm version, and €309 for the larger, 44mm model.
Samsung Galaxy Buds 2 vs Galaxy Buds Pro price
Last but not least, the €159 price tag of the upcoming Galaxy Buds 2 - active noise cancellation, long battery life and all - actually measures up lower than the launch price of the Buds Pro there, for instance.
Want to preorder the Z Fold 3 or Flip 3?
As is becoming customary, Samsung is giving you the option to
get the Galaxy Z Fold 3 or Z Flip 3 right now with the following preorder bonuses
:
Reserve the Galaxy Z Fold 3 for up to an extra $100 trade-in credit on top of Samsung's 'highest online instant trade-in values.'
Trade two devices instead of one for the Galaxy Z Fold 3 and Z Flip 3.
Your first 12 months of Samsung Care+ included (up to a $155 value).
An extra, special offer towards Galaxy products during pre-order.