Which foldable phone did you like better? Samsung Galaxy Fold vs Huawei Mate X
64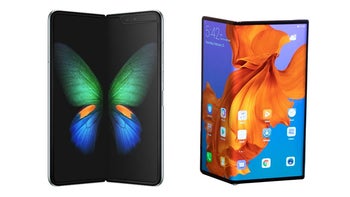 So, we finally got to see Samsung's new foldable phone! The Galaxy Fold is out in its full glory — an inwards-folding device that has a 7.3-inch AMOLED screen on the inside and a 4.6-inch mini display on the outside. It has its quirks, like being a rather thick handset with a gap in the middle when folded. Also, there's a notch on the big inside display, which houses the dual selfie camera.
The Huawei Mate X goes the other way — it has a single 8-inch AMOLED display and folds outwards, transforming into a sleeker smartphone with two screens when folded. There's no gap and no notch, making it look like a more elegant solution. But, on close inspection, you can clearly see the display has a wrinkle down the middle when the screen is unfolded.
The Galaxy Fold costs $1,980, the Mate X is up there with a heart-stopping $2600 price-tag... But... let's try to ignore the price here. Conceptually, which phone did you like better? If you had money to burn, which one would you buy?