See what the Samsung Galaxy Fold is all about in this official 4-minute video
15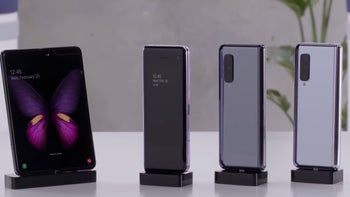 Did Huawei just blow Samsung out of the water with the
MWC 2019 announcement
of the
world's first out-folding smartphone
? Perhaps, but the largest mobile device vendor out there is
certainly not going down without a fight
, trying to fend off the incredibly ambitious Mate X with a
Galaxy Fold
price tag that's actually starting to sound reasonable and a design that seems like a much safer bet as far as mass production and long-term endurance are concerned.
Don't get us wrong, the Samsung Galaxy Fold is also an absolute knockout, as proven by a 4-minute new video which just so happened to be uploaded to one of the company's official YouTube accounts on the day of the Huawei Mate X launch. The clip, which showcases various unique features and real-world use cases highlighting once and for all that the foldable form factor is not a gimmick, lacks any sort of a soundtrack.
There's no music, no sound effects, and no narrator to walk us through everything the Galaxy Fold does and everything it can do. That's a pretty bizarre call on Samsung's part, but one could argue the product needs no introduction, explanation, or further hyping. The images speak for themselves, flaunting the futuristic design from different angles and in different folding states for about a minute.
Then, the Galaxy Fold is shown wirelessly charging the
Galaxy Watch Active
, as well as the
Galaxy Buds
, which would be truly impressive if you could actually use either device while that process takes place. Next up, we get to see the phone folding and unfolding several times, demonstrating how smooth one can make the switch from a 4.6 to a 7.3-inch screen and vice versa.
The easily pocketable and (presumably) lightweight device is shown in different eye-catching colors, but undoubtedly the most interesting part of the video comes around the 2:05 mark. That's when the Galaxy Fold starts to shine, seamlessly switching from a small to a large-screen Google Maps environment, taking and editing photos both folded and unfolded (again, with minimal lag), gaming like crazy, and just all-around opening a new world of possibilities for everything from video calling to social networking to Netflix and chilling.
This is still a controlled demo, not to mention a heavily edited one that could cleverly hide the software kinks of a pioneering product, but the ball remains in Huawei's court to prove the Mate X can run just as smooth in just as many situations.