Samsung's OG Galaxy Buds Pro are irresistibly cheap for a limited time
We may earn a commission if you make a purchase from the links on this page.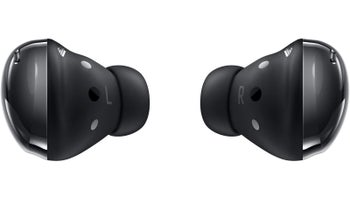 Despite selling a number of well-reviewed heavyweight contenders for the title of
best wireless earbuds
money can buy,
Samsung
is reportedly struggling to keep up with
Apple's industry-leading volumes
.
One key reason why the global popularity of the Galaxy Buds portfolio dropped in Q3 2022 compared to the same period of the previous year may have been the somewhat excessive $229.99 price point of the latest (and arguably greatest) member of the family.
If that's what kept you from purchasing the
AirPods Pro 2
-rivaling
Galaxy Buds 2 Pro
, today might be the ideal time... to opt for the first-gen Buds Pro instead.
Released back in early 2021, which makes them considerably younger than Apple's OG
AirPods Pro
, these bad boys last
made headlines on Black Friday 2022
(when else?), fetching $100 instead of their $200 list price for a limited time.
You now have an even more limited time to nab a Phantom Black-coated pair of noise-cancelling
Samsung Galaxy Buds Pro
at a lower-than-ever price of $49.99. Obviously, there is a "catch", as your 50 bucks will get you refurbished rather than brand-new units with a 90-day rather than 1-year warranty from Amazon-owned Woot rather than Amazon itself.
This is still a super-sweet and totally unprecedented deal, and the best way to highlight its appeal is of course to compare it with the top special offers of other major US retailers right now.
Best Buy, for instance, is charging $79.99 (and up) for its own Geek Squad "certified" refurbished Galaxy Buds Pros at the time of this writing, while Amazon (in partnership with a third-party seller) can only slash $60 off the regular $169.99 price of brand-new "international" units.
Don't get us wrong, those are not terrible deals either, but they're only really worth considering if you miss out on the 24-hour opportunity to pay a measly $49.99 for these decidedly premium buds with an undeniably impressive list of features and capabilities (even by 2023 standards).