Apple files patent application for an eye tracking system designed for its AR glasses
4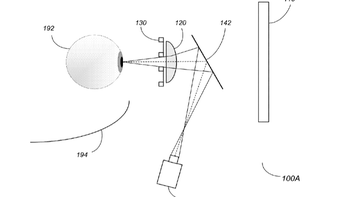 Apple is rumored to be developing a device that
one ex-Wall Street analyst thinks will be bigger than the iPhone
. We are talking about Apple's AR glasses that are expected to be named
Apple Glasses
. The vice chairman of contract manufacturer Quanta, the company that manufacturers the
Apple Watch
and other Apple devices, says that the wearable could launch by the end of next year. Reportedly,
the device has a codename of T2888 and will use the reality Operating System (rOS)
.
While Apple has not confirmed the existence of such a device, or even that it is working on AR glasses, CEO Tim Cook said last October that
current technology is not mature enough for such a product
. However, a patent application filed by Apple eight days after Cook's comments reveals a system developed by the company to track a wearer's eyes. The patent is titled "Eye Tracking System," and "detects the movement and position of a user's eyes in a head-mounted display." Eye tracking cameras on each side of the user's face (these are NIR, or near-infrared cameras) are used along with NIR light and hot mirrors. The latter bounces infrared light back to its source while allowing visible light to go by.
According to the patent, the hot mirror sends light into the user's eyes. The IR light reflects from the eyes, to the hot mirror, and then to the eye-tracking cameras. This allows the system to follow the movement of the user's eyes.
While there is no guarantee that the technology in this patent application will see the light of day (remember the patent application filed by Apple for
a method that protected the display of an iPhone
?), eye-tracking is important when it comes to building an AR headset.
source:
USPTO