Cook: Current technology for AR based smart glasses "not mature"
12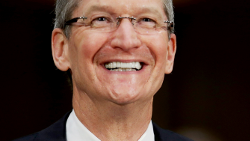 Ever since the launch last year of Pokemon Go,
Apple CEO Tim Cook has been a strong supporter of Augmented Reality
. Because of that support, there have been several reports claiming that Apple's next innovative product will be smart glasses similar to Google Glass. While the latter product failed in the consumer market, some analysts see such a product succeeding in Apple's hands. Former Piper Jaffray
analyst Gene Munster says that Apple Glasses will end up bigger than the iPhone
.
But Cook put the kibosh on rumors that the glasses will come soon. The executive said in an interview on Tuesday that the technology to make a quality pair of smart glasses does not exist today. Some of the problems include the optics which at this time provide an inadequate field of view. The CEO said that Apple doesn't care about being the first out with a new product, it wants to be the best. He added that any smart glasses produced today would "not be something any of us would be satisfied with."
During the interview, the CEO compared AR to the App Store. He recalled how back in 2008, there was a feeling that the mobile apps market would not succeed. But eventually the App Store took off and the growth was exponential. Cook sees AR taking off the same way. The executive says that shopping will be "entirely" changed by AR. Consider the Ikea app in the App Store that allows users to take a virtual representation of a piece of furniture, and place it anywhere in the house using the camera on the iPhone to provide a real world backdrop for the AR image.
"Think back to 2008, when the App Store went live. There was the initial round of apps and people looked at them and said, 'this is not anything, mobile apps are not going to take off. And then step by step things start to move. And it is sort of a curve, it was just exponential -- and now you couldn't imagine your life without apps. Your health is on one app, your financials, your shopping, your news, your entertainment -- it's everything. AR is like that. It will be that dramatic."-Tim Cook, CEO, Apple
source:
Independent
via
AppleInsider