The LG V50 ThinQ 5G can be yours for as little as $355 with monthly installments
3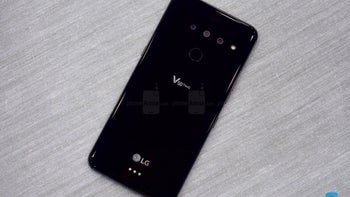 Released
exclusively on Sprint a couple of months ago
, LG's newest ultra-high-end smartphone scored
a massive discount
shortly after its US debut, but believe it or not, the V50 ThinQ 5G is available at an even lower price right now from Best Buy.
We're talking a little over 355 bucks all in all, which moves the
Snapdragon 855-powered handset
into a market segment where its main rivals are significantly less impressive mid-rangers. Of course, you can't just pay $355 upfront and receive the LG V50 ThinQ 5G on your doorsteps with no obligations or strings attached of any sort. Instead, you'll have to agree to a two-year Sprint installment plan and cough up $14.82.
Technically, it's not even that simple, as you'll end up paying $14.82 a month after a $100 Best Buy instant discount and $22.67 carrier credit applied to your bill. Still, this is an undeniably sweet deal for an arguably awesome device with the aforementioned state-of-the-art SoC under the hood, as well as 6 gigs of memory, 128GB internal storage space, a sizable 4,000mAh battery, and most importantly, a special modem capable of tapping into the next-gen Sprint mobile network.
Because
5G coverage
is not great at the moment, serving Sprint customers in
parts of only five cities
, you can also purchase the V50 for good old fashioned 4G LTE use. At less than $400, it's a virtually irresistible bargain either way, especially considering
Verizon
is asking its subscribers to pay a whopping 1,000 bucks both outright and with monthly installment plans.
Far from a pushover in the imaging department, the substantially marked-down phone comes with a grand total of five cameras, including three on the back. Equipped with a 6.4-inch P-OLED "FullVision" display (with a notch), the LG V50 ThinQ 5G also ticks a bunch of other super-premium boxes, from a robust and waterproof design to a headphone jack, Boombox speaker system, and 32-bit Hi-Fi Quad DAC technology.

Check out the deal here