This refurbished LG V30 deal may well be the best way to spend $200 right now
2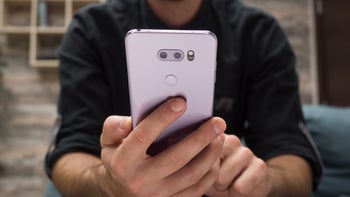 If you're thinking of spending around 200 bucks on a new phone, you're probably well aware you'll need to make quite a few compromises. But what if we were to tell you $199.95 is currently enough to get you a beautiful
6-incher with a sharp OLED screen
in tow, razor-thin bezels, as well as a powerful Snapdragon 835 processor under the hood?
Yes, of course there's a catch, but it's hardly a deal breaker. LG V30 units available at that incredibly low aforementioned price are not brand new (duh), also lacking any sort of valid US warranty while nonetheless shipping in "good cosmetic condition", with "minor scrapes or scratches" largely resulting from a "professional" testing and inspection process, as guaranteed by top-rated eBay seller bidallies.
Reconditioned by "qualified technicians", the V30 on sale today is further described as a "B+ stock item", which essentially means it looks
almost
as good as a brand-new device. Perhaps most importantly, all features are said to "work properly", although one major limitation you definitely have to take into consideration before pulling the trigger is an obligation to activate these ultra-affordable LG V30 units on Verizon.
If you don't have a problem with that, it's practically impossible to find a better phone at a comparable price, be it on eBay or at retailers like Best Buy and B&H Photo Video. It's also worth pointing out that the V30 is either listed as sold out or discontinued across most authorized US e-stores right now, which makes this sweet new deal even sweeter.
In exchange for a measly two Benjamins, you'll get a
premium metal and glass-made handset
with a high-quality display, water-resistant body, 4GB RAM, 64 gigs of internal storage space, microSD support, headphone jack, surprisingly great battery life, and extremely capable dual rear-facing cameras. No longer a powerhouse by 2019 standards, this is an absolute must-buy at $199.95.