iPhone 16 might ditch the Dynamic Island for under-panel camera and Face ID
4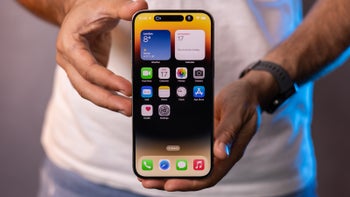 As if it was yesterday when Apple shook up the iPhone design language by introducing the Dynamic Island punch-hole cutout, which debuted as an exclusive feature of the
iPhone 14 Pro
and
iPhone 14 Pro Max
, and just recently we heard that all of
Apple
's upcoming
iPhone 15
devices will reportedly share the Dynamic Island, which could mark the demise of the notch that the
iPhone X
debuted in 2017.
Still, a new report from
South Korea's

The Elec
claims that the Dynamic Island might not last too long past the iPhone 15 series this year, as 2024's iPhone 16 family will likely get an under-panel Face ID and cameras, which will be only visible when the display is off. When the user turns the display on, the panel on top of those could function just like a regular OLED panel, essentially hiding the hardware sensors and cameras beneath.
While a under-panel camera and Face ID sensor array isn't totally an outlandish concept and sound just like a rather big highlight of the iPhone 16 series, we shouldn't expect the switch to affect the whole of the iPhone 16 lineup.
As usual with such major design changes and hardware revamps, we can expect that the most premium iPhone 16 Pro and iPhone 16 Ultra will exclusively score the new feature first, whereas the regular iPhone 16 and iPhone 16 Plus, as well as any upcoming generations of the more affordable non-Pro iPhones, could very well retain the Dynamic Island for a while. After a hardware or software feature has trickled down from the premium models to the more regular ones, Apple tends to stick these around for at least a few generations, so the Dynamic Island seems safe, for now.
Some of Apple's biggest competitors, like
Samsung
, already have devices with under-panel cameras on the market. The foldable
Galaxy Z Fold 3
and
Galaxy Z Fold 4
are such devices, though it should be noted that the display area immediately above the camera employs a lower resolution, which can easily be spotted with the naked eye. Probably this issue would have been solved by 2024, when the iPhone 16 should break cover, but until then, Samsung will have a couple more chances to come up with the perfect under-display camera.
Of course, all of these conjectures are based on rumors and early reports, which should ideally taken with a bucket of salt, given that we're still in the early days of 2023 and the iPhone 16 isn't expected until September 2024. Lots of things might change until then, but we'll surely take heed of the murmurs discussed above.
Surely, a much more believable scenario is that Apple could employ the Face ID sensor array beneath the screen panel and utilize a single punch-hole cutout for the FaceTime selfie camera. Yet, getting rid of both punch-holes would be the ideal and definitely more elegant solution. Knowing Apple, we slightly pessimistic as to whether such a major shift to a completely uninterrupted iPhone display sans any punch holes or notches will happen so soon after the Dynamic Island's introduction.
Apple is planning more design shake-ups in 2023, as numerous reports claim that after killing headphone jacks and chargers in the box, Apple could have
hardware buttons in its sights
. Reportedly, Cupertino might utilize solid-state buttons on the iPhone 15 Pro and iPhone 15 Ultra which wouldn't move but will use haptic motors to provide feedback to the user. This change could affect the volume and power buttons; nothing is certain of the mute switch at this point. Apple already did a similar change with the iPhone 7, which employed a solid-state hone button.