Where are they now? iPhone X vs Galaxy S8 vs LG G6 vs Note 8 price depreciation
17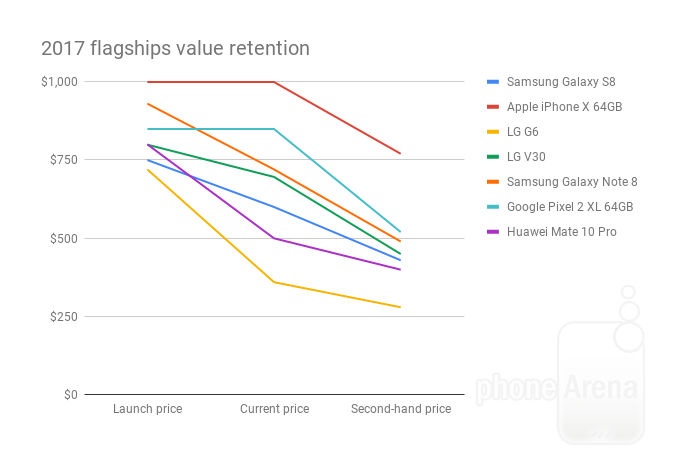 Besides design, specs and street cred, there is another important variable to explore while choosing a phone - value retention. What good is the snazzy flagship you paid close to a grand for, if a few months after its introduction it would have become an upper midranger, and, more importantly, lost a whole midrange price tag in value?
This is why we were curious to follow if last year's flagships are ageing gracefully. After all, 2017 was the year when
average phone prices hit a record
, and there's never been such a
price jump year-on-year
, thanks mainly to "1K" phones like the
iPhone X
and
Note 8
, but also to other high-ends that saw a price boost compared to their predecessors, and the trend seems likely to continue this year.
Barring BOGO deals and temporary promos around shopping events like Black Friday or Amazon Prime Day, we took the lowest price we could find from a reputable vendor, the phone maker, or in carrier stores, and threw in current average second-hand price from Amazon, Craigslist or refurbished listings for comparison.
| | Launch price | Current price | Second-hand price |
| --- | --- | --- | --- |
| Samsung Galaxy S8 | $750 | $600 (-20%) | ~$430 (-43%) |
| Apple iPhone X 64GB | $999 | $999 | ~$770 (-23%) |
| LG G6 | $720 | $360 (-50%) | ~$280 (-60%) |
| LG V30 | $799 | $630 (-22%) | ~$450 (-45%) |
| Samsung Galaxy Note 8 | $930 | $720 (-23%) | ~$490 (-47%) |
| Google Pixel 2 XL 64GB | $849 | $849 | ~$520 (-39%) |
| Huawei Mate 10 Pro | $800 | $500 (-37%) | ~$400 (-50%) |
As you can easily deduce from the table already, the iPhone X is the phone that held its value best since its November launch which was recently confirmed by the wholesalers from B-Stock. They mentioned that the second-hand lots show
just 15-20% value drop
in these 9 months since its introduction which is a pretty breathtaking retention, even though we start from a higher value compared to other handsets.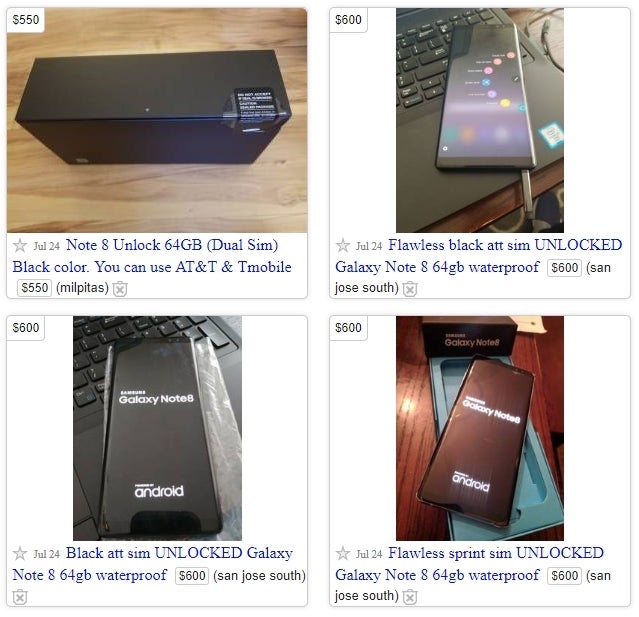 Starting at $930, a mint Note 8 can now be had for less than $600, or $720 new
The
Note 8
started pretty high, too, but shed more dollars off its price than the
S8
, so word to the wise for S Pen lovers. Samsung's Galaxy S8 held up pretty well and fell down just 20% in price for more than a year since introduction, and with a shiny successor on the market. Its second-hand pricing is also above the 50% value retention which seems to be the telling mark whether a phone has been a relative sales success or not. The other way to keep the value of your handset on the Android side of things is to get a Pixel, as, apart from a
few promos for a Benjamin
, the high-end
Pixel 2 XL
still goes for the same money it went, though you can save about 40% if you get it used in mint condition. The worst offender seems to be the LG G6, which has lost 50% of its pricing so far, and even more as a used handset, but that was pretty much expected given the older generation chipset it shipped with, while the
V30
is doing better.
The Galaxy S8 and iPhone X are aging most gracefully
Contrary to the absolute numbers here, though, the G6 price depreciation is not the worst one. When we account for the fact that the phone shipped way back last March, and its starting tag wasn't that high to begin with, another phone climbs up the totem pole for the title of "worst resale value." We divided the dollar loss from the launch prices to the current average prices you can fetch for second-hand handsets in good condition, and divided the result by the number of months the phones have been on the market.
Thus, as you can see from the chart below, the Galaxy S8 has been shedding the least value each month for its lucky users, while the
Mate 10 Pro
owners have been paying nearly twice per month for the privilege, and something tells us they can complain on
"national security" grounds
for that rapid depreciation.