iOS 9.3.2 for iPad Pro 9.7 is back: no longer bricks devices, fixes the ones that were affected
14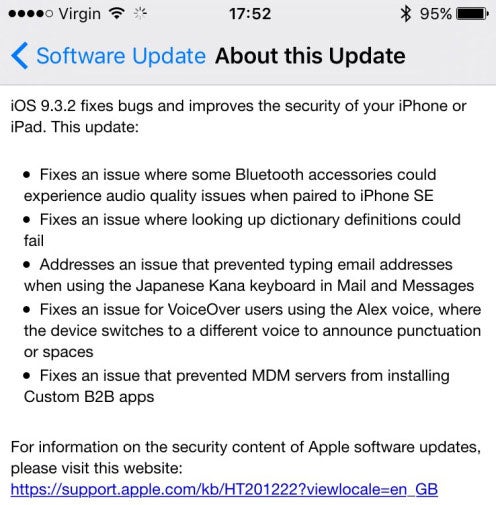 A bit more than a couple of weeks ago, Apple launched
the iOS 9.3.2 update
— a patch devoid of new features, but full of security improvements and bug fixes. Unfortunately, it also had the power to turn the brand-new
iPad Pro 9.7
into
a glorified paperweight
in just a few swift moments. After numerous reports of the issue, Apple acknowledged it and
pulled the 9.3.2 update
, while suggesting that anyone affected should bring their iPad Pro to the nearest Apple Store for help.
Well, iOS 9.3.2 is back with a vengeance. Not only is the update available for the iPad Pro 9.7 again, it will also help you un-brick your tablet, if you haven't gotten around bringing it to the Apple Store yet. In order to breathe life back into your iPad-gone-cutting-board, you'll need to download the update via iTunes on your computer and connect the tablet via USB, then update through iTunes.
If you were cautious enough and didn't happen to update to 9.3.2, you can now get the new patch over the air. Presumably, it shouldn't turn your iPad Pro 9.7 into a useless slab this time around.