Global Q1 2019 market reports highlight Samsung and Apple's struggles, Huawei's incredible growth
33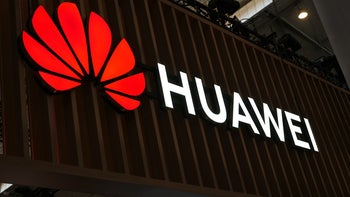 While foldable designs and 5G connectivity are widely expected to eventually bring back growth to the stagnant smartphone market, it shouldn't come as a big surprise to hear the industry's major players haven't done enough during 2019's first quarter to stop
last year's bleeding
. Overall global shipments were down in the January - March timeframe from the same period of 2018, according to both
Strategy Analytics
and the
International Data Corporation (IDC)
.
Curiously, the two research firms can't seem to agree on the extent of the market's Q1 decline, as one estimation puts sales numbers at a little over 330 million units, down 4 percent from 345.4 million in Q1 2018, while the other counts only 310.8 million shipments around the world during 2019's first three months, which would represent a much larger year-on-year drop of 6.6 percent.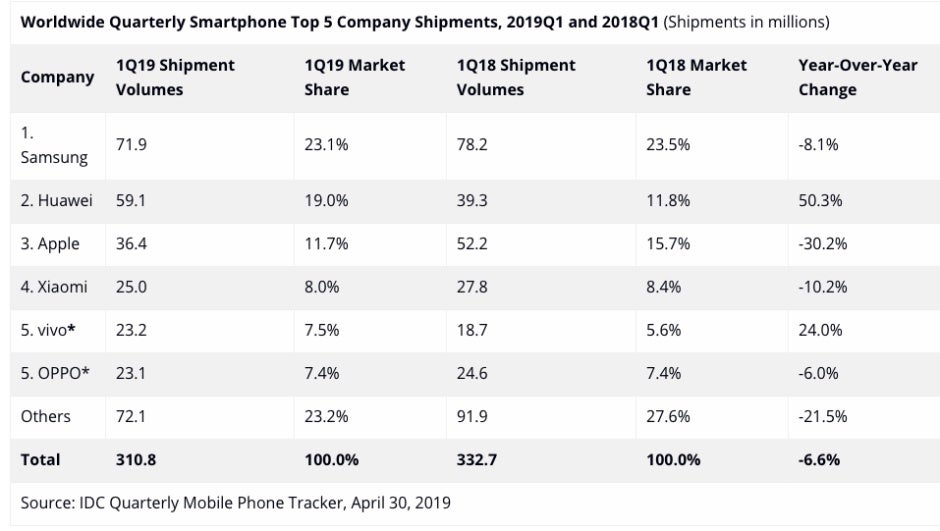 Although the numbers don't look very encouraging either way, Strategy Analytics has a significantly more positive outlook, claiming smartphone shipments are finally "showing signs of stabilizing", while the IDC highlights the market's sixth consecutive quarterly slump, which also represents a bigger decline than the one reported this time last year. But if there's one thing the two research companies can agree on, that's certainly the name of Q1 2019's global MVP.
Huawei is mounting the pressure on Samsung
Overtaking Samsung
and even Apple in worldwide volume sounded like a far-fetched objective for China's top smartphone vendor not so long ago, but if Huawei can keep up its phenomenal recent growth pace, the number one spot among global mobile device OEMs is definitely achievable within a year or so.
At first glance, Samsung might appear to be holding a solid lead over its primary rival, but the gap is rapidly closing, as Huawei's shipments somehow surged by an incredible 50 percent in Q1, from around 39 to
59 million units
. That's enough for an all-time high market share of between 17.9 and 19 percent, compared to Samsung's 22 or 23 percent slice of the pie, equating to under 72 million unit shipments, down 8 percent from 78 million last year.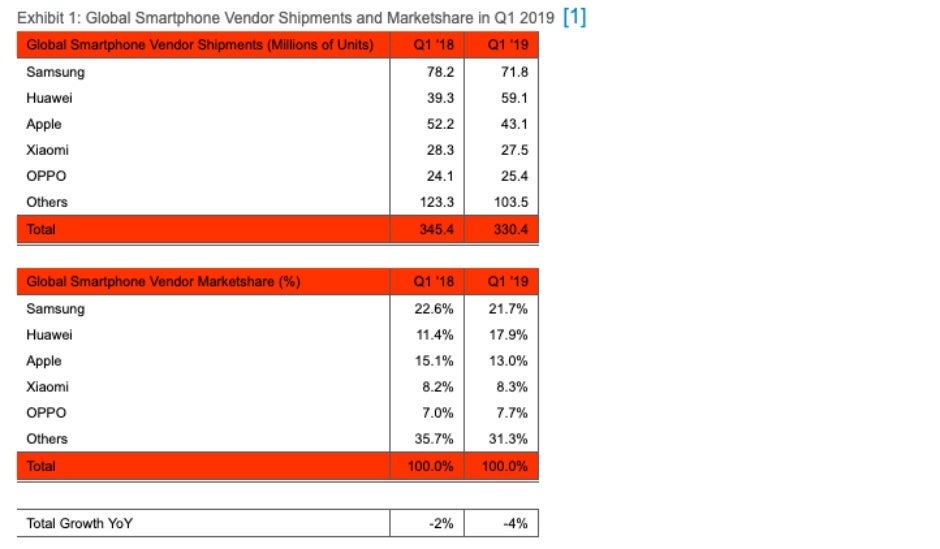 It's no big secret that Samsung is having trouble getting a foothold in the crucial Chinese market, while its mid-range product portfolio continues to struggle around the world. Huawei, on the other hand, is on the rise everywhere (apart from the US) and in every single price bracket, using high-end models to create a "strong affiliation" for mid to low-end devices, the latter of which are still largely supporting the company's stellar "overall shipment performance."
Apple and pretty much everyone else is struggling
You probably already know official iPhone sales numbers are no longer included in
Apple's quarterly financial statements
, which seems to be causing major confusion for Strategy Analytics and the IDC. Their Q1 2019 figures are not remotely close, at 43.1 and 36.4 million shipments respectively, although either way, Apple is ranked a distant third after edging out Huawei for second place overall in 2018.
The market share of the Cupertino-based tech giant is obviously shrinking as well, from 15 to anywhere between 11.7 and 13 percent, mostly due to poor iPhone sales performance across
key regions like China
and
India
. But while one research firm expects Apple to "bounce back slightly in those two countries" in Q2 thanks to
recent price cuts
, the other reckons iPhones could "face a difficult remainder of the year" as competitors continue to ramp up their focus on foldable devices and 5G speeds.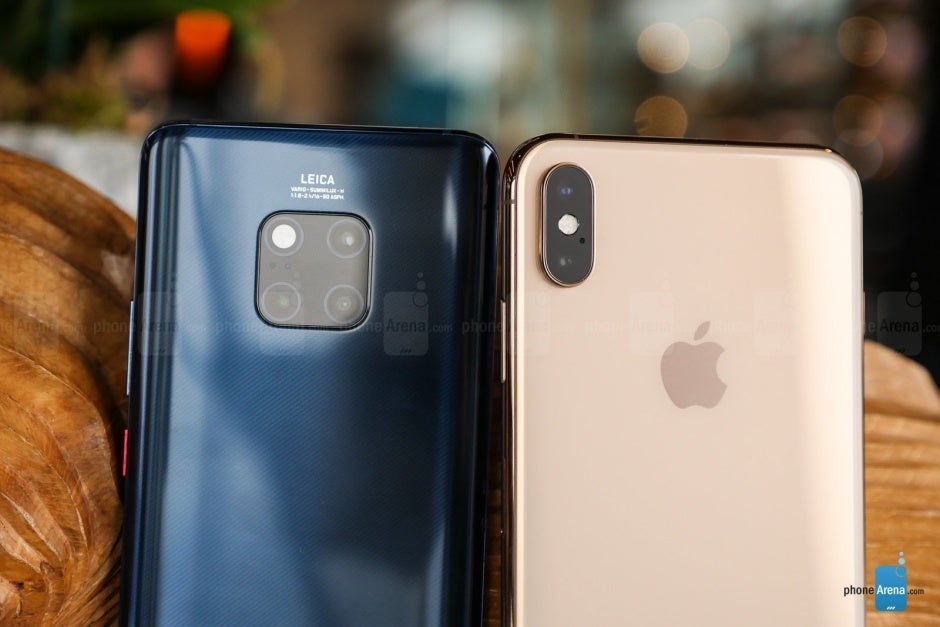 The Mate 20 Pro might be one of the reasons the iPhone XS Max isn't exactly selling like hotcakes
In fourth and fifth place, Xiaomi and Oppo didn't have the best of quarters either, at least according to the IDC, which estimates the two's Q1 numbers dropped by 10 and 6 percent respectively. Interestingly, Vivo is tied with sister brand Oppo in the fifth spot in the IDC's global rankings, while Strategy Analytics mentions nothing about Vivo, claiming Oppo's shipments actually grew slightly in the January - March period.
Bottom line, there are several important differences, possible miscalculations, and question marks we're left with after analyzing these two reports, but one thing is clear and incontestable - the mobile industry as a whole is hurting due to a general lack of innovation and longer upgrade cycles.