Samsung patent application shows off foldable Galaxy Note
11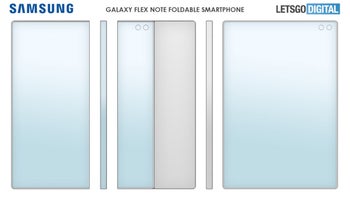 Twitter tipster Ice Universe recently passed on some news that he was told by a supply chain source who supposedly discovered that
Samsung
is
working on a new Galaxy Note device
. The manufacturer decided not to release a Galaxy Note handset this year and focused instead on the release of the foldable
Galaxy Z Fold 3
and
Galaxy Z Flip 3
. It also failed to renew its Galaxy Note trademark in South Korea.
Patent application suggests that the Galaxy Note could return as a foldable

LetsGo Digital
might have discovered what Samsung plans to do with the Galaxy Note line as it unearthed a patent application that Samsung titled "Galaxy Flex Note Foldable Smartphone." And while it does look similar to the Galaxy Z Fold 3, there is a single outward folding screen with no external display. Without that external screen, we'd imagine that the pricing will come down and the device should certainly be easier to build.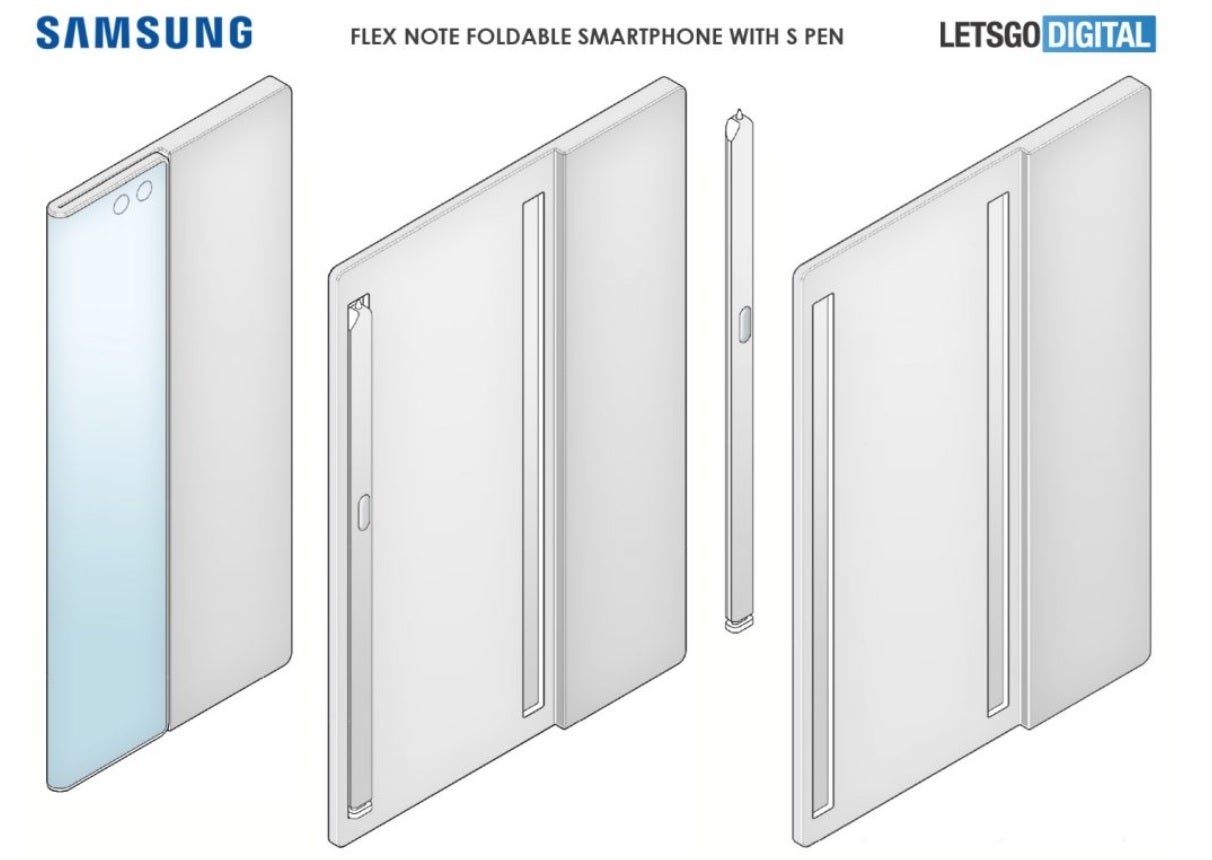 Based on Samsung's patent application, this could be a foldable Galaxy Note handset
While there is no external display, the screen does wrap around the front providing a little bit of real estate to disseminate messages. The device would be equipped with an S Pen which has a cutout space in the back of the device where it would be protected by the foldable display. And dual hole-punch cameras on the back would be used for all photographs.

Just because a patent application has been filed doesn't mean that we will definitely see a Galaxy Z Note produced. However, if you're a Galaxy Note fan, this doesn't mean that you can't continue dreaming. In fact, Samsung originally filed a patent based on this design back in April 2020. Last October, it also filed a similar patent application in China according to
SamMobile
.
The Galaxy Note was first released in October 2011 and was the first handset to feature a screen larger than 5-inches. At 5.3-inches, the Galaxy Note had a huge display for the time and was equipped with a digital stylus called the S Pen. Over the years, the Galaxy Note became known for its large displays and software that took advantage of both the large screen and the S Pen.
Last year, Samsung released two Galaxy Note 20 models including the premium Galaxy Note 20 Ultra. The latter featured a 6.9-inch Dynamic AMOLED display with a 1440 x 3088 resolution, a 120Hz refresh rate, and a 19.3:9 aspect ratio. The device was powered by the Snapdragon 865+ in the states with a basic setup containing 12GB of memory and 128GB of storage.
Samsung has also filed patent applications on phones with a rollable screen

Samsung has found success with its current foldable lineup which includes the Galaxy Z Fold 3 and the Galaxy Z Flip 3. It would make sense that Samsung would be interested in adding to the line and the Galaxy Note name is well known. The manufacturer has also applied for patents on rollable handsets with a screen on rollers that expands on demand. A patent filed in 2019
showed the rollable expanding vertically
while
another one revealed the screen expanding horizontally
.
Another possible foldable form factor that Samsung is exploring uses a pull-out display. This was included in a patent application that Samsung filed at the end of 2018. And last May, Samsung showed off a prototype with a 7.2-inch AMOLED display that folds inwards and outwards in an "S-curve." Samsung has filed for some trademarks using the S-Flex name.
While there is no Galaxy Note release planned for this year, another rumor suggests that Samsung is thinking about releasing an annual flagship model that will alternate each year between the Galaxy S series and the Galaxy Note series. For example, if this rumor turns out to be legit, next year a Galaxy Note handset would replace the Galaxy S22 in 2022 with the Galaxy S returning in 2023. We've already seen too many tips and leaks regarding the Galaxy S22 series to take this last bit of speculation seriously.