Best iPad deals on Prime Day 2022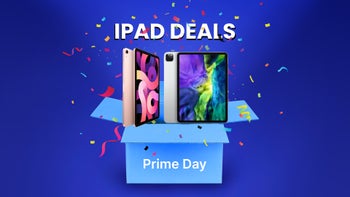 Amazon's Prime Day has easily become "Black Friday, Summer Edition" over the past few years. It started off as a day where Amazon offers tons of discounts and flash sales across its portfolios. But competing storefronts also started to hold their own shopping events around
Prime Day
to keep themselves in the race.
So, it's a mid-Summer sale that just happens to be around the corner. Are you planning to buy an iPad? Well, good news — you can look forward to some iPad discounts!
iPad Pro (2021) Amazon Prime Day deals
The biggest and baddest iPad in town right now is the
iPad Pro 12.9 (2021)
. It's powered by the outstanding Apple M1 chip and it has the Liquid Retina XDR screen with miniLED technology. The USB Type-C port actually provides Thunderbolt speeds and slapping a Magic Keyboard on the iPad turns it into a productivity machine... somewhat. All of that is quite expensive, but we expect price slashes in the $100-$200 range when Prime Day rolls about.
If you want the power of the iPad Pro but don't want the chunky size of the 12.9 model — well, there's also the iPad Pro 11 (2021). It's mostly the same tablet, minus the miniLED screen — the smaller iPad Pro still uses old LCD tech, but that's the only downgrade here. We still get quad speakers, 120 Hz refresh rate, support for Magic Keyboard and Apple Pencil 2, so on and so forth. Some retailers are a bit more generous when it comes to the 11-inch iPad Pro — selling a few units at $200 off (so, $599) during sales events. So, we will be keeping an eye out!
iPad Air (2022) Amazon Prime Day deals
The new
iPad Air 5th gen
is kind of an iPad Pro killer — it comes with a 10.9-inch screen and a design which is almost identical to the iPad Pro 11. It now has the same Apple M1 chip humming inside, and it also has stereo speakers — two instead of four, but still placed in landscape stereo. What the iPad Air does not have is a 120 Hz refresh rate. But, if you can live with that, you will enjoy a very solid tablet for a pretty solid price — especially around Prime Day when it should fall by $80-$100. So, pick your favorite color and get your clicking finger ready — we will be keeping a close eyes on the best deals as they become available.
iPad mini 6 (2021) Amazon Prime Day deals
The
iPad mini 6
is strictly for those that are looking for a super-compact tablet (and yet, not a big smartphone). It starts at $499, but we expect it to drop by something to the tune of $50 during the Amazon Prime Day shopping events. If you are looking for bang-for-buck — you are better off with the base iPad. If you specifically want an iPad that's the size of a Kindle — then yeah, the mini will do fine!
iPad (2021)
The base
iPad
has been offering great value in the $300 price segment for years now. Yeah, Apple stubbornly refuses to give it true stereo (its dual speakers are nestled together on one side), and that large bezel design is looking kind of dated. But that doesn't change the fact that you have a pretty good LCD screen to work with and enough power to run iPadOS in all of its glory — all the features that the iPad Pro has, the base iPad has.
Obviously, there are a lot of corners cut — this is the only iPad in the lineup to use a Lightning port instead of USB Type-C. So, it does support an Apple Pencil, but the 1st gen one. Also, no Magic Keyboard for this one, but it does have the 3-dot connector for a Smart Keyboard (our recommendation — Smart Keyboards are bad and overpriced).
In any case, the $330 iPad always drops by $30 during shopping events. If we spot a deeper price cut, we are sure to post it here.
Best Buy iPad deals on Prime Day
Best Buy likes to keep its head on the game and is always ready to meet competitors' prices. Last year, it offered an interesting alternative — an iPad Pro 12.9 bundled with a Magic Keyboard for $250 off in total. For those planning to get both at the same time — that was a pretty sweet deal.
What about this year? Well, we do hope to see some more bundles from Best Buy. If not of products, then products and services — this retailer in particular loves to give away subscriptions to Apple News+, Music, and Fitness with various iDevice purchases. We will be sure to keep an eye on the
Best Buy Apple Shopping event
page.
Target iPad deals on Prime Day
Walmart iPad deals on Prime Day
Walmart too likes to throw its hat in the ring around Prime Day times. The base iPad got the customary $30 off ($329 to $299), while the 2020 edition of the iPad Pro 11" got a hefty $111 price slash. Can we hope for the iPad Pro 11 (2021) to get the same treatment?