The best foldable phones to buy in 2023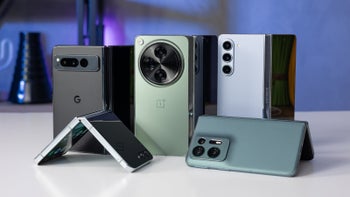 We are well into the second half of 2023 and it has proven to be a great year for
foldable phones
so far. Of course, there are Samsung's
Galaxy Z Fold 5
and
Z Flip 5
which released in at the beginning of August, but there are other players in this
foldable phone
game that have caught more attention.
The
Pixel Fold
— Google's first and long-awaited
foldable phone
— is finally out, while Motorola released two new clamshell foldables, the affordable Motorola Razr and its high-end brother the Motorola Razr Plus.
But we are expecting even more new additions in this increasingly-intense competition such as OnePlus' first
foldable phone
, the
OnePlus Open
, as well as the Oppo Find N3 Flip.
What is a foldable phone?
A
foldable phone
is simply a smartphone with a folding screen. The phone is equipped with a hinge with a mechanism making the folding of the display possible. Models like the Z Fold 4 have an entirely functional cover screen which you can use like a regular smartphone and open to a bigger, more tablet-like display. Clamshell
foldable phones
have a smaller cover screen where you can only interact with notifications or use basic features, and open to a regular smartphone-like display.
Benefits of folding phones include bigger displays for better multitasking or a more compact form-factor.
Foldable phones
existed before (known as flip phones), and with smartphones, the tech has taken things up a notch. The Royole FlexPai came first in 2018 (with some major drawbacks), then Samsung followed with the OG Z Fold in 2019. Huawei also debuted a
foldable phone
in the same year, and Motorola revived the iconic Motorola Razr as a smartphone.
Since then, the tech has been maturing and many of the drawbacks have been solved. In 2022, Samsung's refined Z Fold 4 and Z Flip 4 showed us the real potential what this tech can be. Many researchers predict the
foldable phone
market will continue to grow by around 25% all the way into 2031.
Samsung dominates the foldable market at the moment. Motorola, Xiaomi, Oppo, Huawei, Vivo, Honor also have foldable models as well. For now, Apple's not entered the game yet, and speculations are running wild about a
foldable iPhone
. Google's also expected to produce a
foldable phone
soon, likely to be named
Pixel Fold
.
When it comes to prices,
foldable phones
have always been on the expensive side. But last year, that changed with the Samsung Galaxy Z Flip 3, which came at a rather affordable for a
foldable phone
price of $999. Now,
foldable phones
' prices range between $999 to above $2,000 (for configurations like a the premium foldable Z Fold 4 with 1TB of storage).
If you're wondering what is the
best

foldable phone
right now, you've come to the right place. Below are the
best

foldable phones
out there.
Best

foldable phones

in 2023, summarized list:

Samsung Galaxy

Z Fold 5
The safe choice
By now, you probably know all about the Galaxy Z Fold series from Samsung, and if you missed the recent announcement of the latest iteration, the
Galaxy

Z Fold 5
, it probably won't take you too much time to learn everything new about it. Why? Well, because Samsung has mostly stuck to very incremental changes with this year's generation.
That is not necessarily bad news though, as the Galaxy Z Fold series was already one of the best book-like
foldable phones
on the market. The lack of any major changes also means that it is a rather safe choice for buyers, especially if you are upgrading from an older generation like the Z Fold 2 or Z Fold 3.
Honestly, the only reason the
Galaxy

Z Fold 5
is on this list is because it is newer, but it could easily swap places with the Galaxy Z Fold 4 and still keep the same position for the same reasons. If you find a much cheaper Z Fold 4 then you should probably get it instead.
Google

Pixel Fold
The new guy on the block
This year was an exciting one as far as the
foldable phone
space is concerned, and one of the main reasons we can afford to say that is Google's first jab at it with the
Pixel Fold
! Now, no first attempt is perfect, or even great, but a first attempt can be inspiring, and we think Google's
Pixel Fold
is exactly that.
Essentially, we are talking everything you love about Pixel phones in the
foldable phone
format, including Google's software smarts adapted to make use of that folding screen. That said, one of our favorite quirks of the
Pixel Fold
is its cover display which, unlike the
Z Fold 5
, comes with a size that is closer to that of a regular phone.
Of course, the
Google

Pixel Fold
still falls in the niche spectrum so it is more suited for early adopters and people who would really make use of that larger screen. Nevertheless, this is a great start for Google, with a solid base upon which it can improve in the future. We hope to see some more affordable options to rival the Motorola Razr and Galaxy Z Flip in the future too!
The best clamshell foldable
Contrary to previous years, it was the
Galaxy

Z Flip 5
that had the projectors pointed at it this year, instead of its bigger brother the
Z Fold 5
. The reason for this could be summarized by simply saying it offered more improvements over the previous generation, but more specifically it was because of the larger new cover display, which is eye-catching to say the least.
With the new 3.4-inch (vs1.9-inch) of the cover display, users can now interact with specifically tailored widgets including Favorite contacts, Samsung Wallet, Weather, Clock, Voice recorder, Daily Steps, Stocks, and even control settings such as sound, brightness, Wi-Fi, Bluetooth, AirPlane mode, and more.
One thing to note, however, is that the price has increased compared to the last generation, although the base storage has also been bumped from 128GB to 256GB, so it kind of balances itself out.
Motorola Razr (2023)
The best affordable foldable
The regular Motorola Razr that came out in 2023 is Motorola's way of offering a more budget-friendly foldable, for fans that don't want to spend the even higher premium price the Plus model comes with. This one, at least for now, is only sold in Europe and will cost you €900, which is a similar price to that of the Galaxy Z Flip 4.
Now, since it is supposed to be a more stripped down and accessible version of the flagship Motorola clamshell, the regular Razr comes with a (much) smaller cover display. It also has a somewhat weaker processor — the Snapdragon 7 Gen 1, which can still pack a punch mind you, and should be plenty for most.
Probably most appealing about the regular Razr from 2023 is its leather finish and slim design. Truly living up to that Razr moniker.
Xiaomi Mix Fold

3




The Mix Fold 3 from Xiaomi is one of the most recent new additions to the

foldable phone

world, and it is definitely contending for that first spot when it comes to book-like foldables. In fact, in many ways it can be considered better than Samsung's

Galaxy

Z Fold 5

.




While it has the same lightning-fast UFS 4.0 storage, LPDDR5X RAM, and the latest Snapdragon 8 Gen 2 chipset, it comes with a slimmer and sleeker design. It beats the Z Fold in terms of charging speeds, maxing out at 67W wired fast charging and 50W wireless charging, and its 4800mAh battery is said to last up to 22 hours on a single charge (according to Xiaomi).




What's more, the Mix Fold 3 comes with a larger inner display measuring 8.03" compared to the Z Fold's 7.6" and its cover screen has a much more natural (regular phone-like) aspect ratio.




The perks of Xiaomi's premium foldable don't end there though, as the camera system on the Mix Fold 3 also provides the same if not better image quality. It also comes with a 5x periscope telephoto camera, something the

Z Fold 5

does not have in its arsenal.




So why is the Mix Fold 3 an honorable mention and not in the

best

foldable phones

list? Simply put, availability. As it currently stands, the Xiaomi Mix Fold 3 is only sold in the Chinese market, so even if it was the greatest of all time it would be hard to recommend to people who do not have easy access to it.



Motorola Razr Plus (2023)
In 2023, Motorola decided to split its clamshell Razr foldable into two models — the Motorola Razr Plus and simply the Motorola Razr. The one with a "Plus" is, as you probably suspect, the more expensive and better equipped. And Motorola has definitely done a great job this time around to finally create a
foldable phone
that's more or less well rounded, with no major issues or downsides.
If you enjoy Motorola's near-stock Android software, if you want a less visible hinge on your
foldable phone
, and the Razr Plus' cool slick design, then you will like this one. Especially if you find it with some discount to soften that $1,000 price tag.
The Razr Plus (2023) comes with Qualcomm's Snapdragon 8 Gen 1, 8GB RAM, a 6.9-inch OLED display with a 165Hz refresh rate, and a 3800 mAh battery. Of course, we can't forget to mention the new and eye-pleasing 3.6-inch cover display that's also capable of high refresh rates and you can access certain apps on.
Oppo Find N2
This is the newest big
foldable phone
on the block, and one of the best
foldable phones
for a reason. The OG Oppo Find N was the surprise of the season, with its new concept of what a
foldable phone
should look like. It improved on the OG Galaxy Z Fold concept by being more pocketable while keeping key functionality and practical features. The second generation is now better than ever. Its looks closely resemble other Oppo flagships, which means the phone is more conservative, and when closed, it doesn't stand out so much from the regular phones.
The Oppo Find N2 has a 7.1-inch LTPO AMOLED folding display with a 120Hz refresh rate. The display is almost a perfect square, but unlike the Samsung Galaxy Z Fold 4, it is wider, making it better suited for entertainment. The cover screen is a 5.5-inch AMOLED panel which is also wider than Samsung's. This means it doesn't have the Galaxy's weird tall aspect ratio and feels and looks more like any regular smartphone screen.
As for the other specs, this device packs a Snapdragon 8+ Gen 1 processor, a 50MP triple-camera system, and a 4,520mAh battery. This smartphone is definitely worth your time to consider, as it looks to have excellent built quality and offer good value for money. Unfortunately, for now, it is only available in Asia and select markets in Europe, but we hope in time the Oppo Find N2 will come to other markets too.
Are

foldable phones

worth the extra cost?
It depends on the case, but generally, yes. We can definitely say devices like the Z Fold 4 (all in all, the
best

foldable phone
right now) are worth the cost given the stellar performance, improved durability and multitasking abilities. However, you need to really think about why do you need a
foldable phone
.When determining for yourself whether or not getting a foldable is worth it, think about the following things:
A foldable in a folded state is much thicker than a regular smartphone (won't really be comfortable in jeans pockets)
They tend to be heavier
There is a display crease where the screen folds. Some models have refined that to be almost invisible, but it is still there for now
If you don't mind the above and you would really use a bigger screen of a Z Fold or the clamshell portability of a Z Flip, then it will be worth it.

Are

foldable phones

durable enough?
The foldable tech has been improving in the last couple of years. Foldable smartphones were somewhat fragile in the beginning. Now things have changed and current
foldable phones
are way more durable. For the Z Fold 4, Samsung promises the device is durable enough to survive a minimum of 200,000 folds – more or less 5 years if you fold and unfold it 100 times a day. Americans check their phones on average 344 times per day, according to a
survey by Reviews.org on smartphone usage for 2022
. That's around 122,000 checks a year. But checking doesn't mean interacting with it – you can check the outer screen of the Samsung foldable for notifications, texting, or even a brief scroll through social media, without ever unfolding the phone.
The moral of the story – a
foldable phone
like the Z Flip 4 and the Z Fold 4 should survive for around five years of regular usage. Good enough for today's standards.
Is battery life affected in foldables phones?
Yes, battery life seems to be a bit lower than regular flagship phones. When comparing a
foldable phone
to regular flagship devices, we see some differences in the battery department, including when pinning them against the
best Android phones
. As you may know, we at PhoneArena perform extensive tests for all the phones we review. Check the table below to see for yourself what the battery life results for
foldable phones
vs regular phones are.
Are there any differences between foldable and traditional phones' camera quality?
It depends on which foldable vs which traditional phone. The camera has no interaction whatsoever with the folding mechanism, and is like any other smartphone camera. If it has a higher megapixel count and better features, image processing and color calibration, it will be better no matter if it's on a
foldable phone
or a standard smartphone. The only thing is that some folding phones may lack the space for a periscope lens or some other special lens though. If we talk about selfies, some
foldable phones
like the Z Fold 4 can deliver even better results given the fact that you can use the phone's rear camera to take a selfie.
Recommended Stories