Apple grabbed almost half of the Q3 2019 smartwatch market, Samsung remains a distant second
5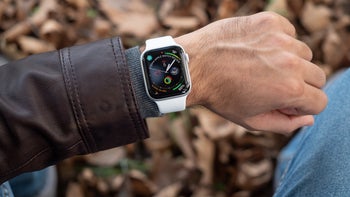 If you thought Apple's performance in the global smartwatch market was impressive
a couple of quarters ago
, when Counterpoint Research estimated the Cupertino-based tech giant accounted for roughly one in three sales,
the latest report compiled by Strategy Analytics
might completely blow your mind.
According to this, nearly one in two smartwatches shipped around the world between July and September 2019 was an Apple Watch, with the company's grand Q3 total standing at 6.8 million units of a 14.2 million industry. Said industry is thriving, mind you, reporting a 42 percent overall year-on-year growth, which makes Apple's result that much more remarkable. After all, it's one thing to boost your sales numbers in such a fast-growing market but a whole different thing to also increase your slice of an ever-expanding pie.
Believe it or not, the Apple Watch lineup has surged from 45 percent market share during Q3 2018 to a colossal 47.9 percent now apart from adding no less than 2.3 million units on top of an already dominant 4.5 million shipment score back in the July - September timeframe of last year. It's definitely worth pointing out that Apple made all this progress with pretty much no help from its
excellent Series 5 smartwatch
, which was commercially released with only a week or so ahead of the end of the quarter.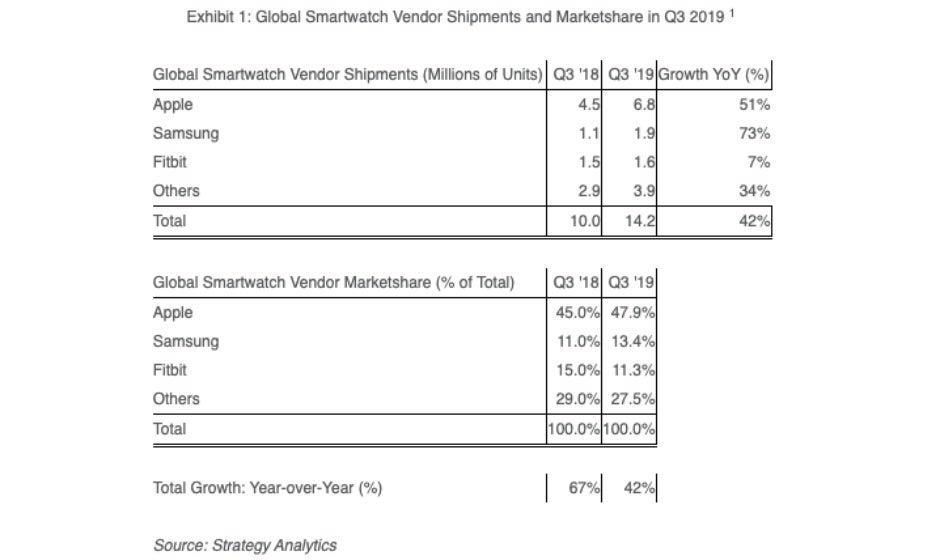 As such, it really shouldn't be a problem for the company to continue improving its shipment total and possibly its market share too during the always competitive and important holiday quarter. Speaking of competition, Samsung can actually also be happy with its Q3 2019 results, which represent a healthy 73 percent improvement over its Q3 2018 sales of 1.1 million units.
Obviously, 1.9 million shipments are not that great in the grand scheme of things, securing Samsung a modest 13.4 percent market share, but the company seems to have finally found its groove after one too many experiments over the years, looking at another likely boost in Q4 thanks to the freshly released
Galaxy Watch Active 2
.
In third place, Fitbit had a pretty mediocre quarter, gaining a microscopic 100K unit sales compared to Q3 2018 and slipping from a 15 percent to an 11.3 percent slice of the global smartwatch pie. Fortunately,
Google is ready to step in
, take over, and hopefully, knock our socks off with that
mythical Pixel Watch
.