Apple Music and Spotify deemed driving forces behind US music streaming growth in new report
4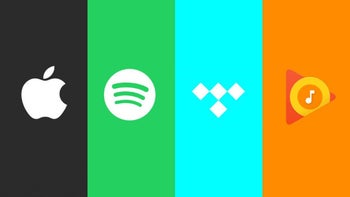 The world's two most popular music streaming services have been growing at a staggering pace over the past few years, but focusing too much on the global war for supremacy between
Spotify
and
Apple Music
can make you easily forget an equally important fact.

Despite intensifying competition from the likes of Google, Amazon, Pandora, Tidal, and Deezer, no platform can come close to these two's subscriber numbers in key markets such as the US.

While the latest research conducted by MusicWatch does not explicitly rank the major players of the American digital music industry, it seems the combined market share of the top two competitors has officially surpassed 80 percent.

We're talking "at least" 80 percent of a massive 51 million paying monthly subscribers, with that latter figure representing a twofold increase compared to a similar estimation from late 2016.
In other words, Apple and Spotify are largely responsible for the doubling of a market that's helping the entire US music business thrive.
Pandora's contribution
, while significantly smaller, is not to be ignored either, as the
region-exclusive Premium streaming app
tallies 6 million+ users as well.
We can't say the same about
Deezer
,
Tidal
, or
Napster
, which weren't even considered for the aforementioned 51 million US approximation, as they would've "only added a bit" to that monumental score, according to MusicWatch researchers.
Meanwhile,
Amazon Music Unlimited
,
iHeartRadio
, and
Google/YouTube Music
have a reported 5 million paying customers between them, although Amazon often touts Prime Music numbers as well, which isn't very fair given all the Prime perks that are bundled together as standard.

In addition to those 51 million people paying for their ad-free online music playing, an estimated 20 million separate US users are sharing premium accounts without actually coughing up any extra dough, with another 29 million music fans settling for trials of premium platforms or automatically subscribing to bundled music services without "necessarily being active users."

Interestingly, those curated playlists and "new music discovery" features advertised as key selling points by pretty much everyone nowadays are not in fact that important for "most users." All people want is to be able to listen to an unlimited number of tracks without ads. That's not really surprising, now, is it?
Recommended Stories