Napster brings its subscription based streaming service to iOS devices
0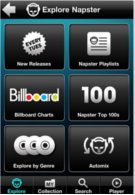 Music loving fanatics will probably be screaming for joy when they find out that the original and former music file sharing service, Napster, is bringing its musical tastes to the iPhone and various iOS devices out there.
Naturally, the iPhone is pretty much the culmination of various Apple devices from the past, and is fitting to see Napster make its presence known with the platform. If you love music, then the Napster app for iOS will more than satisfy your needs with its $10/month subscription which will provide you an all-you-can-eat experience with listening to some tunes. You can both stream and cache songs from their vast library of 10 million tracks – so yeah, it'll take an extensive amount of time to soak it all in.
If you detest buying songs a la carte style, then you may want to consider checking out Napster's service – which is similar to what's offered with the competition out there; like Zune Pass and even Rhapsody.
source:
iTunes