The Apple iPhone 12 is finally official. Welcome to 5G
29
The postponed iPhone event is finally reality and the new series of iPhones have been unveiled. This year, we get a grand total of four iPhone 12 models — wow! And all of them are ready for the 5G era.
iPhone 12 vs iPhone 11: what's new?
iPhone 12 has OLED screen, instead of LCD
iPhone 12 has the same A14 processor found in the iPhone 12 Pro
iPhone 12 body has flat sides — reminiscent to the new iPad Air, iPad Pro
iPhone 12 has a slightly upgraded camera — wider aperture, improved software processing
iPhone 12 has a reimagined MagSafe connector. The phone is compatible with magnetic chargers and accessories
iPhone 12 has a new Ceramic Shield glass, supposedly more durable than ever
No charger, no earphones in the box
The new "mainstream" iPhone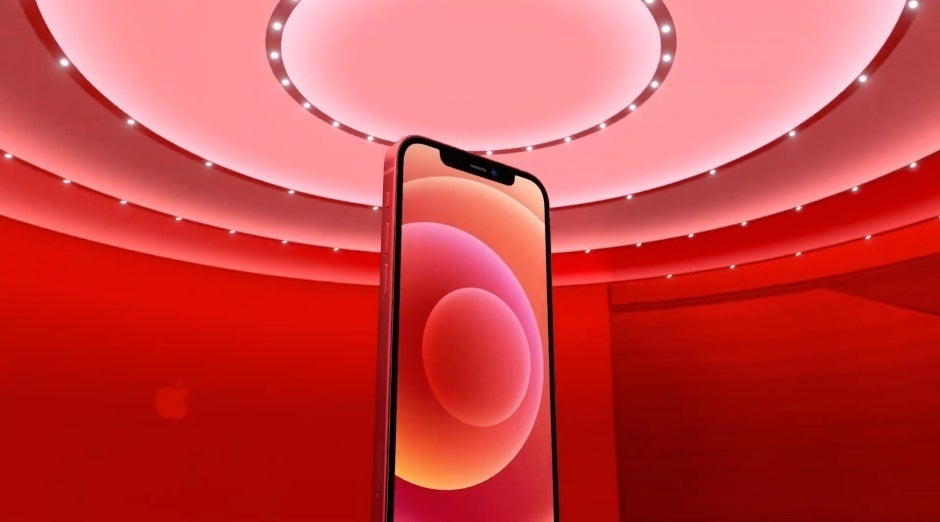 Last year, Apple positioned the iPhone 11 as "the iPhone to buy". It started at $700, yet it had the same internals and same main camera as the Pro models. Yes, some corners were cut — no AMOLED, no telephoto camera, and no steel frames. But, in the end, the users voted with their wallets and it turned out the iPhone 11 was immensely popular.
Now, the iPhone 12 brings a ton of upgrades to the beloved model filling some of the aforementioned holes.
iPhone 12 design and display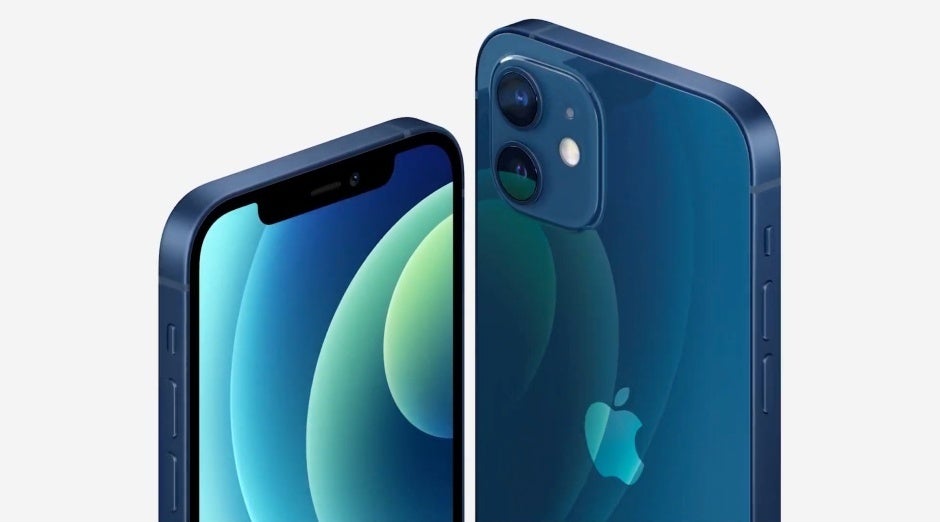 The iPhone 12's design is a mix of modern and classic. Look at it from the front and it resembles the good ol'
iPhone XS
and all of the reiterations that came after it. Angle it slightly and you will see beautiful flat sides that will remind you of the classic look of the iPhone 5.
The iPhone 12's body is aluminum, as usual, and has a slab of glass on the back to allow for that wireless charging. The glass is, again, glossy as the matte finish is reserved for the Pro line.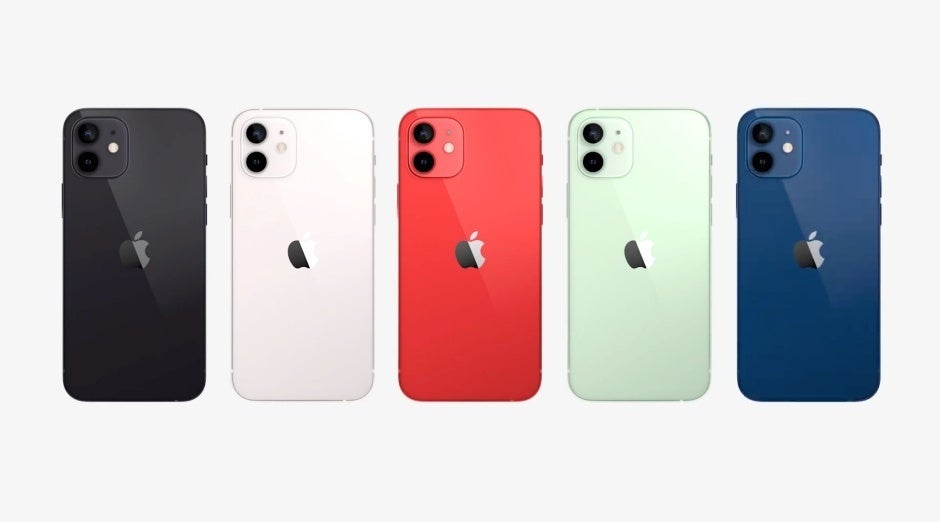 True to its roots, the iPhone 12 comes in 5 different colors — from stealth black, to vibrant red, soft white, and fresh green and blue.
The back is your typical flat deal, even down to the dual camera module. No telephoto lens on the "iPhone for the masses" — you will still need an iPhone Pro to get the triple camera.
As a whole, the iPhone 12 is thinner, lighter, and slightly smaller than the iPhone 11.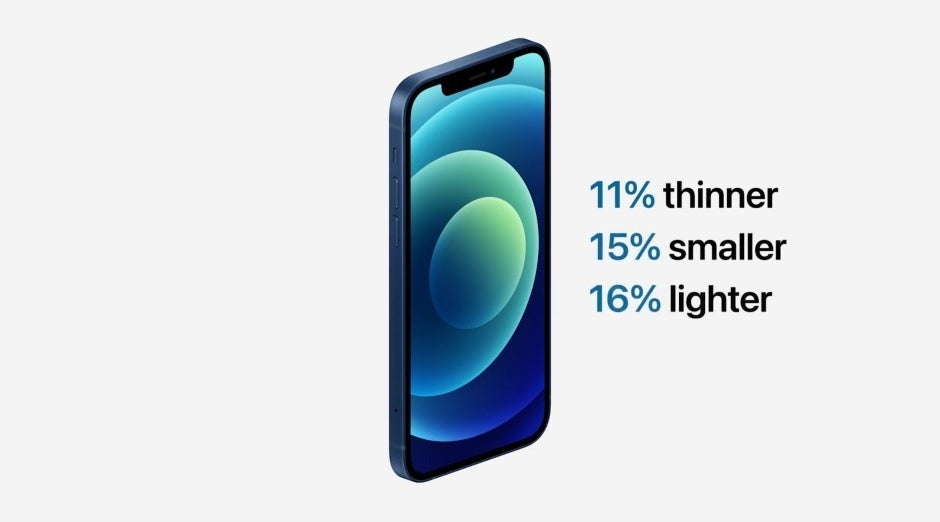 The screen is also an improvement over the iPhone 11 model. No, no, I am not talking about 120 Hz here. Unfortunately, that feature did not make it to the iPhone 12. But, at the very least, the display panel is OLED now. Deep blacks, vibrant colors, cleaner-looking animations, and thinner bezels. It has the same Super Retina XDR branding as the Pro line of iPhones, supporting HDR10, Dolby Vision, and HLG.

The iPhone 12 has a 6.1-inch screen with a 1170 x 2532 pixel resolution (aspect ratio of 19.5:9). That's a pixel-per-inch density of 457, much sharper than the 324 PPI — the magic number that Apple insisted to stick with all the way up to iPhone 11.
iPhone 12 Ceramic Shield glass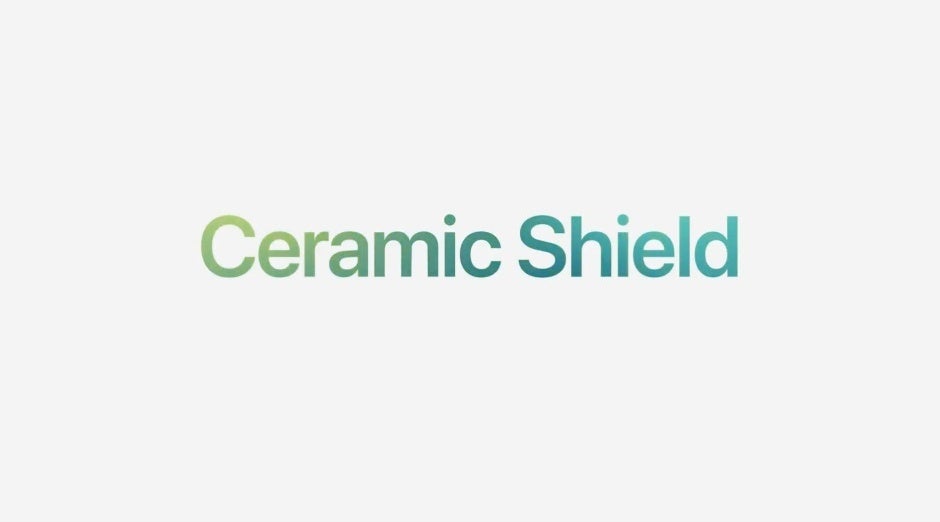 The iPhone 12 is now built with a new Ceramic Shield glass. It's been developed in partnership with Corning, but Apple insists on not using the Gorilla Glass branding for its iPhones, so we can't know how close it is to the Gorilla Glass Victus that protects the Note 20 Ultra.
In any case, the Ceramic Shield sounds pretty good on paper — nanoceramic crystals are embedded within the panel, making it the... put the quote in please! "Toughest smartphone glass". You know it, there will be plenty of drop tests once these start rolling out.
iPhone 12 MagSafe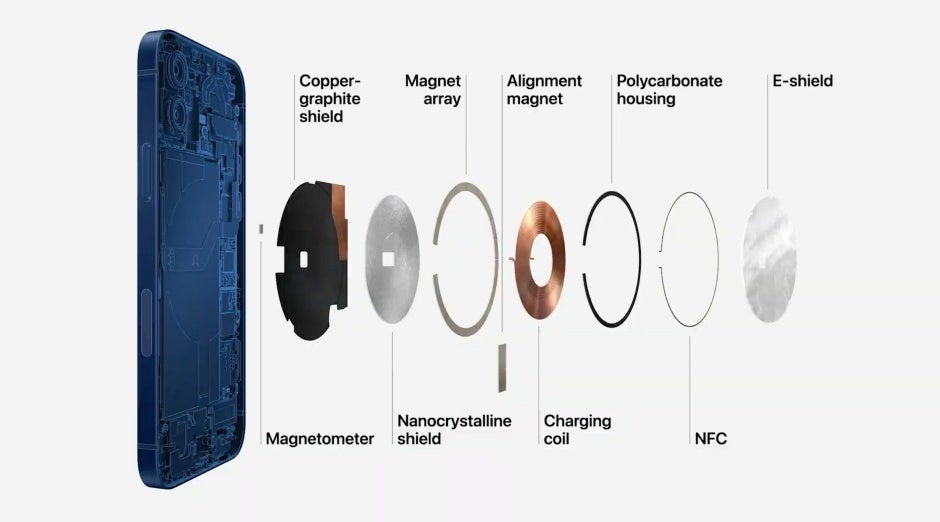 MagSafe is back! Well, not on MacBooks, sadly, but at least it looks pretty cool on iPhones, too. An array of magnets will make it much, much easier for you to align your iPhone 12 on a wireless charger. Apple already presented a few cool MagSafe accessories for charging, as well as cases. A new leather sleeve case with a MagSafe now has a tiny window for notifications. The iPhone will "know" when it's in a sleeve and light up a special small interface for that window.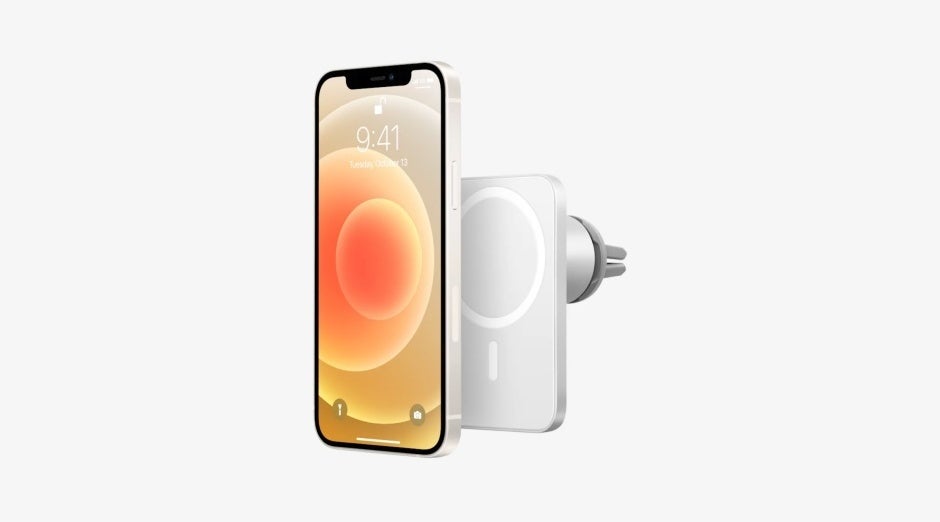 iPhone 12 camera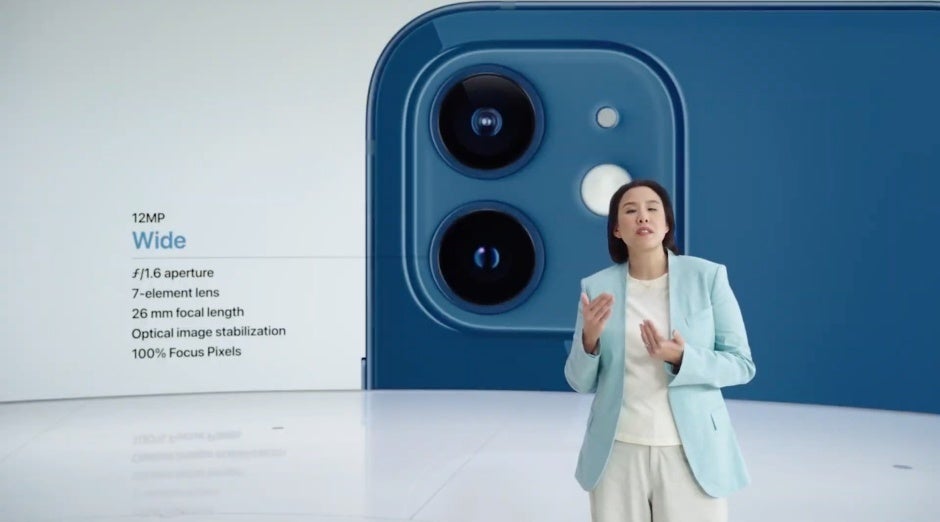 The iPhone 12 doesn't come with a triple camera, but it still did get a slight bump in camera specs. So, we have a 12 MP main wide-angle camera and a 12 MP ultra-wide-angle lens. But the lens aperture is significantly bigger — F1.6 (compared to F1.8 on the iPhone 11). This means that the sensor will get more light in the same unit of time, making it easier to get stable footage and improving low-light results.
Additionally, a wide aperture makes for a shallow depth of field, meaning you will get natural defocus in the background easier.
Apple has also upgraded the Deep Fusion post-processing for better results, Night Mode has been touched up, and Smart HDR has been updated to Smart HDR 3. The latter now intelligently recognizes scenes and will enhance individual parts of the photo based on what it "sees" there. Like enhancing details in rocks and clothes, while keeping HDR auras at bay around the edges.
Night Mode now works with all the iPhone 12 cameras — the main shooter, the ultra-wide camera, and even the selfie camera.

What about the selfie camera? Well, it's a 12 MP shooter again and, for all intents and purposes, it seems like it'll be the same one that we have on the iPhone 11. Which means — very good.
iPhone 12 processor and memory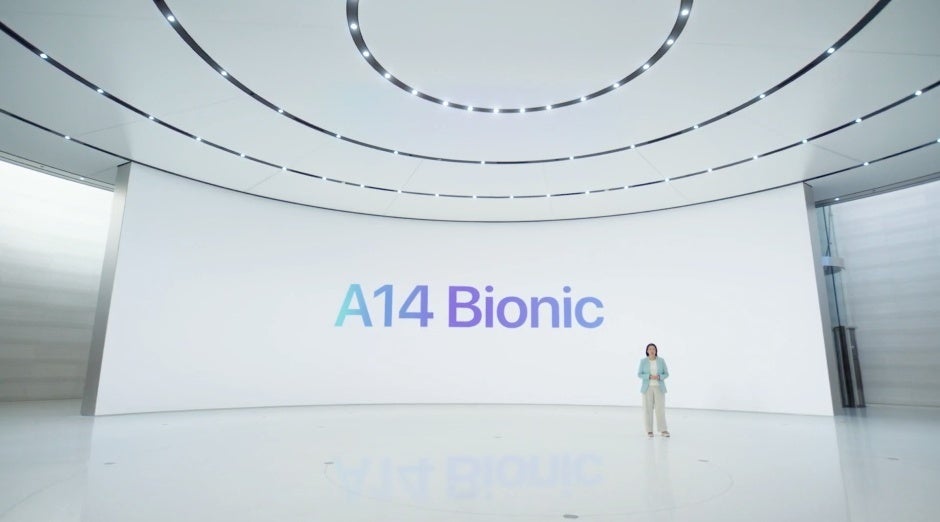 The iPhone 12 series — all four of them — are powered by the Apple A14 chip that was talked up during the iPad Air introduction. It's a new Apple silicon, built on a 5 nm processor. That means more productive power, less energy requirement. The Apple chips have always been quite potent and we expect the iPhone 12 would not disappoint.
Then, we have the storage tiers. The iPhone 12 starts with 64 GB of storage, which is still good enough for non-heavy users. If you are among the people who spend their life on the phone, you can still get by with 64 GB, but you will need to do some housekeeping from time to time.
The next tier is 128 GB, then it maxes out at 256 GB.
iPhone 12 specs:
Display: OLED, 6.1", 1170 x 2532 pixels
Processor: Apple A14, hexa-core, 5 nm (30% more energy efficiency)
Cameras: 12 MP main, 12 MP ultra-wide; 12 MP front camera
Storage options: 64 GB; 128 GB; 256 GB
iPhone 12 5G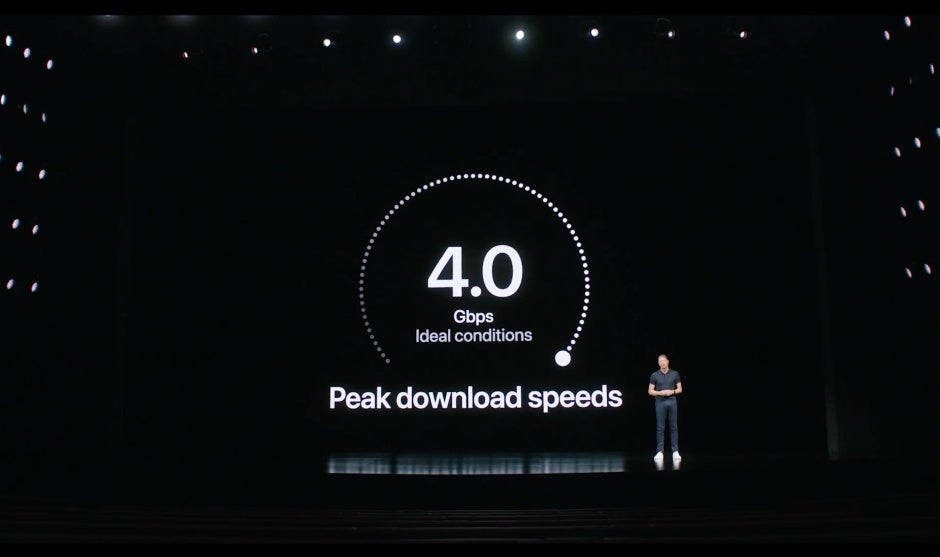 Yep, the iPhone 12 is ready for the 5G era. With support for a wide range of 5G bands, it allows for up to to 3.5 Gbps download speeds. In the US, the iPhone 12 will support both mmWave (up to 4 Gbps down, 200 Mbps up speeds) and sub-6 GHz networks, meaning you will be covered no matter which operator you favour. And Well... if they have 5G coverage in your area, that is. And yes, the iPhone will automatically shift down to 4G connectivity whenever you don't need 5G to save that precious battery charge.
iPhone 12 release date and price
The iPhone 12 is in the first wave of new iPhones that will be released. You will be able to pre-order it on October 16th, and shipping will begin a week after — on October 23rd.
The starting price of the iPhone 12 is $799 for the 64 GB model. But there is a catch! This price is only available if you activate it with AT&T or Verizon upon purchase. If you buy unlocked, the price goes up by $30. So... $829 starting price for the iPhone 12.