iOS 14 release date, download, and supported iPhones: All you need to know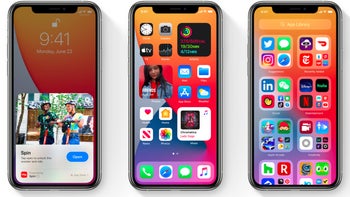 Death, taxes and new version of iOS coming out with the latest iPhones. The most unavoidable things. Okay, that's a bit of an exaggeration but for over a decade
Apple
has been delivering both its latest iPhones and its latest version of iOS on the same day. Until today.
Today's Apple event was ominously missing the word "special" from its title and we all know why. There were no new iPhones announced. We did get a couple of
new Apple Watches
and a
pair of new iPads
, which also came with new versions of iPadOS and watchOS. But iOS 14 arrived on its own, missing its trusty hardware companion.
We're sure the
iPhone 12
family is around the corner, but for now, there are several generations of older iPhones that will be getting the new iOS 14 in the next few days. That's hundreds of millions of users, making the release quite a big deal.
The biggest new feature of iOS 14
Apple doesn't like to stress out its users by overhauling its operating system in a major way, so don't expect anything groundbreaking. We do, however, get a feature that people have been requesting for years, and now it will finally grace their iPhones.
Widgets
Widgets are something that Android users have been enjoying pretty much since the operating system has existed. If you're an iPhone user unfamiliar with the concept, the best way to describe them would be as small windows that show you an app's functionality right on your home screen.
This lets you check the weather, change songs and do all sorts of other things quickly and easily without having to open the designated app. Of course, you can choose which widgets to have on your home screen and how they'll be arranged.
Widgets add flexibility to iPhones that was missing before and since their use is entirely voluntary, the change has only a positive side.
There's plenty of other goodies that are coming with iOS, you can read more about them in our article about
all the new iOS 14 features
.
iOS 14 release date
As for when you'll get iOS 14, the official answer is "starting September 16". Unlike most Android phones, iPhones get their new software updates pretty quickly, so you'll likely only have to wait from a day to a couple of weeks before the update reaches your device.
Which iPhones are getting iOS 14
One of the biggest advantages of iPhones is not only the longevity of their hardware but also the impressive software support that they're getting even years after their release. With the release of iOS 14, Apple is proving once again how optimized its operating system, bringing it to more models than ever before.
The iPhones that will be updated to iOS 14 are:
iPhone SE
iPhone 6s
iPhone 6s Plus
iPhone 7
iPhone 7 Plus
iPhone 8
iPhone 8 Plus
iPhone X
iPhone XR
iPhone XS
iPhone XS Max
iPhone 11
iPhone 11 Pro
iPhone 11 Pro Max
iPhone SE (2020)
Quite a lengthy list which even includes the old iPhone SE, one of people's favorite compact phones. Probably not the most suitable device to use the new widgets with, but still, users will get to enjoy the latest features on it as well.
Usually, Apple drops support for one generation of phones when it releases the latest iOS version, but this year, all phones that are running iOS 13 will be updated to iOS 14, putting a stop to that trend.
How to download iOS 14
Unlike beta versions of iOS that need some extra steps to install, the official release of iOS 14 is quite simple to install. Just wait for the new update notification to pop up, and either tap "Install now" or install it later from your settings menu. Make sure you have enough battery or keep your phone on the charger until the process is done. And that's it, you're ready to experience the latest software Apple has to offer for its iPhones.