Apple's AirPower vanishes into thin air, iPhone XS and XR wireless charging speeds unspecified
3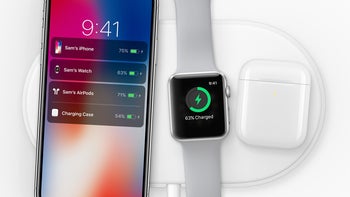 Three new iPhones
, a heavily upgraded
Apple Watch
lineup, drastically redesigned iPad Pros, a
lower-cost HomePod
, some
refreshed AirPods
, over-ear
Apple-branded headphones
, and that long overdue
AirPower wireless charging mat
. Maybe our expectations were unreasonable for just one product announcement event.
Okay, we definitely expected too much to go down in the space of 90 minutes or so, which is typically how long these things last. But while
the absence of a second-gen
(or downgraded) HomePod smart speaker is (somewhat) justifiable, it's hard to understand exactly what's happened with the AirPower.
It's not completely unusual for Apple to unveil or tease a product only to commercially release it several months down the line, but this bad boy became the company's
longest-running vaporware
back in June.
It's now September 2018, which means the wireless charger is turning one, having already been beaten to market by Samsung's
Wireless Charger Duo
released alongside the Galaxy Note 9 last month.

This wouldn't be so bad if Apple simply tried to explain its production challenges instead of acting like the AirPower never existed. No, you didn't miss anything, as no one even acknowledged the existence of the Qi-based accessory during the iPhone XS, XS Max, and iPhone XR launch shindig yesterday.

Worse still, every single AirPower mention appears to have been removed from Apple's official website, which probably means the product has been canceled. At the very least, it means it won't see daylight anytime soon, requiring additional work or perhaps a reimagining and rebranding exercise.
Either way, if you're thinking of purchasing any of the three new iPhones, you're stuck with third-party options like the Mophie wireless charging base,
Belkin Boost Up
wireless charging pad, or
Logitech Powered
wireless charging stand.

What's perhaps even more interesting is that Apple kept details to an absolute minimum regarding iPhone XS and XR wireless charging capabilities during the September 12 keynote. There's not a lot of info in the "tech specs" section of the two's official webpages or in the Apple Newsroom, although the glass back of the XS and XS Max is said to "enable faster wireless charging."

Exactly what that means remains up in the air, but with the iPhone X, 8, and 8 Plus supporting 7.5W wireless charging speeds, one can assume the iPhone XS and XS Max will up the ante to 10 watts, likely with the iPhone XR capped at 7.5 watts.