The AirPower is now officially Apple's longest-running vaporware
12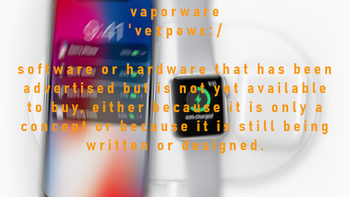 The
AirPower
wireless charging pad may look svelte in its own dedicated section on Apple's website and may top up everything with the fruit logo in sight, but it's now officially the longest-running release in the company's history. In fact, remember the AirPower? Apple announced it as a cord-cutter's dream together with the new
iPhone 8, Plus and X
way back in September, and it's now been a full pregnancy term without nary a whiff of this thing becoming a retail product.
Granted, Apple delayed an unprecedented amount of products last year, chief among which was the iPhone X that made a cameo a month after the other two new iPhones hit the shelves. Then came the true wireless AirPods buds that shipped three months after their announcement in earnest, as well as the HomePod smart speaker, but nothing compares to the AirPower's delay. In fact, here's a look at Apple's unpleasant habit, acquired since its first Watch announcement, to ship products way later than their unveiling:
| | Announced | Released |
| --- | --- | --- |
| Apple Watch | September 9, 2014 | April 24, 2015 (227 days) |
| AirPods | September 7, 2016 | December 13, 2016 (97 days) |
| iMac Pro | April 4, 2017 | December 14, 2017 (254 days) |
| HomePod | June 5, 2017 | February 8, 2018 (248 days) |
| iPhone X | September 12, 2017 | November 3, 2017 (52 days) |
| AirPower | September 12, 2017 | 275 days, a pregnancy and counting |
It's been a transitional year for Apple, with all eyes on the iPhone X sales, and the efforts to deliver unique propositions like the
Face ID
kit, the price-to-value
AirPods
, or the stellar-sounding
HomePod
, yet how hard can a charging mat be? Apple seems to have shot itself in the foot here since it detailed the pad as capable of topping off three Apple devices at once - an iPhone, Apple Watch, and the AirPods. To achieve this, it has to both come up with a new, wireless charging case for its Bluetooth buds, but also provide even distribution of the whopping 29W output, and that's what might be keeping it late. Apple actually does advertise the AirPower as "ultrathin," you know.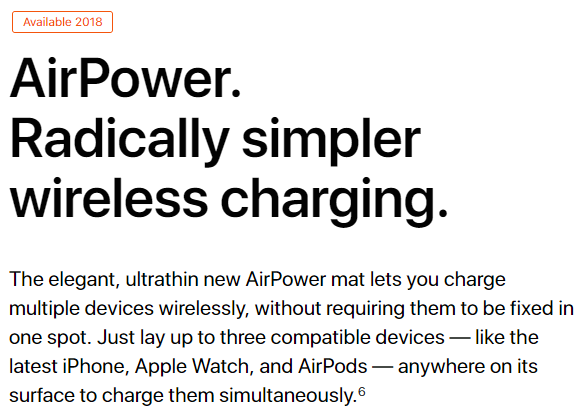 Not long ago, the Taiwanese supplier industry complained about impossible demands from Apple regarding "glass passivated package (GPP) bridge rectifiers" which may go into the AirPower. While the technology involved has been around for a while, the requirements reportedly are that those parts are wrapped in very slim packages, and that's where production might have hit a snag.
We keep our hopes high for the AirPower, but, 9 months after its announcement, it's still vaporware, let alone the pricing. We hope that Apple is at least intending to unwrap it with the eventual
updated AirPods
this fall, with an always-on Siri and W2 co-processor inside, which should come complete with a wireless charging case then, too. There is no shortage of
options
to pump electrons wirelessly through the glass backs of the iPhone 8, Plus and X, if you so desire, it's just that the real AirPower deal is still up in the air.
Recommended Stories