Apple's AirPower wireless charger is running late. Enter Belkin's Boost Up pad for the iPhone 8/X
13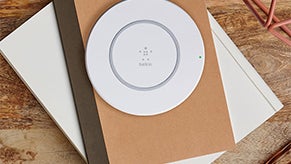 Apple's AirPower wireless charging mat may look svelte and top up everything with the fruit logo in sight, but it's coming much later than its announcement, so what's a cord-cutter to do when they get their new
iPhone 8
,
Plus
or
X
? After all, why have fresh glass backs that pass those electrons through with ease, if not to use the new wireless charging option that Apple finally brings to its phone portfolio.
Fret not, though, as Belkin just announced a wireless charging pad called Boost Up which has been developed directly in collaboration with Apple. Utilizing the most widespread Qi standard, the pad outputs 7.5W of power, compared to the average 5W of such chargers, and can pass through most regular cases, too.
Boost Up offers a non-slip surface, various thermal and foreign object protections, and comes with Belkin's $2500 equipment warranty, meaning that if the charger damages your gear somehow while connected (or, in this case, disconnected) properly, you will be covered up to that amount. The price? At $59.99, we feel there will be plenty of people willing to give the new wireless charging option of their new iPhones a go.