Amazon Black Friday deals 2021: wrap up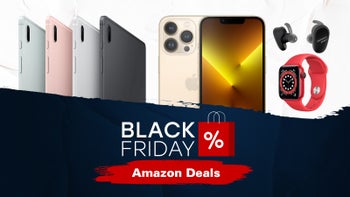 Black Friday
2021 is now over, but we always have next year to look forward to. This article will examine what happened this year with the Amazon Black Friday deals, so you can plan ahead for next year and ensure you won't be missing anything important in 2022.
During the Black Friday 2021 shopping event, Amazon had superb deals with significant discounts on pretty much everything, from flagship phones, to foldables and wireless earbuds.

The cool thing about Amazon Black Friday deals is that you don't necessarily need to be a Prime member to benefit from these deals. However, if you're one of Amazon's Prime Members, you may be able to score some pretty fast shipping and maybe some exclusive deal during the shopping event.
Black Friday 2021 Amazon deals on phones
In terms of phones, Amazon has never been the place to buy iPhones; however, OnePlus buyers were surely happy to find out that Amazon had Black Friday deals on the OnePlus 9 Pro, OnePlus 9 and the OnePlus 8T. Lots of Motorola phones were also discounted as a part of
Black Friday phone deals
, including the new Motorola Edge (2021) and the Motorola RAZR 5G. Even the extremely expensive Sony Xperia 1 III was available with a discount, albeit a very modest one.
In summary, here's how the situation looked:
OnePlus phones had 16-20% discounts at Amazon. For Motorola phones, the biggest discount you could get was 45% off (for the Motorola Edge and Razr), and the most modest one was 18% (not very modest, at all keep in mind) on the Motorola Edge from 2021.

Additionally, Amazon had the newest foldables by Samsung, the Galaxy Z Fold 3 (it was $300 off) and the Galaxy Z Flip 3 (it was $150 off) discounted for Black Friday. The Galaxy S21 Ultra, S20 FE also saw significant discounts of up to $250 off, making them one of the best
Black Friday Samsung phone deals
. The budget-friendly Samsung Galaxy A52 5G was $100 off. The Note 20 Ultra had a slight discount as well. This means that (pretty much) Amazon was a great place to buy a Samsung phone during the Black Friday shopping event.
2021 Amazon Black Friday deals on smartwatches
The Galaxy Watch 4 series were already out, ready for purchase, and so was the Apple Watch Series 7, just in time for Black Friday. And Amazon didn't hesitate to put them up for sale during the event. Amazon had discounted models from the Galaxy Watch 4 series, as well as the Apple Watch 7 and 6 (discounts here ranged between $70-$100)

Additionally, Amazon had some early Black Friday deals that showed up prior to the event itself and remained active throughout the Black Friday weekend. As a part of them, the Apple Watch Series 5 (it was $290 off) and the Galaxy Watch 3 (it was $150 off) were discounted. Models from Fitbit and Garmin were also generously discounted. Keep in mind the majority of Garmin deals during Black Friday shaved off around $100 and more on some of the popular models by the company (the Garmin Fenix 6X Pro was discounted by the generous amount of $200!). The Fitbit Sense was available with a $100 discount.

More Black Friday content on smartwatches:
Amazon Black Friday deals 2021 on tablets and iPad
In terms of iPads, Amazon had Black Friday deals on the iPad Pro 2021, with discounts ranging from $50 to $100 on the iPad Pro 2021 12.9-inch. On the Android front, the Samsung Galaxy Tab S7 and the S7 FE were also discounted, respectively by $150 and $100, while the Galaxy Tab A8 from 2019 was $70 off. Amazon Fire tablets went down to 50% off, so for people looking to buy a budget-friendly tablet, Amazon was the place during Black Friday. Fire HD 10, HD 8, HD 10 Plus, HD 8 Kids, and even Amazon Kindle were generously discounted.

For more Black Friday content on tablets:
Amazon Black Friday 2021 deals on headphones and earbuds
Amazon was generous on the headphones and earbuds department as well. Luscious deals on AirPods Pro, AirPods Max, and Galaxy Buds were present during the Black Friday shopping event. You could also find some popular JBL, Jabra, Sony, and Sennheiser models on sale as well.

Let's look at some examples of the deals we saw. The premium AirPods Max were $70 off, while the AirPods Pro got a $80 discount during the event. The normal AirPods were discounted by $40, but keep in mind that stocks on the standard AirPods got sold out pretty quickly at the time.
On the Samsung Galaxy Buds front, discounts were great as well. The Buds 2 got $40 off, the Buds Live were $70 off, while the Buds Plus were almost half their retail price during Black Friday at Amazon. Select models from Sennheiser were 40% off, and a similar discount was available on Amazon's own Echo Buds. Headphones and earbuds by Beats by Dr Dre had 20%-50% discounts.

For Sony headphones, discounts were up to 57%, with the smallest discount being 22% off. Some JBL earbuds had around 50% discount, and discounts on Jabra models were ranging 40-50% as well. Some models by Bose also got discounted, albeit the discount here was more modest compared to the ones we listed above.
In conclusion, Amazon was your place to buy a headphone or earbuds set during the 2021 Black Friday event.

For more Black Friday content on headphones:
Check back soon for updates on all Amazon Black Friday deals
While before online retailers were separating themselves from physical stores by offering discounts on Cyber Monday, the Monday after the Black Friday sale, now, they're pretty much double-dipping, with deals available on both days and, of course, in between and before that as well. Basically, it's a whole savings season.

Major discounts could be found across all categories:
Smartphones
Tablets
Laptops
TV
Headphones
Smartwatches
Consoles
The pricier the item, the bigger discount you can expect. Common non-Black Friday discounts are usually around 20%, so anything that reaches 50% or more is a great deal. Keep in mind that some third-party sellers on Amazon might hike the prices in advance so that the Black Friday deals look better than what they actually are.
If you already have plans for specific purchases, here are some shopping tips for you: you can bookmark the items and note the prices, perhaps even fill out a spreadsheet with all the info in one spot. This way, you'll be able to act fast and have a good idea if the deals are really worth it. That will also help with your impulse control if you feel like you might buy something you don't really need or want.
Keep an eye out for Lightning Deals. Those usually offer great discounts but only last a few hours or until the stock runs out.
Deals live now
Although the shopping event has now finished, there are still deals available here and there. Check out the recent deals we have covered in order to score a good discount on a tech product you like: