Amazon Black Friday 2022 deals: recap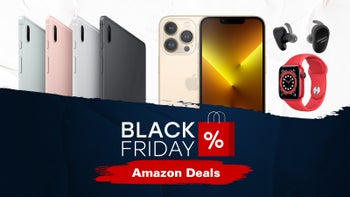 The
Black Friday 2022
sale event is now behind us. We saw many generous deals across many products, and the cool thing this year was that we actually saw epic deals starting way ahead of the official event. Amazon was one of the retailers that launched its deals early. In this article, we present you with a recap of what happened during the sale event in terms of deals at Amazon.
Black Friday deals on phones at Amazon: wrap up

Black Friday was a great time for you to get an unlocked smartphone from Amazon. The retailer had great deals on almost all the hottest phones, including deals on flagship devices like the
Galaxy S22 Ultra
, which saw a massive $335 discount. Its smaller siblings, the
Galaxy S22
and the
Galaxy S22 Plus
were also discounted by around $200 - and mind you, these were deals without any strings attached, no trade-ins required and no carrier contracts.
You could save around $400 on the
Z Fold 4
as well, which is pretty awesome given the fact that this is a very expensive and recently-released phone!
Motorola buyers were delighted this Black Friday. Moto phones got generous discounts on a lot of retailers, including at Amazon. Here again, the deals were for the unlocked models. For example, you could save $200-$250 on the
Motorola Edge
and the Motorola Edge Plus from 2022. Budget-friendly Moto phones were more affordable than ever: the
Moto G Power (2021)
and the
Moto G Stylus (2021)
were retailing at half price!
Pixels also saw generous discounts. The new Pixel 7 series (both phones, by the way) were 17% off during the sales. The affordable
Pixel 6a
also saw an impressive $150 discount at Amazon. But that's not all! We also saw great discounts on OnePlus phones, like the
OnePlus 10 Pro
which got $250 off.
Basically, as you can see Black Friday was the time to get your new phone from Amazon. The only unfortunate thing was that we saw no new iPhones discounted. But if you're on the Android side, things were glorious for you as a buyer during the sales.

Black Friday deals on smartwatches at Amazon: wrap up
In terms of smartwatches, things were also going good during Black Friday at Amazon. The discounts here weren't as big as the ones on phones, but they were still pretty notable. For example, the rugged and very expensive
Apple Watch Ultra
got $60 off, while the
Galaxy Watch 4
was $80 off. The newer Galaxy Watches like the Watch 5 and Watch 5 Pro, got discounted by $50.
Google's entry into the smartwatch market, the
Google Pixel Watch
, was rocking a $50 discount during the event.
On the other hand, we saw many models from Fitbit and Garmin discounted as well. Select Fitbit models got 30-35% off during the event, while many Garmin watches were 30% to 60% off (for the Garmin Forerunner 735XT). Overall, very good for Black Friday sales. And awesome for smartwatch buyers.

Black Friday deals on tablets and iPad at Amazon: recap

In terms of tablets and iPad, Amazon also sported some great Black Friday discounts for you. For example, we saw the premium and powerful Galaxy Tab S8 Plus with a $220 discount. iPads, as usual, saw less impressive discounts: the biggest discount on an iPad we saw at Amazon during the sales was on the
iPad mini from 2021
, which was 15% off. Still something, especially for Apple gear!
Some iPad Pro models got $50 off during the sales.

Things were epic for people looking for a more budget-friendly tablet during the Black Friday shopping event. Models like the Galaxy Tab A8, Tab S7 FE, Tab A7 were 30-35% off, which is great given the fact that those devices are more on the affordable side to begin with.

The biggest discount on an affordable Galaxy Tab was on the Galaxy Tab S6 Lite, which was a massive $120 off.

And, as usual during big shopping events at Amazon, its own series of tablets - the Fire HD tablets - saw massive price cuts. The Fire HD 10 tablet was retailing at half price!
Black Friday deals on headphones and earbuds at Amazon: recap
Headphones and earbuds get a lot of discounts during sale events in general. And Black Friday was no exception this year. We saw great discounts on models from Samsung, Google, Sony, Bose...

For example, the Galaxy Buds 2 were 40% off, Google's Pixel Buds A were 35% off, Bose models' discounts were ranging around 20% off. The biggest discounts were on Sony headphones, and we saw the Sony WH-XB910N Extra BASS retail for half its usual price. So, all in all, discounts on select models of Sony headphones were around 40-50%. Great times for headphone buyers, great times!
Black Friday deals on TVs at Amazon: recap
Buying a TV during a big sale event is a smart thing to do. And if you were one of the thoughtful ones who waited for Black Friday to get a new TV, you were definitely impressed. We saw notable discounts on TVs, Amazon Fire TVs discounts were around the 50% off, and big models like Samsung's 65-Inch Class OLED 4K were 40% off. All in all, we hope you were able to score one of these deals during the sale event!

If you're interested in getting a cool TV, guess what we're going to say? Yep, check out the deals down below! These Black Friday deals on TVs at Amazon are simply
stunning
!
When will Amazon Black Friday deals start?
Black Friday started at Amazon when it started for all other retailers: November 25, 2022. This date is, as per usual, the last Friday of November. Amazon's sales kicked in together with all other retailers. The cool thing this year is that Amazon's deals started earlier - around a week earlier than expected, so you had plenty of time to score a great offer during the event.
Is an Amazon Prime membership required to shop the Black Friday deals?

Nope, Black Friday deals at Amazon don't specifically require you to have a Prime membership. However, it is always possible that some deal may be available with better condition for Prime members. Generally though, that's more of an exception rather than a rule. Prime members do get other benefits at Amazon such as faster shipping, but the Black Friday deals themselves are expected to be available for non-Prime members as well.

Are Amazon Black Friday deals worth it?

Yes. As you may know, Black Friday is one of the biggest shopping events of the year, and given the fact that it's a big competition between all the retailers to give you the best offer possible, offers during Black Friday are generally awesome. You may want to monitor prices (as those change during the event) if you see a deal at Amazon is not matching deals at other retailers. But the general conclusion from our years of experience in covering this event is that Black Friday deals at Amazon are epic.