Amazon Cyber Monday deals available now
We may earn a commission if you make a purchase from the links on this page.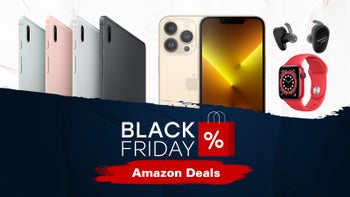 Black Friday 2020 is here, and that means one can usually run into some terrific tech deals while browsing Amazon's vast storefront. And now that the initial rush has passed, it also means buyers should be on the lookout for some sweet Cyber Monday deals.
The offers you'll find on this page are kept up to date, so if you're looking to snag something with a good discount, make sure to check regularly.
Save $200 on OnePlus 8 Pro
It might not be the latest OnePlus phone, but the
OnePlus 8 Pro
is definitely the most premium OnePlus phone for 2020. It's the only one with
wireless charging
, for example, a must-have feature for many flagship users. Of course, it's also the most expensive OnePlus phone so far. Well, now you can get the 12+256GB version for $200 cheaper. It's a very powerful phone that will serve you well for years to come. OnePlus has a great track record with software updates, so you'll likely get to enjoy at least two more Android versions.
Save $150 on Samsung Galaxy S20 FE 5G
Save $200 on the Galaxy S20 5G
Save $250 on Galaxy Note 20 Ultra 5G
Save 25% on Galaxy Note 5G
Save $100 on Galaxy A71
Save $150 on Galaxy S10 Lite
Save $50 on Google Pixel 5
Save $60 on Samsung Galaxy Watch 3
$60 may not be the most lucrative savings you've seen, that we're sure of. But for a product that came out just a few months ago, it's not that bad. The
Galaxy Watch 3
is Samsung's latest and greatest smartwatch with advanced features like ECG and blood oxygen saturation measuring. If you're using an Android phone, that's one of the best smartwatches you can get right now. If you want to learn more, check out our
Galaxy Watch 3 review
.
Save $70 on Galaxy Watch Active 2 44mm
Save $50 on Fitbit Charge 4
If you just want a
fitness tracker
and not a full-fledged smartwatch, the Fitbit Charge 4 might just be what you are looking for. It flaunts a slender, customizable design and offers built-in GPS, sleep tracking, and heart rate sensors.
Save $15 on Amazfit Bip S
This was already a great budget smartwatch and is a total steal at the new reduced price. It features a light and comfortable design and offers great battery life.
Save $350 on Sony Xperia 1
Sony's 2019 flagship smartphone, the
Xperia 1
, is a very good phone but its biggest drawback is the price. Well, with this deal, the price problem is solved and you can get a premium phone on the cheap. If you're interested in this device and want to learn more, check out our
Xperia 1 review
.
Save on Motorola smartphones
Save more than $70 on Moto G phones
If you're looking to get a spare phone or one for your kid or elderly relative, a Moto G device would be quite fitting. They're cheap and well-built and will serve their owner just fine. Even as a main device they're actually more than decent unless you expect wonders from the cameras or the gaming performance.
And, right now, thanks to Amazon, you can get a Motorola smartphone even cheaper. The available offers are for the Moto G Power and
Moto G7 Play
. The names say enough about each phone's strength. The G Power comes with a massive 5,000mAh battery and the G7 Play is the cheapest among them, way under $200.
Save $300 on Motorola Edge
Save $50 on Samsung Galaxy Tab A- 10.1" Tablet
If you're not in the Apple ecosystem and are looking for a relatively cheap tablet to watch shows on and do some browsing in bed, the
Galaxy Tab A
is a great choice, especially now with its reduced price. The tablet comes with a 1920x1200
pixel
display, Dolby Atmos certified speakers and what Samsung calls "binge-worthy" battery that provides enough power for up to 10 hours of video playback.
Save 50% on Sennheiser HD 450BT Bluetooth Wireless Headphones
If Sennheiser is you premium headphones maker of choice, you can still save some money buy getting a new pair of
wireless headphones
. The HD 450BT are down by $100 at the moment, which is a good kick-back that you can spend on something else. The 30 hours of battery life will keep you entertained through the longest trips and the ANC will keep distracting noises away.
Save $150 on Sennheiser PXC 550-II Bluetooth Wireless Headphones
If you're looking for a high-end Sennheiser headphones, you're in luck. The Sennheiser PXC 550-II are also discounted for a limited time by 42%. With them, you're getting the advanced NoiseGard Adaptive Noise Cancelling for even better separation from your noisy environment. Of course, the drivers are also better resulting in improved music experience. Additionally, they come with a touch-sensitive right cup that lets you control volume, play and pause music and answer calls without burdening the design with buttons.
Save $100 on Shure AONIC 50 Bluetooth Wireless Headphones
Shure is another big name in the audio industry and the company's headphones are usually on the expensive side. Well, right now you can save 25% on one of Shure's premium wireless headphones, the AONIC 50. The design of these headphones is relatively subtle but their shear size draws attention, which is an advantage or a drawback depending on what kind of person you are. What is the same for everyone, however, is the 20-hour battery life and the active noise cancellation. Obviously, you should also expect the sound to be top-notch.
Save 50% on JBL LIVE 300 True Wireless Headphones
If sharing your tunes isn't your thing, there's still a JBL product you might consider. The JBL Live 300 TW
earbuds
offer a respectable 6-hour playback time on a single charge, with a few more charges in the carrying case. If you're looking to get premium wireless earbuds at below $100, now is the time to pull the trigger.
Save $40 on Jabra Elite 75t True Wireless Earbuds
Jabra has become known for its good price-to-quality ratio and the Jabra Elite 75t are no exception. They have an inconspicuous design and powerful sound that will please everyone but those with the most refined ears. The Jabra Elite 75t come with active noise cancellation, which is a feature reserved for the premium segment but their price is quite reasonable, especially now with a 22% discount. You can get up to 7.5 hours of playback time with ANC off and if you're using ANC and all the extra charges of the case, you can get up to 24 hours of battery life total.
Save $60 on Sony WF-1000XM3 True Wireless Earbuds
Sony's top-of-the-line wireless earbuds are also discounted at Amazon right now. They have perhaps the best active noise cancelling among earbuds, mostly challenged by the
AirPods
Pro. But if you're an Android user, you're more likely to go for these. The biggest downside of these is the size, they're quite bulky for earbuds and not everyone might feel comfortable walking around with them in their ears. Other than that, they'll make for a great audio companion.
Save $40 on Samsung Galaxy Buds+ True Wireless Earbuds
Another pair of popular earbuds is also discounted on Amazon right now: the
Samsung Galaxy Buds+
. While they lack active noise cancelling, they shine with extra-long battery life. 11 hours of playback time on a single charge is something almost no other pair of true wireless earbuds can give you. With this deal, the Buds+ offer value that's almost too good to pass on.
Save 18% on Samsung Galaxy Buds Live
The Buds Live are Samsung's latest true wireless earbuds and they look like no other pair on the market. The bean-shaped buds fit stealthily in your ears and can provide you with up to 5.5 hours of music playback time on one charge. That's with active noise cancelling off. Oh, yeah, they have ANC as well. The charging case supports wireless charging so you can charge your Galaxy Buds on the back of your phone if it supports reverse wireless charging, which most high-end Galaxy phones do. Right now, you can buy them and save $30.
Save $50 on Amazon Echo Buds True Wireless Earbuds
Another pair of Buds but these are quite different. These are Amazon's own true wireless earbuds and they're now down by 38%, making them quite affordable. They will last you up to 5 hours of playback time on one charge and, naturally, allow you to command Amazon's Alexa voice assistant. If you've alexified your home already, why not extend the ecosystem to your ears?
Save 50% on Echo Show 5
Save 55% on Echo Dot (4th Gen) + Amazon Smart Plug
Save 30% on Ring Video Doorbell 3
Save 30% Fire TV Stick with Alexa Voice Remote
Save 42% on Amazon Echo Dot
While we're still on the topic of Amazon products, we might as well suggest to you another Echo device. The Echo Dot is a tiny, cute smartphone speaker that you can use for all sorts of things, from listening to music to getting your weather report and news in the morning. It's pretty cheap to begin with but now it's down to an almost irresistible price. If you're okay with having smart speakers throughout your home, the Echo Dot will gladly help extend the voice assistant presence.
Save $700 on SAMSUNG 75-inch QLED 4K Smart TV
If you're looking to upgrade your main TV, this 75-inch QLED Smart TV from Samsung is totally worth considering. It has a ton of tech built into it, including an AI processor that upscales content to 4K and a 120Hz refresh-rate paired with Samsung's
Motion
Rate 240 mode which reduces motion blur when watching fast-paced sports or movies. For a short period of time, you can save almost a third of the original price of the TV, so don't think about it too long or you might miss out on this great deal.
Save $120 on TCL 40-inch 1080p Smart LED ROKU TV
Yes, hard to believe but 1080p TVs are still a thing in 2020. This one might not be the best option for your living room home theatre setup, but we doubt your grandma will mind if her TV isn't 4K. If you want to provide someone with a decent-sized TV without spending much, this 40-inch model from TCL is a great choice, especially now that it's discounted by 40%.
Save $300 on VIZIO Home Theater Sound System
Powerful sound is a big part of the movie-watching experience and this Vizio Dolby Atmos sound system you'll feel like you're right in the middle of the action. Yes, sound bars don't provide the true surround experience speakers spread around your room would, but they're much easier to install and give the room a cleaner look. The dedicated sub-woofer can be tucked in a corner for that extra oompf. Now, you can save more than 30% on this premium soundbar.
Save $190 on Samsung Soundbar with 3D Surround Sound
If you don't like to mix and match brands and your TV is from Samsung, then this Samsung Soundbar will make a great addition to your living room setup. The soundbar has 7 speakers that work in unison to give you a surround sound experience and there's a wireless sub-woofer for powerful lows. The Soundbar supports Bluetooth multi-device connectivity, so you can easily use it as a Bluetooth speaker and play music from your phone. Right now, the Samsung HW-T650 3.1ch Soundbar is discounted by almost 50%, which makes it quite a lucrative deal.
Save $50 on GoPro HERO8 Black
GoPro made action cameras popular and ubiquitous. It seems like these days everyone has a GoPro regardless of how many adventures worth filming they have. If you happen to be one of the few that don't have a GoPro in their arsenal, now you can save some money when buying the previous HERO8 model. It has excellent video stabilization, which is pretty much the most important feature of any action camera. It's waterproof, so there's no need for additional bulky cases to keep it safe.
Save 38% or more on Razer keyboard, mouse or headset
If you were waiting for Black Friday to upgrade your PC peripherals, you made a good choice. Razer has big discounts on three products that are basically essential for a good gaming experience.
We start with the Razer BlackWidow Elite Mechanical Gaming Keyboard. Mechanical keyboards, especially from brand name companies, tend to be expensive, but the BlackWidow is now down by 50% on Amazon. Of course, the keyboard has full RGB lighting that you can customize as you see fit. The discount is only for the green mechanical switches, but those seem to be the most popular choice anyway.
You can't be rocking a Razer keyboard without also using a Razer mouse. Well, obviously you can, but it just doesn't feel right. Anyway, the price of Razer's Viper mouse is also slashed by 50%. The mouse has a 16,000dpi sensor, ambidextrous design, RGB lighting and plenty of programmable buttons so you can do more with just your right hand.
And finally, we have the Razer Kraken gaming headset. It's discounted by "only" 38% which is still a pretty good deal. You get nice big over-the-ear cups with soft padding that support
7.1
channel surround sound for full immersion, a retractable mic and lightweight frame. Not much more that you can want from a headset. Besides RGB, that is, which this Razer product lacks but we're sure you can live without.
Save $80 on eufy by Anker Robot Vacuum Cleaner
Yes, among many other things, Anker also makes robot vacuum cleaners. And like the rest of the Anker products, it's affordable without compromising on quality. And this deal makes it even cheaper, lowering the price by 35%. You have less than 24 hours to take advantage of it, so if you want a robot helper to roll around and clean while it also entertains/scares your pets at the same time, then you better act fast.
Save $100 on Canon PowerShot G7X Mark III Camera
If you're looking to enter the vlogging space but your smartphone camera doesn't cut it, Canon has designed something just for that need. This vlogging camera can shoot in 4K and offers vertical image stabilization. It can also be used for live streaming. Oh, and, of course, you can take pictures with it. Plus, it has a cool retro-looking design. Compact dedicated cameras like that have become a niche product, but if you're looking to get one, you might as well save some money.
Save $500 on Canon EOS 6D Mark II Body
Now that's a serious camera. From photography enthusiasts to professionals, the EOS 6D Mark II is a tool that fits many needs. It has a 26.2 Megapixel full frame CMOS sensor tucked within a relatively compact body with a 3-inch display for convenient menu use and shot framing. Right now, Amazon has it down by 28% but only for the body. If you don't have suitable lenses already, you'll have to spend a bit more before you start shooting.
Save $70 on Wireless Security Outdoor Camera
Jumping to a whole other type of camera. Having security cameras is always a good idea but not everyone is willing to drill and route cables for the benefit of it. This camera solves this issue by having a solar panel and a battery to keep it going at night. The video signal can be either transmitted through Wi-Fi or recorded onto a on-board SD card. Sure, it's not exactly discrete, but that's a sacrifice you'll have to make for the extra convenience.
Save 32% on Ring A19 Smart LED Bulb, 2-pack
Smart bulbs are quite convenient. You can turn them on or off from your phone or even by telling your voice assistant to do it for you. Plus, you don't even have to be home, so if you're away for the weekend, you can have them turn on at night to give the illusion that someone is home and prevent burglaries. The problem is they can be expensive, but with this discount, the price is more bearable. The down side is that these aren't RGB, so not much room for mood lighting, but you can still adjust the brightness.
Save $250 on Samsung Galaxy Book S
If you're looking for something significantly cheaper than the Surface Pro X, Samsung's Galaxy Book S is an enticing offer. It's a small thin and light laptop with great battery life and aluminum chassis for improved durability and style. With Microsoft's My Phone app, the Galaxy Book S turns into an extension of your smartphone, especially if it's a Galaxy as well, Samsung has been closely cooperating with Microsoft to bring Android users Apple-like levels of integration between phone and laptop.
Save $200 on ASUS ZenBook Duo UX481 14" Laptop
The ZenBook Duo is a pretty unique laptop. It has not one, but two displays, the second one positioned above the keyboard. The second screen allows you to boost your productivity and make your life easier by allocating some of your daily tools to it and have more screen real estate for your main software. The laptop is powered by Intel's Core i7 10510U processor paired with 8GB of RAM and 512GB of NVME storage. The keyboard and trackpad layout is a bit unusual but if you can make good use of the second display, that's a sacrifice worth making.
Save 25% on Soundance Laptop Stand
If you're using your laptop as a desktop workstation more often than not, a stand like this one is a great addition to your setup. Regardless if you're using an external monitor or not, having the laptop elevated has multiple advantages. First, it's more ergonomic, assuming you have a separate keyboard. Second, it allows your laptop to cool itself better. Third, it saves space on the desk, since you can store things under the laptop. And fourth, it protects your laptop from accidental spills of water, coffee or other beverages you might be consuming or storing around it. The build of this stand is very sturdy and it can hold pretty much any laptop, no matter the size.
Save 56% on OLEBR 3-in-1 Charging Stand
Another stand, this one meant to charge three of your Apple devices at once. You can place an iPhone, an
Apple Watch
and AirPods Pro charging case on this stand and have them all charge in an organized environment. There are no chargers included in this stand, so you'll have to route the ones you have already. The only benefit is the improved aesthetics of your desk or night stand. Still, the price of this stand isn't exactly high and now it's even lower than usual thanks to this early Black Friday deal.
What Black Friday deals to expect on Amazon
While before online retailers were separating themselves from physical stores by offering discounts on Cyber Monday, the Monday after Black Friday, now, they're pretty much double-dipping, with deals available on both days and, of course, in between and before that as well. Basically, it's a whole savings season.
This year shouldn't be much different than last year (at least in that regard), with major discounts on some of the most popular consumer electronics. Such as:
Smartphones
Tablets
Laptops
TV
Headphones
Smartwatches
Consoles
The pricier the item, the bigger discount you can expect. Common non-Black Friday discounts are usually around 20%, so anything that reaches 50% or more is a great deal. Keep in mind that some third-party sellers on Amazon might hike the prices in advance so that the Black Friday deals look better than what they actually are.
If you already have plans for specific purchases, you can bookmark the items and note the prices, perhaps even fill out a spreadsheet with all the info in one spot. This way, you'll be able to act fast and have a good idea if the deals are really worth it. That will also help with your impulse control if you feel like you might buy something you don't really need or want.
Keep an eye out for Lightning Deals. Those usually offer great discounts but only last a few hours or until the stock runs out.
As a reminder, Black Friday this year falls on November 27, so if you're planning to go on a shopping spree, make sure you're ready by then.