Amazon Cyber Monday 2022 deals: recap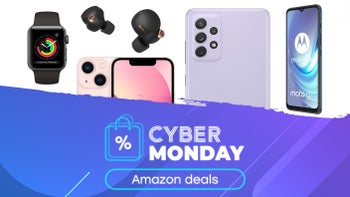 Cyber Monday
is now over, and so is Black Friday. Hopefully you were able to score a great discount on a tech product you've wanted, but in case you've missed it - in this article we'll have a recap of what happened this year with Amazon's deals.
All in all, deals were simply great. Many retailers, including Amazon, launched early Black Friday campaigns with generous deals which lived on until Cyber Monday (and some survived even to Tuesday). Basically, buyers had plenty of time to get the deal of the year on their tech device of choice. Let's examine in details what deals we saw for Cyber Monday at Amazon for phones, tablets, smartwatches, and earbuds.

Amazon Cyber Monday phone deals: recap
Amazon was a great place to get your new phone this Black Friday and Cyber Monday shopping event. Hot and recent phones were generously discounted. For example, Samsung's flagship
Galaxy S22 Ultra
was 29% off ($350 off, no trade-ins or contracts required!), and its smaller siblings were around $200 off.
What's even better is that premium foldable phones by Samsung like the
Z Fold 4
and the
Z Flip 4
were also discounted. The former was $400 off, and the latter $200 off - deals that are pretty hard to miss especially when you take into account no trade-ins or any other shenanigans like these were needed to get a discount.
But Amazon wasn't only generous with Samsung fans. Google Pixel buyers were delighted this year as the new Pixel 7 series both goth 17% off at Amazon. Yep, that means the
Pixel 7 Pro
was retailing for $150 less during Cyber Monday.
Motorola phones also got a lot of discount love from Amazon during the sales. Affordable Moto phones were more affordable than ever, and flagship Moto phones were mid-range money. For example, the
Motorola Edge Plus (2022)
could be found for 26% less than its usual price, while the
Moto G Power (2021)
was retailing at half price!
The beloved stylus-enabled
Moto G Stylus
also saw similar discounts at Amazon. Both the last year version of this phone and the 2022 version had their prices slashed during the sales.
Sony Xperia phones were no stranger to the deals either. The Sony Xperia PRO-I, a beast of a camera phone, was $790 (!!) off during the shopping frenzy. Mind you, this phone is very expensive usually.
Amazon Cyber Monday tablet deals: recap
Amazon also had many generous discounts on tablets. For example, the powerful and gorgeous
Galaxy Tab S8 Ultra
was among the discounted products. And so were the Tab S8 Plus and the normal Tab S8 (23-24% off during the event). As you probably know, these three tablets are Samsung's latest-and-greatest in the tablet market!
We saw more modest discounts on iPads (but that's pretty natural). Select iPad models were retailing at 8% lower than usual at Amazon for Cyber Monday. Yep, not a very big discount, but still a discount nonetheless. The discounted models were the iPad Air from 2022, the iPad mini 6, the iPad Pro from 2022 and even the new entry-level iPad.

Tablet buyers on a budget were probably the most lucky ones this year. Many affordable tablets got even more affordable with Amazon's Cyber Monday discounts. One example is the Galaxy Tab S7 FE which was $150 off. Fire HD tablets, as usual during sales at Amazon, were available with epic discounts.

Amazon Cyber Monday smartwatch deals: recap
In terms of smartwatch deals, offers were available on Apple Watches, Galaxy Watches, and models from Fitbit and Garmin. The Apple Watch Ultra, the newly-released athlete-focused Apple Watch, was $60 off.

The Series 8 got a similarly good $50 off discount. In terms of Galaxy Watches, the discounts were ranging $50-$80 off.

Garmin models saw the most discounts, and there the price reductions ranged from 40% off to a staggering 56% off. The new Google Pixel Watch also made an appearance among the discounted tech at Amazon during Cyber Monday.
Amazon Cyber Monday deals on headphones: recap
Samsung's popular
Galaxy Buds 2
was available for a clean $60 off at Amazon during the event. Many other models of headphones and earbuds were discounted. The Galaxy Buds Live had the biggest discount from Samsung earbuds and it was 53% off (yep, less than its retail price!). Sony, Beats, JBL, Bose headphones were also available with notable discounts during the event.
Are Amazon Cyber Monday deals worth it?

Yes! Cyber Monday deals are often just as good as the Black Friday ones. And if you've missed Black Friday, Cyber Monday is your second chance to snatch a deal before they disappear. Not all Cyber Monday discounts will be as huge as on Black Friday, but you shouldn't worry too much about that — there are still plenty of epic deals compared to other shopping occasions.




Do I need to be a Prime member to shop for Cyber Monday deals?


No, Cyber Monday deals at Amazon don't specifically require you to have a Prime membership (the same applies for Black Friday). However, you should know that it is possible for Prime members to get some exclusive Cyber Monday offers. However, that's more of an exception rather than the rule. Prime members do get other benefits at Amazon such as faster shipping, but the Cyber Monday deals themselves are available for non-Prime members as well.