Xiaomi accused of false advertising, fining ensues
15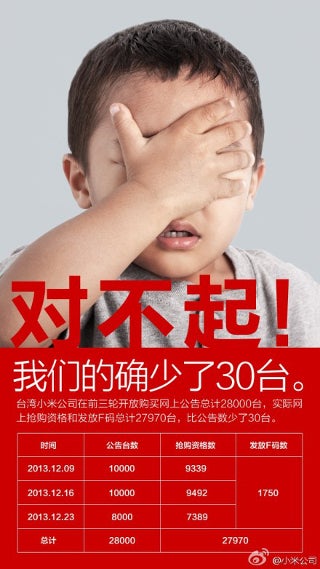 The fast-growing Xiaomi is making a lot of headlines lately, most of which are
fairly positive and cover the manufacturer's rapid expansion
on the smartphone market. However, the latest piece of news regarding Xiaomi is not on the positive side – the
fifth largest smartphone producer in the world
has been accused of false and misleading advertising. It seems that the company has lied exactly how many devices it sold during some its flash sales. As you might remember, the company
usually claims
that it successfully retails a
vast amount of its smartphones in just a few seconds
.
It appears that Xiaomi might have been spreading false information and lying about the sold phone after it procured three of its flash sales in Taiwan in the end of 2013. According to Taiwan's FTC (Fair Trade Commission, Xiaomi sold 1,750 devices less than it claimed afterwards, thus greatly misinforming its current and potential customers.
The company has already apologized for its unfair actions on Weibo (you can see its "Sorry!" poster on the right), but this did not stop the Taiwanese FTC from fining the "Apple of China" roughly $20,000 (NT$600,000). Although the relatively small fine is pretty gulpable, the disclosure of Xiaomi's practices will surely leave a bad scar on the company's public and market image. The recent allegations that it
might be spying on its user
s
will probably add up to the picture.
Could this hurt Xiaomi's future sales? Only time will tell. Share your thoughts in the comments section below!
source:
The Next Web
via
Yahoo!